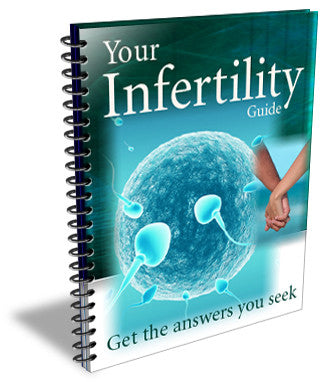 Your Infertility Guide
— Do you want a child but have not been able to conceive?
"About Infertility"
— Get the answers you seek right now!
Dear Reader,
Many people identify their feelings of self worth with leaving someone behind to carry on their legacy, whatever it may be.  And most of us are able to carry that out quite well. 
Most people have no problem having children. In fact, a case could be made that there are people who should not have any children.  We've all met people like that, haven't we?  But we aren't here today to talk about them.  We are here to talk about you. 
If you are one of the millions of American couples who are unable to conceive a child, our hearts go out to you.  It can be extremely difficult for you, especially when your heartbreak is all around you every day.
You can't go anywhere these days without seeing children.  Infants, toddlers and even school age children have the capacity to pluck your heartstrings with just a glance. 
And every instance just drives that painful message home.  It is almost certainly compounded by your personal environment.  Your friends, family and even co-workers seem to be waging an all-out war announcing to all who will listen that they are pregnant!
It isn't intentional, however. They are just caught up in their own excitement and the real message is, "wish you were here."
But, if you decline every baby shower invitation and ignore sending out congratulatory cards when you receive a birth announcement, it's time to start exploring your options.
3 Things You Should Know!

1.  There options for infertility.
2.  There ways to treat it.
3.   One answer does not fit all.
You're in the right place to get some answers about infertility and how to get really good answers or at least learn what questions to ask. Learn about the symptoms. Learn about potential treatments. These are the first steps toward having a child of your own.
Learning about infertility can be a challenge. That is why "Your Infertility Guide" was created. You need information and we have it. And now you can have it too!
It's simple to read and understand
It's presented in simple, easy to read and understand language. Because of that you don't…
ü  Need any special training.
ü  Need a lot of money - the cost for answers is cheap.
ü  Have to wait days for answers – get them with a click.
You have all the information you need to get answers about infertility in "Your Infertility Guide."
Take a quick look inside of "Your Infertility Guide" and see what you will learn:
Did you know that there are multiple causes for infertility?
Read in depth descriptions on different types of symptoms. Learn what they are and how they may relate to your situation.
Learn how infertility treatment has evolved to a point where more and more couples are being helped every day.
There is much more about " Your Infertility Guide" that you will access inside. Learn how to implement the correct type of testing to suit the treatment you need.
This is a "must have" for everyone's digital bookshelf but especially crucial if you or loved ones are experiencing infertility.
And at only $_____ this guide is a steal!
No Risk, 100% money Back Guarantee!
I truly hope you see the potential here, and realize how important this offer is!  You can learn all of this virtually Risk Free!
We want "Your Infertility Guide" to be an absolute 100% no-brainer for you.  That's why you can order your copy with complete peace of mind.
If you don't believe that "Your Infertility Guide" has increased your knowledge just let us know and we will refund your purchase price no questions asked.
It's really easy to get started. You just need to click the link below and you will have your copy in just minutes. Once you have your own copy of "Your Infertility Guide" you are armed and ready to begin taking steps to conquering infertility once and for all!
You know that you are acquiring knowledge that can reap benefits for years to come. We guarantee it! Start now!  Click the link below for your copy. You'll be glad you did.
---