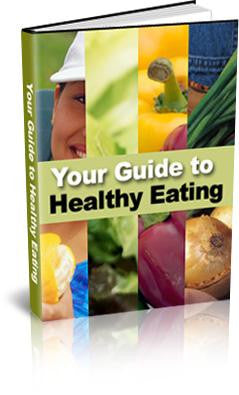 Your Guide to Healthy Eating
Discover the Healthy Eating Secrets You Can Use to Lose Weight & Feel Better Than You Have in Years … Without Starving Yourself or Giving Up Your Favorite Foods!
Dear friend,
These days it seems like just about everybody is talking about "eating healthier" but the truth is, when it comes down to it, few of us are willing to make the effort.
Sure most of us know that we need to improve our diets in one way or another. But at a time when we can drive down the street and see a McDonald's on just about every corner or a whole line of fast food restaurants on many roads, most of us have also decided that it would just be too difficult.
Our lives have become all about convenience and in exchange for convenience we have become the most obese country in the world.
But I'm here today to tell you that eating healthy doesn't have to be a challenge – and there are some quick and easy steps that you can take to balance out your life so that you can eat healthy most of the time and still enjoy a Happy Meal with the kids on occasion. 
At Last! The Secrets to Eating a Truly Healthy Diet Are Revealed!
With all the foods out there claiming to be low-fat or fat-free or cholesterol free and with all the conflicting research that one day says a particular food is bad for you and the next says it is good, deciding how to "eat healthy" can be extremely difficult.
But it doesn't have to be that way … not anymore! Thanks to "Your Guide to Healthy Eating" you can now get all the tips and information you need to know to eat a healthy diet from one convenient, inexpensive ebook.
Here is just some of what you will learn on the pages of this amazing guide:
How to evaluate your current diet – answer these seven questions and you'll know exactly how you are currently doing as well as what you need to change to begin eating healthier!
What exactly a healthy diet is and how to eliminate your fast food cravings and ensure you'll continue to eat healthy from here on out – you'll be amazed at how easy it is to make healthy food choices when you follow these simple tips!
One of the biggest keys to developing a healthy diet and sticking to it – you may be very surprised at what you read here!
Why the saying, "you are what you eat" couldn't be more true – find out why these five words are words to live by here!
How foods work together – and how to use this information to create well-rounded meals that will start boosting your health and energy in no time!
How to plan healthy meals – planning healthy meals can be difficult, especially if you are cooking for a family who is stuck in a rut of unhealthy meals … however, read this important information and you'll soon be able to have your family eating healthy without them really even realizing it!
The key to ensuring that you and your family eat healthy meals – plus, how to get your family involved in the preparation of healthy meals … it's much easier than you think! 
How to stock your kitchen to ensure you continue to eat healthy and lose weight – plus, healthy eating tips for when you eat out!
How to cut through all the diet misinformation that's out there and focus on the tried and true tips that are guaranteed to help you lose weight – as well as improve your health faster than you ever thought possible!
The ABCs of nutrition – learn this info and you'll always be able to make the healthiest food choices at a meal!
And much, much more – this ebook even includes tasty, "healthy," easy-to-make recipes that you can start using immediately!
So What Are You Waiting For?
Order Your Copy of "Your Guide to Healthy Eating" Today …
"Your Guide to Healthy Eating" contains the tips, techniques and secrets you need to know to lose weight safely and live a much healthier lifestyle.
This is the ebook that will allow you to stop the yo-yo diet nightmare once and for all and turn your weight loss and fitness dreams into reality! You'll learn how to:
·        Lose weight
·        Improve your health
·        Send your energy skyrocketing
·        Stop your junk food cravings
·        Think more clearly
·        Sleep better
·        Be far more productive in life!
·        And more!
And right now, for a limited time, you can take advantage of a special promotional offer and receive the "Your Guide to Healthy Eating" ebook for just $4.95!
100% Money-Back Guarantee
If you are not completely satisfied with your ebook purchase, simply notify me within 30 days and I will refund your money, in full, with absolutely no questions asked!
Thanks to my Money-Back Guarantee, You've Got Absolutely Nothing to Lose!
Sincerely,
Rich PLR
P.S. Remember my special introductory offer won't last long. Receive "Your Guide to Healthy Eating" for just $4.95! 
P.P.S Also remember, that you are making this purchase at absolutely no risk. So grab this special price while you can! If this ebook isn't everything you were expecting, simply notify me and I will refund your money immediately!
---