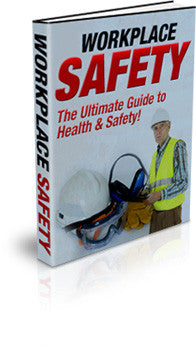 Workplace Safety
Discover Strategies For Health & Safety In Your Workplace
Exclusive Offer!
Never Before Revealed Information!
Rich PLR
Dear Friend,
Are you an employer, a supervisor, or an employee who has concerns about health and safety in the workplace? Do you sometimes worry about getting injured on the job, catching an illness from other workers, or how factors like these could affect your ability to get your job done on time?
In today's busy world, no one can really afford to miss time from work. Needing to take a week off, or even a day off, can prevent you from getting your work completed, slow down others in the workplace, and possibly even result in earning less money. You, and everyone else in your company, will be much better off with some basic tips on how to make health and safety a priority in your workplace.
All it takes is a little knowledge and preparation...
If you think about how loss of work time has affected you in the past, you do not want it to happen again. You do not want to risk any unnecessary illnesses or accidents, either for yourself or the other people in your company. Your work time is simply too important to waste - especially when it is not necessary!
The good news is most accidents in the workplace are preventable! Illnesses can often be prevented, too! When you have the very best information about how to make your workplace the healthiest and safest place to be, you will be way ahead of the game!
Workplace Safety: The Ultimate Guide to Health & Safety!
The ebook you have been waiting for is finally available! Rather than taking your chances in the workplace every day, you can learn all of the important tips necessary for making your office or jobsite a healthier, safer place for yourself and for everyone else who works there!
You, your coworkers and other employees, do not need to waste valuable work time from staying home to recover from on-the-job accidents, or contracting illnesses from other people! While these kinds of problems do occur on occasion, both the risk and the impact can be significantly minimized. All you really need to know is how to reduce your risks!
Fortunately, reducing your risk of on-the-job accidents and illness is not difficult at all! All it takes is learning about some important strategies-- and then begin putting them into practice every day! None of these concepts are difficult to learn! Each one can easily be made a part of your everyday work life! It is also very easy to let others in on these ideas, so everyone in your company can benefit!
Your workplace can quickly go from being filled with stress, anxiety, and risks, to being a great place for you to spend each day! These tips can be learned and put into practice with very little time and effort! When you begin to see how quickly your office or jobsite starts to change for the better, you will wonder why these tips were not available sooner!
Learning all you need to know about health and safety in the workplace has never been easier...
 

All You Need to Know...


1) The Tips and Strategies You Need to Turn Your Workplace into the Safest, Healthiest Place to Do Your Job

You can learn all of the ways to make your workplace healthy and safe!  From accidental falls to catching the flu, in most cases these problems are completely avoidable!  Equally important, you can do your job much more effectively, and enjoy it more, without worry!

2) Helping Your Coworkers and Employees gain All of These Benefits, Too!

Learning how to make and keep your workplace healthy and safe will benefit everyone, when everyone does his part!  The benefits are so wonderful that each and every person in your workplace will appreciate this information as much as you!
How Much Is That Worth To You?
Your decision to buy this ebook today is the smartest and most powerful thing you can do to promote health and safety in your workplace! Taking unnecessary risks with health and safety is never a good idea-- and you now have an option!
You cannot find this ebook in any store! In fact, it is not available anywhere else at all! This one-of-a-kind ebook is only available through this one-of-a-kind special offer!
What are you waiting for? Order Today...
This is a one-hundred-percent risk-free offer! We are so sure that you will be completely satisfied with your new ebook that we assure you that you will not risk a single penny of your hard-earned money by buying it!...
 

100% "Love It or Leave It" 90 Day Money-Back Guarantee!

 

If you're not totally thrilled with the"

Workplace Safety

" guide for whatever reason at all, simply send me an email and I'll cheerfully refund 100% your money with the click of a button.
You've got a full 90 days to try out the material. This is a no questions asked, no fuss money-back guarantee I like to adopt.
  Is that fair or what?
Look at it this way - $4.95 really is a drop in the bucket compared to the time and money you can save yourself...
Here's How To Order To Right Now!
Once your credit card is approved, you will be taken to a special download page where you will have instant access to the ebook.
Special Offer - Only $4.95! 
Sincerely,
Rich PLR
---