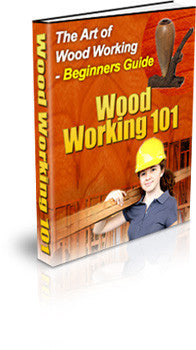 Wood Working 101
The Basic's of Woodworking
The Art of Woodworking
Beginners Guide
Exclusive Offer!
Never Before Revealed Information!
Dear Friend,
Have you ever wanted to begin woodworking at home? Woodworking can be a fun, yet dangerous experience if not performed properly. In The Art of Woodworking – Beginners Guide, we will show you how to choose everything from saws to hand tools and how to use them properly to avoid ending up in the ER.
Do you know the difference between softwood and hardwood? Which wood is better for indoor projects and which wood is better for outdoor projects? We will discuss the properties of wood and how they will affect various woodworking techniques and projects you may want to work on.
Now you can save time and money and stop searching for information on The Art of Woodworking
Wouldn't it be nice to have all those questions about woodworking for beginners offered in one place? You could spend hours on the internet looking for answers or you could spend hundreds of dollars taking a class or seminar that would show you details that are enclosed all in one place, The Art of Woodworking – Beginners Guide.
Books are expensive and much of the content is full of fluff and not the real nitty-gritty stuff that you need to know to begin working with wood. The information contained within this text may not help you build everything you want to, but it can have you on the way to being more in tuned with what you need to begin a career or hobby working with wood. It is so frustrating hearing advice from one webpage only to find it contradicted on another. Give up those endless hours of research and reading because there is a one stop, tell-all source that will give you the information that you need to begin the art of woodworking.
"The Art of Woodworking – Beginners Guide" is here...
An in depth report that is going to tell you what to choose when going to the lumber yard and which saw is the best for which project and how to design a project from beginning to end. The most recent information regarding woodworking from adhesive choices to joint making will be discussed.
Everything a Beginner Needs to Know

1)You will learn that safety is always first
When you own a woodworking shop, you need to keep it free of debris and clutter to avoid any accidents. You need to always be wearing safety goggles and a mask or respirator because of the dirt and dust that wood shavings and sawdust creates.

2) You will learn how to design and implement a drawing
Even if you can't draw, you will be able to 'free-hand' a drawing of what you want to make and then put that drawing into a sketch of dimensions and come up with a finished project in wood.  
Here is what you will learn inside this guide....
How Much Is That Worth To You?
You can have all the information in one neat package for only $4.95. This all inclusive guide will explain in simplified terms all the questions that have eluded you in your internet searches or textbooks on the subject.  The information presented is the newest available from professional woodworkers who care about what they are doing and want to pass the information on to you.
Not only is there monetary value in the information you will receive, but you will value in the information.  From the initial idea of wanting a woodworking shop to the planning and through the choosing of materials and machinery, even if it's hand tools, it is all here in this easy to read informative book. The information is formatted to answer your question directly without the fluff or opinion you would find on blogs or websites.
Wouldn't it be great to have an easy reference guide downloaded on your computer so that you can click and read what you need to know about.  The advantage of an e-book is that it takes up no shelf space, it is easily emailed or you can on a memory stick and read it anywhere. Since "The Art of Woodworking – Beginners Guide" is packed with valuable information; you will want to read it over and over again.
Or keep it on hand for reference when you begin to shop for new machinery or hand tools or adhesives or even the wood itself.  In this one stop, tell all text, you will be able to find the answer you need to problem solve any situation you find in the woodworking area. All wrapped up in one little package and the time saved doing the research is done for you.  You just click, read, learn and apply the knowledge you learned to your projects.
100% "Love It or Leave It" 90 Day Money-Back Guarantee!

If you're not totally thrilled with "Wood Working 101" for whatever reason at all, simply send me an email and I'll cheerfully refund 100% your money with the click of a button.
You've got a full 90 days to try out the material. This is a no questions asked, no fuss money-back guarantee I like to adopt.
  Is that fair or what?
Look at it this way - $4.95 really is a drop in the bucket compared to the time and money you can save yourself by avoiding all the other books and tutorials out there. Why spend a fortune learning how to quilt, when you can do so for a much better price?
Here's How To Order To Right Now!
Click here for an instant download of this material. Once your credit card is approved, you will be taken to a special download page where you will have instant access to the ebook.
Special Offer - $4.95 for next 20 orders only!
INSTANT ACCESS Purchase Online with a Credit Card by Secure Server
Click Here NOW to download your copy! It doesn't matter if it's 2:00 a.m. in the morning!
Sincerely,
Rich PLR
P.S. The chapter on safety in the woodshop is probably worth the whole cost of the book, but is added in at no additional charge.
---