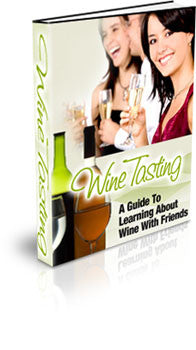 Wine Tasting
Learn How to Hold a Wine Tasting Party...
Wine Tasting Tips: Hold a Party with Your Friends!
Exclusive Offer!
Never Before Revealed Information!
Dear Friend,
There is a lot to know about wine. Wine tasting is a favored past time for many wine enthusiasts. You don't have to be sophisticated to be a wine taster. In addition, it is easy to learn the basics about wine that will help you become a very good connoisseur.
Have you ever sat around with family members who seem to move a glass of wine around in front of you and you have no idea what they are doing? You don't have to sit and wonder anymore. Learning the basics about wine will help you understand the different types of wines, how to assess a wine's value (not based on the price), and more.
Hold a Wine Tasting Party...
Teach your friends about wine and how to properly taste wine. You don't just drink the wine. T here is a special way to taste wine to give a proper assessment and be able to score the wine the right way. You can learn how to score wine, what you are looking for in wine, and more.
Wine has been produced around the world for thousands of years...
Wine Tasting...
This guide will teach you how to hold the best wine tasting party around…
You can learn which people are the best guests to invite to your wine tasting party, how to prepare for it, and learn about how to properly taste wine. In addition, you will learn everything you need to know about the different types of wine tasting parties you can hold at your home...
You will benefit from this book...
 

Learn About These Things:


1) How to Properly Assess a Wine by Looking at it

There is no reason to sit around and wonder what people are doing when they are swirling their wine glasses anymore. You can learn too.



2) Wine Tasting Parties

There are tons of ways to hold a wine tasting party. Learn the different ways to hold a party and the different methods for wine tasting.  

 
Here is what you will learn inside this guide....
How Much Is That Worth To You?
You can buy this guide and learn years of information that it normally takes a true wine connoisseur to learn in hands on experience. Show your friends everything you know by holding a wine tasting party for just $4.95. Knowledge like this could cost you hundreds of dollars in wine bottles learning about the different varieties and learning. Now you can have the knowledge for a very low price.
Wine tasting is a lot of fun when you have a party with your friends. Learn everything you need to know and come across as the sophisticated one.
 

100% "Love It or Leave It" 90 Day Money-Back Guarantee!

 

If you're not totally thrilled with "

Wine Tasting

" for whatever reason at all, simply send me an email and I'll cheerfully refund 100% your money with the click of a button.
You've got a full 90 days to try out the material. This is a no questions asked, no fuss money-back guarantee I like to adopt.
  Is that fair or what?
Look at it this way - $4.95 really is a drop in the bucket compared to the time and money you can save yourself...
Here's How To Order To Right Now!
Once your credit card is approved, you will be taken to a special download page where you will have instant access to the ebook.
Special Offer - Only $4.95!
Sincerely,
Rich PLR
P.S. Wine tasting is easy and fun to learn. When you hold a party with your friends they will love it too. If you teach your friends how to properly assess wine and taste it as the professionals do, you might have a monthly wine club.
---