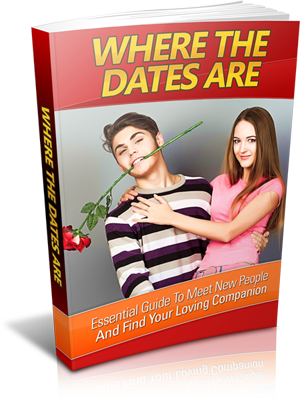 Where The Dates Are
Be a Success at Finding the Right Date
Are you struggling with the fact that
you really don't know anything about
how to find a great date?
With all the other pressures in life a
person has to go through the addition of
having to content with the uncomfortable and
often challenging scenarios that meeting new
people present can be more that what people can handle.
What if I can offer you a
solution that will help
you to attain greatness, to become a success
and learn about the best ways to find dates?
In this book, you will
learn about:
- All You Need To Know About Meeting New People (Potentially Your Date)
- Saying Hello In The Grocery Store
- Recommending A Book In A Local Bookstore
- Hitting The Gym
- many other useful things!
With great power comes responsibility. Once you know
the secrets in this amazing book, there is no going back.
It's time to get moving toward developing success in
your love life!
Regards,
Rich PLR
---