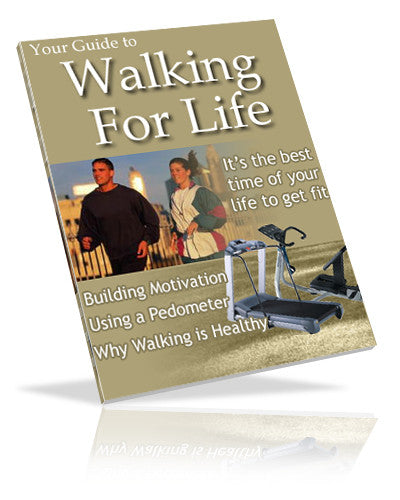 Walking For Life!
Walking For Life!
Do you spend much of your time wishing you had what it takes to get fit?  Have you even tried joining a gym or exercise group only to leave feeling like a failure because you just didn't fit in?
That's one of the biggest factors that gym owners will tell you that they just can't overcome no matter what.  People who will join with the best of intentions only to find that they just didn't feel like they "fit in."
If this sounds like you, then take heart.  The easiest, simple, free route to fitness is at hand . . . er, rather foot; your feet to be exact.
If you would like to have more energy and lose weight then you need a copy of "Walking for Life." 
Can it really be that simple?  Surely, with all the expensive diets, spas, special food, pills, wraps and other nonsensical treatments it couldn't come down to something so mundane.  Or could it?
Well, we're here to tell you that it can be just that simple.
Fitness walking is an excellen6t way for you to get in shape, tone your muscles, lose weight and attain better health.  It's an excellent way to accomplish all of that, BUT there's a right way and a wrong way to approach this modality.
You may be like many folks.  You know you need help.  You know the gym and other methods didn't work for you.  You want to believe that walking can get you fit but where do you begin? 
The very best place for you to begin is with your own copy of "Walking for Life."  This digital book will show you exactly what you need to do not only to get started, but how the secrets you need to know to love yourself while you're doing it!
Take a look:
Why Walking is Healthy
Walking and Metabolic Fitness
Dog Lovers and Walking
It really isn't rocket science to know that walking is healthy, but do you really understand why that is so?  Well, we'll tell you in Chapter 1.
Our metabolism is like the clockwork in our system.  Learn how to "set that clock" to your benefit.
If you are a dog owner and lover you're already ahead of the game!  Fido will love you for it. 
What else will you learn?
Warming Up and Cooling Down
Fitness Exercises and Walking
Walking in the Snow
Take a piece of frozen meat out of your freezer and see just how flexible it is.  Now think about walking.  We'll teach you how and why warm up and cool down are so important.
Did you know that you can incorporate special fitness exercises into a walking routine?  Well you can and we'll show you how.
If you really want to pump up your walk, learn about walking in the snow.  No gain without pain!
The Benefits of using Poles
Walking in Snowshoes
Cross Country Walking on Skis
Put your arms to work with poles and really test your stamina with snowshoes and cross country walking on skis.  No, you don't need to be an athlete.  We'll show you how simple it is.
How to Set Goals and Meet Them
Why Keeping a Log is Important
Walking for the Ages
Just like anything in life, you need to set some goals.  We'll show you how to make those goals realistic.   Keeping a log will make you or break you.  How can you know where you are going unless you know where you've been?  Learn the correct fitness walking regimen for your age.  Yes, there's a difference.
Using a Pedometer
Clothing - Dress for Walking
Building Motivation
Simply put, what gets measured gets accomplished.  Learn the proper clothing for your walking routine.  You gotta' stay motivated!  We'll show you how!
"Walking for Life" is no replacement for medical advice and should not be construed as such.  It is, however, a valuable tool to help you learn how to walk for fitness.
Remember, you can severely curtail damage to your body with regular exercise.  "Walking for Life" is just what you need to become informed.  Order your copy now and start your walk for fitness in minutes!
Only $4.95!
---