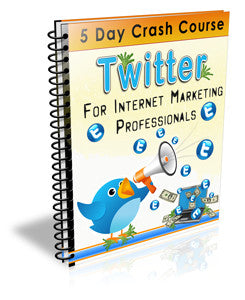 Twitter Crash Course (PLR)
"Brand-New Private Label Ecourse Lets You Easily  Teach Your Customers and Subscribers How To Harness  The Awesome Power Of Twitter To Successfully Promote  Their Own Internet Business"
If you can answer yes to the following questions you want this course.
Have you been looking for a great way to get more subscribers?

Do you constantly seek quality information to provide to your readers?
Have you been looking for a way to quickly increase awareness, traffic and profits for your business?

Dear Marketing Friend, 

Did you know that there are certain things you should and should not do when it comes to promoting your Internet marketing business on Twitter? 

As an Internet business owner you know that to effectively market your products or services online, you must be able to penetrate your target market, but did that you can use Twitter to achieve that goal faster than ever before?

Making new friends is quite easy on social networks like Twitter. But not as easy when it comes to converting those new friends in to paying customers. To effectively use Twitter as a part of your marketing plan there are certain rules that you must follow to ensure that your followers can eventually be converted in to lifelong customers. 

The simple fact is most online marketers don't understand or take the time to learn how to properly use twitter the right way to promote their websites.

Did you know that there are several common mistakes that most (even experienced) Twitter users make that can actually hurt your business more than help it?

 

Welcome to the "Twitter For IM Professionals" Crash Course. It was created to introduce you to the wonderful world of Twitter and to teach you how to harness it's massive power for your business and for your customers!

You can use this course to build awareness and to help your readers learn how to take advantage of everything that Twitter has to offer any Internet marketer! This course is specifically designed with beginners in mind, so even if you or your reader has never used Twitter to communicate with their prospects before, you'll both learn how to get the most out of your Twitter marketing campaign!

 This Course Comes with Private Label Rights

The best part is with the private label rights to this course not only will you be able to learn how to quickly master Twitter yourself, you will be able to pass that knowledge on to your subscribers. You'll will be providing them with quality information that will help them learn to understand the Twitter world and use it to their advantage. 

The course is completely customizable.  You will be able to add in your own contact information, product and service recommendations and links to your favorite affiliate programs. I'm even including a ready to go to squeeze page confirmation page and sales page, so that you can get set up quickly and easily!

In this course you'll be able to provide your subscribers with great information that they can actually use!

You will teach them...

How to build a large network of friends, clients, associates, and customers with Twitter.
You'll introduce them to a variety of tools that they can use to make their Twitter page more interactive and successful, plus how to quickly hunt down even more fantastic free tools fast.
Simple techniques that they can use to increase their chances of converting their regular twitter followers in to lifelong, paying customers.
Effective ways that they can maximize the huge amount of traffic that flows through Twitter and drive it straight to their own websites and affiliate programs.
You'll also teach them some of the common mistakes that most Twitter users make when they are using it to promote their business, so they can avoid making them and hurting their chance of success!

 

What's Included in the.... "Twitter For IM Professionals" Crash Course?

With this course you will providing 5 quality lessons full of solid information you and your subscribers can start using to immediately impact your business right away! The Twitter For IM Professionals Crash Course contains everything that you need to start using and selling this package including:

 

A copy of this sales page
1 ready to go download page
5 customizable lessons
1 ready to go squeeze page
1 ready to go thank you page
A complete graphic package
+ the editable PSD graphics

 

Remember, this short course comes with private label, master resale rights so you can edit this and use it for yourself or package it up and sell it and keep all the profits! 

Here's How To Order To Right Now!

It doesn't matter if it's 2:00 am you will get instant access to this material. Once your payment is approved, you will be taken to a special download page where you will have instant access to the Twitter For IM Professionals Crash Course including all of the sales material, webpages and custom graphics package.

So what are you waiting for? Grab the super informative  "Twitter For IM Professionals" 5 Day Crash Course complete with private label rights today and start profiting form it right away!

  With This Special Offer Only $4.95 

Remember with this course you can add your own name as the author, educate your subscribers or resell it, and keep 100% of the profits for yourself!

Your Name http://www.YourWebsite.com  

PS. Don't forget that I've included the .psd files for all the graphics, so you can change the look and feel of the course to your liking.


PSS. And the ready to go squeeze page, confirmation page and sales page, so that you can get set up quickly and easily!
 

Private Label Rights terms and conditions:

What you can do:

[Yes] Can be given away [Yes] Can be packaged [Yes] Can be offered as a bonus [Yes] Can Be Edited Completely [Yes] Can claim authorship [Yes] Can be added to paid membership sites [Yes] Can sell this product [Yes] Can be offered through auction sites [Yes] Can sell Resale Rights [Yes] Can sell Master Resale Rights [Yes] Can sell Private Label Rights

Recommended retail price $7.00 - $15.00

What you cannot do:

[NO] Can Claim Copyright [NO] Resale Rights Can be given away for free [NO] Private Label Rights can be given away for free [NO] Can be added to free membership sites

 
---