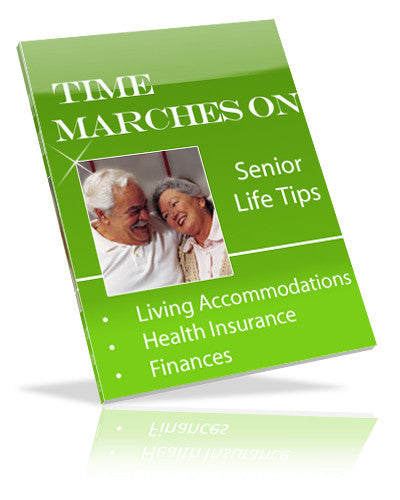 Time Marches On - Senior Life Tips
Senior Life Tips
The boomer generation arrived decades ago and set the world on fire.  Each segment of society has gone through tremendous change ever since.
For instance, nothing could have prepared us for the graying of the boomers.  Now that the boomers are inching along into senior citizen status, we see an entirely new set of challenges emerge.
In fact, in the next two decades it's estimated that the current rate of Americans reaching age 65 will double from 35 Million to well over 70 Million!
If you are already there, anticipating your arrival soon or have a loved one who needs help, you will find answers to the mass of burning questions inside the digital pages of "Senior Life Tips." 
So what's in it for me?
Glad you asked.  Need to make decisions about living accommodations for yourself or your senior?  Get the answers inside.
Want to stay at home but don't know how to make it user friendly?  That's covered as well.  Learn how to make daily life easier for seniors.
One of the important aspects of senior living is health insurance.  Hopefully you have adequate coverage but many people don't and will rely solely on Medicare.  What a mistake!  This topic requires considerable conversation and we cover it over several chapters.
And, how about finances?  Every day seniors are realizing that they are woefully unprepared for retirement.  For others retirement is totally out of the realm of consideration.  Learn how to prepare for life after 65.
Horror Stories
Every day the headlines are filled with stories of unscrupulous crooks taking advantage of vulnerable people by creating bogus investments to bolster their income.
Sadly, the most vulnerable are the elderly.  Every day an elderly person falls prey to some fraudulent activity or another.  One of the most prevalent is Medicare fraud.
While the senior usually receives the care they require, it's the rest of us that end up paying the price.  We devote an entire chapter to Medicare fraud so you can be aware of the warning signs.
The Right Stuff
Does your senior have a will prepared?  What about their retirement nest egg?  You might be surprised at how few seniors have taken care of the most basic necessities like these.  Some seniors even forget important things like nutrition and exercise!
That's where we come in.  Learn how to pinpoint areas of importance that absolutely must be addressed.  It's hard to believe that your once lively and vibrant parent can actually forget to eat.
Sometimes it isn't just forgetting, it's not being able to afford proper foods. Sound unlikely? It isn't.  Many families just don't know how to cope when the time comes for their parent to need assistance.  Only then do the hidden truths become obvious.
Do you know how to negotiate a reverse mortgage?  This is something fairly new and while the concept is sound again, there are pitfalls to be aware of.
A reverse mortgage works just as the name implies.  Instead of making a monthly mortgage payment, it allows a person to receive a payment based on the equity in their home.
A reverse mortgage may sound ideal but, again, it's fertile ground for purveyors of fraud to thrive.  Read the chapter on reverse mortgage carefully.
Not all seniors are strapped financially.  Many have planned well for their retirement and can enjoy the fruits of their labors over the years.  For those folks we have included a chapter on the myriad variety of vacation options available for senior citizens.
Another consideration is when to stop driving.  That's a pretty serious consideration and one that seniors find it difficult to address.  Let's face it, for many years now driving is our most important link to independence.  Learn more in the chapter on seniors and transportation.
We could go on and on about the information you will find inside this terrific guide.  The best thing for you to do is get your copy right now. 
Order your copy of " Senior Life Tips" right now and get the answers to your senior needs questions today!  You'll be glad you did.
---