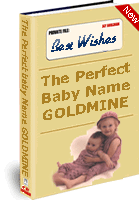 The Perfect Baby Name Goldmine
"Now You Can Easily Choose The Perfect Name For Your Baby From Our A-Z Treasure Chest of Baby Names & Their Root Meanings!"
The A-Z Goldmine of Baby Names & Their Meanings For Parents (and Parents-to-Be) That Are About To Make Their Ultimate Baby Naming Decision! 
Dear Baby Parent, 
Have you ever wondered how some parents actually survive the name-selection process? 
Now consider this: choosing your baby's name can, should and will (hopefully) be one of the most important, exciting and fun things you will do during your pregnancy… 
…but more often than not it turns into an issue of major contention!  Even if you've given the matter many hours of thoughtful deliberation, there are always those questions and second guesses that enter the equation. 
Wouldn't it be comforting to know that you don't have to go through the endless frustrations and conflicts that most parents fall prey to? 
Well, before you finish reading this page, you will already have discovered some little known facts and powerful keys to giving your baby a name that she and you will grow to enjoy more and more each day and....
You will also know exactly where to find the ultimate resource of prized baby names and there root meanings!  Yes....it's easy when you have… 
The Greatest A-Z Goldmine of Incredible Names & Their Meanings And A Naming Guide That Helps You Avoid Hasty Decisions That Your Baby Could Grow Up To Regret! 
That's what this page is all about…showing you where to turn to find names, names and more names and simple yet sound counsel with over a thousand prized (boys and girls) names all in one place. 
You may never have heard of me before because I would never claim to be an expert of babies or an authority on the psychology of children's names, but I do have an intimate awareness of the hardships involved in choosing a name for the precious little spirit that you are expecting. 
Why am I doing this? This resource is the result of my own study and was originally compiled for my own personal benefit.  It is the sum total of hours of research and tons of input from friends, family and even children that had been bridled with some rather unfortunate and even embarrassing namesakes. 
It's called: 
The Perfect Baby Name Goldmine:

A Naming Guide & A-Z Treasure Chest of Prized Baby Names! 

(Now featuring over one thousand girls and boys names!)
To be blunt, The Perfect Baby Name Goldmine is compiled like no other baby name book.  Besides the priceless list of over ONE THOUSAND names and their meanings, you'll also find some often overlooked guidelines to consider before you make your final decision on a name. 
Consider this fact: literally hundreds of thousands of children wish that there name wasn't so embarrassing or was less common or that they wouldn't have to go through life repeating it 4 or 5 times before people actually made sense out of it.  Now, before we go any further… 
Here are some FREE helpful tips you MUST consider before making that final decision taken from The Perfect Baby Name Goldmine: 
With regard to names… 
In short children should feel special when they learn the meaning of their name. If their name represents a good character trait a child will feel better about themselves.
Remember that children are likely to be teased at some point in their childhood because of a names meaning.
How does the name sound? Does it roll off of your tongue, or get stuck there? Seth Weiss comes out a garbled mess, Adam Weiss flows a bit better.
Think all initials through first!  Don't make your child the laughing stock of the neighborhood by naming them Christopher David Player (C.D. Player) or Annie Sue Stiles. (You get the picture...)
When selecting middle names, be sure to say the name out loud to make sure that the first and middle name go together.
These are just a few suggestions that are often overlooked in parents haste when they finally agree on one particular name!   
Listen, there's a lot more to consider but for the sake of the length of this page here are just a few samples of what you will find in The Perfect Baby Name Goldmine: 
More than 20 pages and over a thousand prized girls and boys names
Meanings for each name (Help your baby build a healthy self image and worth)
A list of unusual baby names from around the world.
Helpful tips, hints and considerations when choosing a baby name (If you don't follow these guidelines your baby could end up picking up the tab in later life!)
Tips for naming your first baby without undue stress
Tips for naming multiples [page 6] (Things you may never have considered)
Hints for a baby, not your first [page 7]
How to avoid names that produce frustration for your child
How the 'trendiness' of the can be the shackle of your babies tomorrow.
Tips on combining 2 favorable names (Don't combine 2 names without reading this)
Unusual Names -- Find the perfect unusual name for your baby. A lists of unusual names of many styles and a look at what names are being used by parents today.
African Names, French Names, Greek Names, Irish Names, Japanese Names, Spanish Names, Biblical Names, German Names, Hawaiian Names, Italian Names, Persian Names [pages 25-38]
Names, names and more names!!!  
 Bible Names -- Find a list of people from the Bible with their meanings. [Appendix A]
Irish Names -- Find the boy and girl names, their meanings or origins, how to pronounce them, alternate spellings, and the English equivalent. [Appendix B]
You'll be hard pressed to deny that all of that information alone could make naming your baby child's play, but you'll also find packed into this resource several short, helpful and simple articles that will provide you with information about your pregnancy and baby that will dramatically improve the quality of your parenthood – GUARANTEED! 
Here's what else you'll also find inside The Perfect Baby Name Goldmine besides our gigantic naming treasury… 
Prenatal Care and Maternity Q & A
This is where you will find answers to questions about: 
v     How much weight should I gain during Pregnancy? [page 42]
v     Pregnancy Do's and Don'ts (If you own a cat you MUST read this information or you could contract a very serious illness!  I'll tell you what to do without giving up your cat!) [page 41]
v     If I exercise during pregnancy, will it hurt the baby?
v     What are Braxton Hicks Contractions?
v     How will I know the difference between Braxton Hicks contractions and the real thing? (This is very important information) [page 42]
v     How do I know if my baby has colic? 
BONUS Insert [page 39]
Hospital Packing Checklist for Labor – (Just print and check off as you pack for the hospital!)
After Delivery & Baby Care Q & A 
v     What Will My Baby Look Like at birth?
v     Should my baby sleep on her back, side or stomach? (Make sure you know the answer to this question) [page 43]
v     When will my baby be sleeping through the night? [page 43]
v     Safety Tips for Feeding & Bathing Your Baby & Avoiding Household Dangers!
v     Avoiding Jealousy of the New Baby 
BONUS Insert [page 40]
Baby Checklist – (Just print and check off as you shop for baby items!)
Make no mistake about this: there really can be no comparison to anything else out there.  The Perfect Baby Name Goldmine is undoubtedly a prized resource worth investing in.  None of us would ever want to feel the guilt or embarrassment of hasty baby naming that reflects on our child.  Now, it must be said that…. 
In a nutshell: even without all of the additional information in this  fully loaded resource, The Perfect Baby Name Goldmine is just that – a goldmine of prize names and alternatives for the thoughtful parent.  The time and effort invested in producing this resource are well overshadowed by the rewards of bestowing a good and honorable and beautiful name upon a new born baby. 
But by ordering your copy now, you will get all of the baby names and their meanings PLUS all the bonus information and the confidence that comes with knowing that you'll make the right decision when the moment arrives for you to name your newborn baby!
In closing, you would probably expect to pay anywhere from $29-$59 for anything remotely like this book at the bookstores.  But I'm not running a bookstore and I don't have many overheads to cover except the cost of advertising this ebook on the internet. 
So, with that being said… 
I'm not inflating my price and I'm making the full version available to you for the extremely reasonable price of just $4.95.   
Now just in case you have any hesitation about instantly securing your copy of The Perfect Baby Name Goldmine I'm here to assure you that I am not here to sell you something that you won't find thoroughly useful and infinitely more valuable.  That is why I offer a… 
3 Months, No Questions Asked 100% Guarantee!
 "Download the book and use it to research the perfect name for your baby.  If it doesn't amaze you with how quickly and easily you can research thousands of names, I don't want to keep your money.  If you're not completely satisfied with the book for any reason or no reason at all, simply contact me and I'll issue you a cheerful refund.  I stand completely behind this product and I know that if you just follow a couple of our guidelines, you'll easily uncover the perfect baby name for your baby!"
I will assume all the risk on your behalf.  YES!  You are guaranteed to pay nothing if you are not 100% satisfied with my ebook.  Simply let me know if you find any reason to feel that you have not received exactly what I've promised to deliver. PLUS, if for any reason you are still in doubt regarding my frank and sincere guarantee, you can always claim back your money using the 90-day money back guarantee offered by PayPal (the processor that I am using to manage payment processing).  So there is absolutely no risk to you whatsoever. 
Your investment is soundly protected on your behalf to ensure that you are completely happy with your purchase…and if you are unhappy simply ask for a refund and I will speed your full refund to you and you may keep my materials as a token of goodwill. 
I urge you to take action right now, you have no risk whatsoever.  Just click on any of the order links on this page, have your credit card ready and within 180-seconds you could be downloading your very own copy of The Perfect Baby Name Goldmine! 
Make sure that you give your baby the benefit of considerate research and show them you care with your investment in their future contentment.
Your friend in effortless baby naming, 
Rich PLR
P.S.:  Finding the perfect baby name has never been easier.  We have thousands of names and meanings from which to choose.  Our names locater has names broken down by girl and boy and you can access them all in less than 3 minutes from now. 
P.P.S.:  Please understand that I reserve the right to increase the price of this ebook at any time without any prior notice in order to account for my advertising costs.  Order today to secure the price mentioned above.  Remember that you are entitled to a full refund if you are not completely satisfied.  Thank you.
---