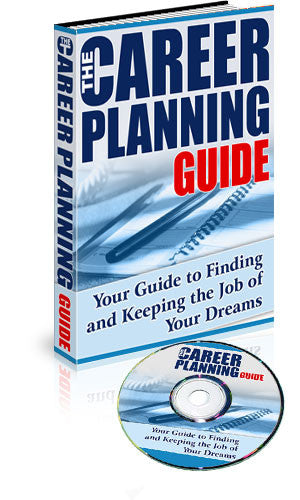 The Career Planning Guide (Audio & eBook)
Looking for a simple way to plan the career you always wanted?
Discover Five Key Steps That Will Help You Plan Your Career Effortlessly
Learn everything there is to know about career planning from the bottom up, so you get it right the first time…
Monday, 6:25 a.m.
Student, Employee… Job Seeker…
Are you looking for a simple, direct and easy way to plot your career?
Do you find the prospect of planning your career daunting and unmanageable? If you are one of the millions of actively seeking job hunters in the market today, you have to gain a competitive edge to get ahead.
How do you do that? Through wise, sensible and directed career planning.
Career planning is one of the most important actions you can take in your life, one that will determine your future…
Don't let inaction set you up for failure. The less you do to set the stage for success, the more likely you are to fail.
Are you someone who:
Wants to find out what is really important in life, and translate that knowledge into a systematic approach to career planning?
Someone just graduating from high school or in college, interested in discovering the best way to select a major that will set you up for the career of your life?
Someone that needs direction and helpful techniques to will allow you to evaluate your goals and chosen career path, to make sure you are meeting your needs or exceeding them?
Trapped in a dead end job and looking for a simple way out so you can enjoy the fulfilling dream job you've always imagined having?
Ready to take charge of your future by planning ahead, using simple, proven and easy steps?
There is a way to plan your career effortlessly. You don't have to spend hours wondering "what if". There are direct tests, assessments and tools you can instantly gain access to that will help you find and select an occupation that best meets your needs and interests.
I want you to sit back and imagine or a moment what you life would be like if you had a career that encompassed your hobbies, interests and abilities. Sound too good to be true? It isn't.
My Story
Let me tell you a little story. Fifteen years ago I was faced with the decision of choosing a major.
Fresh out of high school, I had no idea what I wanted to do with the rest of my life. For years my father encouraged me to become a doctor, so naturally I decided the first step should be selecting a suitable major.
My very first major… biology. I soon learned however (within the first year) that I was not cut out for biology. Biology and I had little in common in fact.
It was then that I realized I didn't really know what I wanted to do with my life. I changed my major temporarily to chemistry, only this wasn't much better.
Then, in a desperate attempt to get a feel for what I wanted to do, I decided to try a "liberal arts" major. This major gave me some time to explore many different potential careers. I focused primarily on English, but realized I also had an interest in communications.
I soon switched colleges, and thanks to the availability of a superb career counseling staff and some helpful tools we'll mention later, I was able to select a major that encompassed both English and Human Resources Management. I later went on to use both of these majors to establish the career of my dreams.
The point is, along the way I made a lot of mistakes, a lot of missteps. I could have avoided a lot of extra expense and struggle had I known what steps to take to plan my career sensibly.
The good news is you don't have to make the same mistakes. You can start planning for your career immediately, right now!
After more than two decades of research I've developed a simple, five step system that will help you transform your skills, talents and abilities into a career choice that will make a huge difference in your life.
Take Steps To Plan Your Career The Right Way… And Profit Substantially
No matter who you are or what you do, there is no reason you can't succeed. You can find an occupation that will match your wants, wishes and needs. It isn't as hard as you may think… in fact it is easy.
Introducing the one an only guidebook and toolkit you will ever need to plan your future career right, from the very start!
Discover never before revealed strategies and techniques you can use to plan your career, whether fresh out of high school, in college or already established in the professional field but looking for a fresh start.
The Career Planning Guide
Discover How You Can Find and Keep The Job Of Your Dreams
Here's just a sample of what you will learn when you invest in this life changing guide:
Learn the five simple steps you can take to master career planning in days, not years….
Discover how you can transform your hidden talents, hobbies and interests into a real job that will make you real money…
Find out how to uncover your hidden skills and abilities and match them to ideal occupations, so you land a career you will enjoy the first time you try….
Discover helpful techniques for reviewing job occupations and alternative occupations so you don't limit yourself and leave the door wide open for opportunity…
Learn subtle ways of changing careers even if you are dead set in your ways…
Learn what skills and aptitude tests you should take to ensure you select the right career and avoid making a life changing mistake…
Find out why it is never too late to expand or grow your career, no matter your age, and what steps you should take if you want to climb the career ladder to success…
And More!
And much more! CLICK HERE where you will be directed to our secure server, and you can instantly download your copy of The Career Planning Guide in just two minutes.
Order Today For $9.95 And Receive A 100% Money Back No Questions Asked Iron Clad Guarantee…
I'm so confident you will benefit from the tips, tools and techniques offered in my guide I'm willing to put my profit on the line. All I'm asking you to do is give it a try.
PLACE YOUR ORDER NOW FOR $9.95 and try the techniques for 60 days. If you don't feel they have helped you in your career journey, just send me the tools and techniques you used in the book along with the goals you defined for your future, and I'll give you your money back.
You can sit around waiting for your future to happen, or you can take charge of your future and invest in a solid career today.
What are you waiting for? The choice is easy. Find out everything you need to know about career planning right here, right now. CLICK HERE and place your life changing order.
You'll be glad you did. And don't wait. This is a limited time order . . .
---