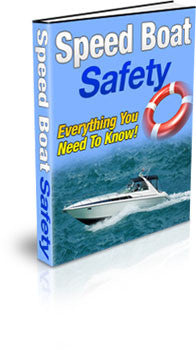 Speed Boat Safety
You need to be fully prepared for anything when you drive a speed boat...
Discover How to Enjoy Your Speed Boat While Staying Safe!
Exclusive Offer!
Never Before Revealed Information!
Dear Friend,
Driving a speed boat is a big responsibility, no matter if you are out in the ocean, a lake, reservoir, and more. There are state and federal regulations you must follow when you drive a boat on the waters.
There are many reasons boaters die that would surprise you. The most common reasons may not even be what you think. There are many important things you need to know when you have a speed boat. These things include how to know if a storm is coming, the proper fire extinguisher for a boat, how to properly fuel your boat and more.
Many boaters take a trip out on the water and they don't know the proper sound signals when another boat is coming at them. You need to know what the sounds and blasts of a horn mean so you don't have a head on collision with another boat.
As a speed boat driver it is your entire responsibility the way you drive your speed boat. You are responsible for your passengers and the people out on the water you might affect with the way you are riding your boat. You can learn about what the navigation lights on your boat mean and what they mean on an oncoming boat.
You need to learn how to call the United States Coast Guard for help when you and your party is in distress. Saving your life and your passengers' lives is your responsibility and you can learn everything you need to know about proper speed boat safety.
In this report, you will discover the important aspects of speed boat safety
There are many things you need to know so you don't break the law or put one of your passengers in danger... weather patterns change quickly and knowing how to properly look for these changes can save your life.
Speed Boat Safety is the best solution and it is everything and more you will learn when you take a boating safety course...
Do you know how to properly pick out a personal floatation device?
Did you know if you choose the wrong type of jacket or it doesn't fit your passenger properly it could kill them? You can learn how to choose the right type of jacket to meet your needs on the water, how to size a life jacket so it fits properly, and much more. Not all fire extinguishers are the same and you need to know the differences of each type and how to use one.
Just because you have safety equipment like flares and other distress signals on your boat won't do you any good if you don't know the proper procedures of how to use them. These are things you must know.
The complete guide to finally understanding speed boats is here
An in depth report on speed boat safety has been generated to give you the facts.  The most recent research will be discussed along with helpful hints in how to communicate, educate, and deal with ANY unpredictable situation while out on the water.
You will also learn the state and federal requirements and how you can be entirely safe when you are out on the water in your speed boat...
 

1) Legal Requirements for Speed Boat Safety

Driving a speed boat means a lot of responsibility, especially when you have passengers you are responsible for. Now you can learn everything you are required to have on your boat and how to properly take care of your passengers so you don't get a ticket.



2) Providing the safest experience for your passengers

The last thing you want to happen is for one of your passengers to be thrown overboard and to go into hypothermia before you can do anything about it. Learn everything you need to know about how to take care of your passengers.

 
Here is what you will learn inside this guide....
How Much Is That Worth To You?
Taking a boat safety course can cost you hundreds of dollars. You can get this boat safety e-book for the low price of $4.95 some boat safety courses won't cover information in this e-book because we provide much more so you are entirely prepared for everything...
Boat safety is extremely important if you drive a speed boat or any type of boat with passengers in it. Water skiing is a lot of fun but when disaster strikes you need to be prepared for the worst. Propeller strikes occur and you need to know the best ways you can avoid issues like this. Throwing a man overboard in the ocean at night could mean death if you do not get your passenger back in the boat as quickly as possible.
It is common for people do die from hypothermia in as little as 15 minutes without the proper precautions and getting them out of the water. When you are driving in heavy traffic areas there are rules of the water you need to know so you are not ticketed. There are many laws on the water as there are off and if you do not know you could even be responsible for a death of someone out on the water and not even know it. Your wake could cause someone else's death. Know how you can prevent accidents from happening on and off your boat.
 

100% "Love It or Leave It" 90 Day Money-Back Guarantee!

 

If you're not totally thrilled with "

Speed Boat Safety

" for whatever reason at all, simply send me an email and I'll cheerfully refund 100% your money with the click of a button.
You've got a full 90 days to try out the material. This is a no questions asked, no fuss money-back guarantee I like to adopt.
  Is that fair or what?
Look at it this way - $4.95 really is a drop in the bucket compared to the time and money you can save yourself...
Here's How To Order To Right Now!
Once your credit card is approved, you will be taken to a special download page where you will have instant access to the ebook.
Special Offer - Only $4.95!
Sincerely,
Rich PLR
P.S. Speed Boat Safety will take you through state and federal regulations and United States Coast Guard guidelines to ensure total safety of your passengers. Learn how to use safety devices, stress signals, and properly take care of you and your passengers today...
---