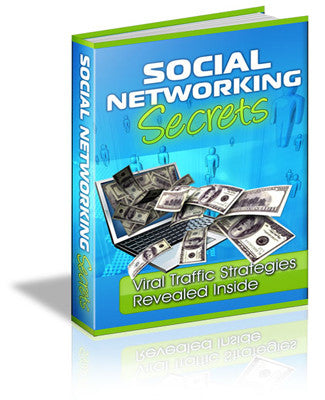 Social Networking Secrets
Now You Can Discover The Insider Secrets To Launching & Profiting
From Your Own Social Network Like Myspace & Facebook
From The Desk of:  Rich PLR
 
Dear Friend,
Social Networks no longer have to be dominated by MySpace or Facebook anymore!  Now, anyone with the eagerness to succeed, and the ability to follow the  sure-fire strategies revealed in this book, will have all the knowledge and tools at their disposal to launch their own successful Viral Social Network.
For the past few months I have asked my members and subscribers, what the most pressing questions they had about launching their own Network, and these
3 questions kept popping up over and over again, in one form or another:
1.  How do I get Traffic to my Social Network?
2.  How do I Make Money with my Social Network?
3.  How do I Successfully Launch my Social Network?
I set out on a quest to answer these questions, and the blueprint is outlined in this brand new book...
This Social Networking Secrets eBook Will Reveal:
How to Successfully Start, Launch, and Profit from Your Own Social Network

Should You Build a Network that Competes with MySpace or Facebook?

The Answer will Shock You!

The Viral Marketing Secrets that Will Ensure The Growth of your Network

( Some of these tactics, not even MySpace or Facebook have implemented! )

The 4 Most Effective Ways for You To Profit With Your Social Network

How to Make Your Network Stand Out from The Rest - ( See Page 4 )

How to Effectively Combine an Affiliate Program with Your Network, to increase your Traffic, Increase Your Profits, and Motivate Your Members to continually Grow Your Network  ( Another tactic no one else is using! )

The 5 Easy Steps to Use to Contact Potential JV Partners that will MAXIMIZE the growth of your network

How to Build Credibility With Your Members, and how to get them to eagerly tell their friends & friend to join your network.

How to use your "Default Friend" to your advantage

What are the 3 strategies you must implement to get your members to

ADD lots of content to your network?

Learn the 8 Sure-Fire Strategies You Can Use to Get LOTS of Laser Targeted Traffic to Your Network
You will learn all this and more,  as I walk you through a very effective marketing strategy to launching your network successfully. 
Carlos, after getting a sneak preview of your book, I've immediately printed it out, and have it beside me as I am beginning to launch my own Social Network.  I now consider this my Bible as I continue to work and launch my Social Site!

I wish you had come out with this book sooner, because it has given me a lot of great ideas, and strategies to follow! 

I'm much more confident now that I have this great book, I will definitely put these strategies into action right away!  I highly recommend your book to others, and I'm still wondering why you're giving this book away for FREE?

Keep up the great work!  
Rich PLR


---