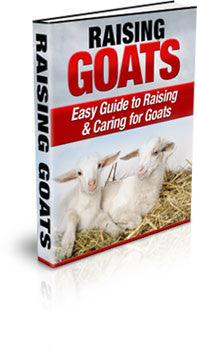 Raising Goats
Ever Thought What It Would Be Like To Raise Goats?
Discover The Secrets to Raising & Caring for Goats the Easy Way!
Exclusive Offer!
Never Before Revealed Information!
Rich PLR
Dear Friend,
Raising goats is not something that a lot of people would think about doing. However, if you like pets, then having a goat is an animal that could peek your interest. Before you start that journey, there are a few things that you need to know. You must be committed to taking care of them because they need more care than other animals. Or you would need someone who could assist you when you needed help or if you needed to go away.
In Raising Goats - Easy Guide to Raising & Caring for Goats, you will see how a goat is being cared for. There are certain things that these animals are particular about and once you read this guide, you will see what you need to do to keep them happy. When you are raising and caring for them, you must be their nurturer, provider, protector and friend. They will depend on you every day to help take care of them and keep them healthy.
There will be people who probably think that you are nuts for wanting to take on this kind of task. However, if you are very fond of animals, it should not matter. This is a step-by-step comprehensive guide that you can use in order to raise and take care of your goat the right way. You can get lost if you don't have the proper information to take care of these herd animals. Taking care of goats are different than taking care of dogs or cats. You have to spend more time with goats and know that they are secure on your property.
The Complete Guide to Goats...
As the thought of raising and taking care of a goat is interesting, it is even more interesting to discover how the process is done. For only $4.95, you can get this guide which takes you through the steps of raising and caring for goats. There are other goat raising guides out there, but none of them compare to this one. In this guide, there is so much you need to know so that you can have healthy and thriving goats. You would not want it any other way.
So don't delay and get this book now! It only takes a few minutes to download after your payment has been received. You will be one of the fortunate ones that gets their hand on this and find out how the process works. You don't want to be left out in the cold, not knowing how to take care of your precious animals. Your goats will want to be some of your precious companions once they know that you are there for them. There will be times when they won't want you to leave their side.
That's why this report is so important. It can help to relieve you of all the guess work with raising and caring for goats.
 

In this report, here's just a few things you will discover:


Why you cannot have just one goat on your property
Where goats need to live in order to thrive
Where goats cannot live and why
When should you not commit to taking care of goats
Where you can find a veterinarian for your goats
Where you can purchase goats from
How to keep your goat(s) from roaming around and wandering aimlessly
The average number of "kids" that goats will produce every year
How to know when a female goat is in "heat"
When is the female goat's most "active" time
How long is the gestation period for a female goat
What is "kidding"
What happens to the kid after birth
What the mother goat does during the "freshening" process
The amount of milk can the female goat can produce daily while it's in their system
and much more!
How Much Is That Worth To You?
So while you are sitting there thinking about whether you should get this guide, there are others who are making the move. They want to know how they can take care of and bond with these animals. They want these goats to be part of the family. If you want to do the same, then get this book now and start finding out what you need to do.
Raising and taking care of goats will not happen overnight. However, the sooner you start, the faster you will learn about getting to know them and bonding with them. You don't want to miss out on this. Don't procrastinate and get this guide at the special price of $4.95 right now. Otherwise, you may not learn how to properly raise and take care of your goats. Then you will have to rely on other sources that may or may not provide you with the right information.
This guide is not marketed towards the rich or the poor, it is marketed for anyone who wants to raise and care for goats, it's that simple!
What are you waiting for? Order Today...
 

100% "Love It or Leave It" 90 Day Money-Back Guarantee!

 

If you're not totally thrilled with the"

Raising Goats

" guide for whatever reason at all, simply send me an email and I'll cheerfully refund 100% your money with the click of a button.
You've got a full 90 days to try out the material. This is a no questions asked, no fuss money-back guarantee I like to adopt.
  Is that fair or what?
Look at it this way - $4.95 really is a drop in the bucket compared to the time and money you can save yourself...
Here's How To Order To Right Now!
Once your credit card is approved, you will be taken to a special download page where you will have instant access to the ebook.
Special Offer - Only $4.95! 
Sincerely,
Rich PLR
---