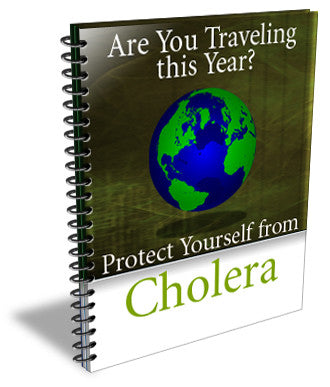 Protect Yourself from Cholera
— Are You Traveling this Year?
" Protect Yourself from Cholera!"
— Don't Let this Killer Disease Catch You!
Dear Traveler,
Nothing can ruin a beautiful vacation like getting sick! Whether you've planned a restful getaway, an exciting exploration or are volunteering your time to help others – the experience you dreamed of can be destroyed when you get ill far from home.
Research and science have helped combat many common diseases like Cholera, however, when you travel you must come armed and ready to protect yourself as these diseases spread quickly and cause severe – even life-threatening symptoms in many lands.
Cholera is one of the fastest spreading infectious diseases – especially in areas where government regulations have not clamped down on the source of the infections or educated the public about its spread.
Are you traveling to Europe? Asia? Africa? The Caribbean? Do you know which countries are currently battling Cholera infections? Are you aware of the risk to your health or your family? Do you know what to do in case of an infection or how to prevent infection in the first place?
Even in areas where Cholera is rare, a serious crisis could quickly turn the tables and cause an epidemic. What would you do? Would you know how to protect yourself? If elderly, weak or young children are in your care, how would you help them?
3 Things You Should Know About Cholera…

1.  Cholera can kill within HOURS
2.  Anyone can become infected with Cholera.
3.  Preventing Cholera is easy and effective.
Cholera could be the last thing on your mind as you pack for that sunny vacation or to volunteer your help at an emergency location. However, Cholera spreads quickly and can be LETHAL!
Knowing what Cholera is and how you can protect yourself will give you peace of mind so you can focus on other things!
Instead of panicking when someone in your family or group gets sick, you can feel safe in the knowledge that Cholera can be avoided – or in the worst case scenario – you'll know what steps to take to get better FAST!
Learning about Cholera doesn't take a science degree and you don't have to be a health professional to prevent it. With "Protect Yourself from Cholera" you can get all the facts and information you need to keep you and your loved ones safe!
It's simple to read and understand
It's presented in simple, easy to understand language. Because of that you don't…
ü  Need any special training.
ü  Need a lot of money - the cost is low.
ü  Have to wait days for answers – get them with a click.
You have all the information you need to get answers and "Protect Yourself from Cholera."
Here's a quick look at what you can learn from the book "Protect Yourself from Cholera" :
What foods you should avoid when travelling.
How relief workers, children, the ill and elderly are especially at risk.
What simple steps can you take to avoid a Cholera infection.
What symptoms indicate a person is possibly within HOURS of death!
There is much more in " Protect Yourself from Cholera" that you will gain access to. Before you go anywhere, take the first critical steps to protect you and your family.
This is a "must have" for everyone's digital bookshelf but especially crucial if you or a loved one is planning a trip or living in an area where Cholera infections are likely.
And at only $_____ this guide is a steal!
No Risk, 100% money Back Guarantee!
I truly hope you see the potential here, and realize how important this offer is!  You can learn all of this virtually Risk Free!
We want " Protect Yourself from Cholera" to be an absolute 100% no-brainer for you.  That's why you can order your copy with complete peace of mind.
If you don't believe that " Protect Yourself from Cholera" has increased your knowledge just let us know and we will refund your purchase price no questions asked.
It's really easy to get started. You just need to click the link below and you will have your copy in just minutes. Once you have your own copy of "Protect Yourself from Cholera" you are armed and ready to prevent a life-threatening infection of Cholera!
You know that you are acquiring knowledge that can reap benefits for years to come. We guarantee it! Start now!  Click the link below for your copy. You'll be glad you did.
---