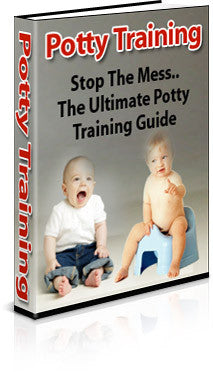 Potty Training
"Get Rid of The Diapers Once and For All…..And Potty Train Your Toddler!"  
If It's Time To Start The Process Of Potty Training, Don't Spend Hours Trying To Find The Best Advice Around.  Start Right Here!
Dear Fellow Parent:
This is an exciting time in your life and your child's life too!  It's time to start thinking about potty training.  If the mere thought of it strikes fear in your heart, rest easy.  You are a busy parent trying to juggle all of the responsibilities that are expected of you.  How do you fit in potty training?  The answer is easier than you think!
Let us start by saying that we aren't one of those hyped up systems that promise you can train your child in an hour, a day, or any time frame at all.  Every child is different, and all of these so called "foolproof" systems are not for everyone.  Sure they might work sometimes, but not all the time.
There are tons of how-to books out there that will cost you a pretty penny and then you find that none of their advice works after you've already spent your money.  I'll address the money aspect later, but rest assured that the book I'm offering you is no sure fire anything – except for a sure fire winner.
You see, the book I have here for you, "Potty Training, Stop the Mess, The Ultimate Potty Training Guide" offers practical advice that has been tested by real life people – just like you.  When you start to potty train your child, everyone you know will be ready and willing to offer up their own experiences and expect you to follow their every word.
Let Me Tell You Right Now….This Won't Work!
It really won't.  Just because your best friend's kid responded well to treats and rewards during potty training doesn't mean your child will.  Some kids just need praise and nice words.  Others require simple attention.  It's easy to get caught up in what everyone has to say.
What this book does is take all of those tips, tricks, and advice, and puts it together in an easy-to-read manual for everyone!  I won't tell you that if you do this, it will definitely work.  That's because I don't know if it will.  But what I will do is give you a lot of the information that exists on the subject and let you make your own decision.
I'll even give you a sneak peek into the pages of this amazing book.  Many people struggle with wondering if their child is ready to start potty training.  Ask yourself these questions:
Does your child:
Tell you when his or her diaper needs changed?
Stays dry after taking a nap?
Understand the words "poop" and "pee"?
Watch you or a family member use the toilet and then asks questions?
Pull his or her pants up and down by themselves?
Want to please you?
If any of these are true of your child, potty training should probably begin.  There are many more indications that your child is ready for the toilet, but you'll have to read the book to get all of them!
Potty training is a very personal time for both parent and child.  Listening to your child and watching for those tell-tale signs that they are ready for the big potty will determine your success or failure.
This Book Will Tell You What To Look For!
But even more than that, we'll give you advice on how to encourage your child with praise and rewards without going overboard.  Kids need encouragement.  Often, that means treats and prizes.  Some parents will over-do this aspect of potty training – but you won't!
"Potty Training, Stop the Mess, the Ultimate Potty Training Guide" will show you how to shower your toddler with praise and rewards without the temptation to do more than you should.  It will also show you some of the best terminology around that will appeal to your toddler without inhibiting him or her to use the potty themselves.
Potty training doesn't have to be "dirty business".  It's actually easier than you think – when you have the right tools to use.
What I Am Offering is a Practical, Easy-To-Use Guide
Everyone has advice for you.  I'm no different, but after reading this book, I realized that this is the best advice around.  Look at some of the information contained inside this book:
What videos and books can help the process
Picking out the perfect potty chair
Training while traveling
What time is the "right time"
Staying dry at night
Altering your child's diet for better bowel control
Addressing physical complications that might be present
What's even better about "Potty Training, Stop The Mess, The Ultimate Potty Training Guide" is that I've put in some of my own advice after successfully potty training three children with a minimum of fuss.  It wasn't easy at first, but really, the whole potty business wasn't as bad as it could have been.
I Can Show You What Worked For Me Too!
Plus, this book takes tips and tricks from real-life people who have been through potty training.  That means real advice from real people.  But we want to stress that not all of this advice will work for you.  The best part is that some of it will!
You Owe It To Yourself to Give This Book a Read!
Better than that, you owe it to your child.  This can be an emotional time, but it doesn't have to be.  Potty training is a big step for both you and your child which is exactly why this book can help you more than you ever know!
Need a little more information?  No problem!  This book also tells you about:
Training a special needs child
Potty training multiples
Ways to help boys adjust to the potty
What to do when your child regresses
How to show your child good hygiene habits
And more!
You could spend hours and hours surfing the Internet looking for this information.  You could buy hundreds of dollars of books on the subject.
Now You Don't Have To!
"Potty Training, Stop The Mess, The Ultimate Potty Training Guide" has it all.  This book has put together advice from experts like doctors, psychologists, and real-life moms and now I'm offering it to you!  It's mind-boggling, really!
Since I own the rights to this amazing book, I struggled with what kind of price tag to put on it.  After all, it's taken all the best tips and tricks and put it together in one easy-to-read book that you can refer to time and time again.  If you have more than one child, you will always have this book to refer to. 
Then I remembered how much advice I needed during potty training time.  And I realized that I would have wanted some to give me this much advice at the least amount of money.  So, I ran the numbers and realized that $4.95 was more than fair.  I could have asked for $59.99, I could have asked for $99.99 – because this book is worth it – but I just didn't want to do that.
When you order "Potty Training, Stop The Mess, The Ultimate Potty Training Guide" for just $4.95, you'll get the most comprehensive guide around for potty training your child with a minimum of stress and a maximum of satisfaction!
Why Should You Order This Book?
Well, first, because you are spending a ton of money on diapers and that needs to stop sometime before your child starts school!  Pull-ups are expensive too.  What you spend in one week can buy this book and stop that added expense!  Most people think that diapers and pull-ups are part of the expense of raising a child.  They might be right.
However, this book tells us that pull-ups and diapers need to be discarded once you begin the potty training process.  Get rid of them and get started right now!  Use that extra money for something YOU want!
Our Famous, 100%, 90 Day Money-Back  Clear As Black-And-White Guarantee!
If After Using What You Learn From My Book, You Don't Learn How To Successfully Identify And Cope With Potty Training, I'll personally Buy My Book Back From You & You Get A 100%, No-Hassle Refund!
('And you can even keep the book for free as a thank you for trying it out!')
Where Else Do You Get A Guarantee Like That?
Nowhere!  You will receive this amazing book, have three months to look it over, and if you're not satisfied, you get your money back!  And you get to keep the book!  That's how confident I am that you will find what you need inside these pages.
When you click "Order Now", this book will be delivered to your e-mailbox and you will be able to reference it at any time – day or night.  Feeling frustrated because your toddler wet the bed?  No problem – just look at the section on "Nighttime Training".  Is your child refusing to use the potty after months of success?  Read "Regression" to ease your worries and get back on track.              
Nothing To Lose, Everything To Gain!
Order "Potty Training, Stop The Mess, The Ultimate Potty Training Guide" for just $4.95 right now.  Take 90 days to read it and then let me know what you think!  I'm pretty sure it'll be everything you want – and need!
Warmest Regards,
Rich PLR
P.S.  Remember that guarantee, dear parent.  You are taking absolutely NO RISK here!  I'm that confident.  Take your 90 days, put the advice in these pages to work and you'll be well on your way to successfully potty training your child!
---