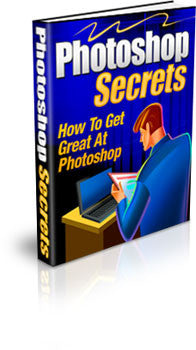 Photoshop Secrets
Are You Frustrated Because Your Graphics Are Not Looking Professional?
Have You Been Slaving Over Your Projects, But Find Yourself Not Getting What You Want From Your Generic Graphic Software?
Exclusive Offer!
Never Before Revealed Information!
Dear Friend,
Well, you're about to learn some of the secrets and tips to enhance your images, photos and other projects that you are trying to create and make look professional. First, you need to get rid of that software that you've been using for years. Besides, it can only do so much for you. A lot of the features that you need are not there. However, there is software that can really enhance your projects and blow them out of the water! Do you know what is is? Drum roll, please.......It's Photoshop!
Photoshop is the number one graphics software that is used by many graphic designers and artists who want to get their projects just right. This graphics software has everything you need and more!
However, if you don't know the secrets to getting your projects where you want them to be, then you're a lost cause. Don't fret, because it doesn't have to stay that way. Here is a report that can take you from the beginning to some of the more advanced techniques and methods that you can use to enhance your images and photos. Just think, when your friends and family see your work, they will be more than amazed!
In order to get to that point, you will have to check out this report, "Photoshop Secrets (How To Get Great At Photoshop)" in order to find out the secrets to making your project look as good as the professionals.
Photoshop is not difficult to learn, and with a little practice, you can master it in no time. This report is full of information for you to use in order to get ahead of the game. So don't waste another minute and go ahead and get this report now before it's too late! Other people will have beaten you to the learning curve if you wait! You don't want that, do you?
In this report, you will discover the following:
11 tools that are used the most in Photoshop, What palettes are used for, Putting images in Photoshop, What does dpi stand for, What suffixes are used when creating saving an image file, When to use the .jpg, .gif and .psd suffixes and more...
If you have businesses on the internet, you can create e-book covers that look stunning. People wouldn't be able to tell the difference. They would think you were a professional graphics artist. However, you don't have to be one in order to learn the secrets and tips listed in this report. All you have to do is follow the directions and you will have new graphics in no time.
In fact, a lot of marketers that have businesses on the internet use or either have someone use Photoshop to have the best looking stuff. Looking professional is one thing that attracts visitors to other websites. They figure if it's professional, that it's worth checking out. However, this report, "Photoshop Secrets", can help you make your images more than just worth checking out. They will look so good that you will have people purchasing your products left and right. So don't just settle, get this report and get going!
The Complete Guide to Finally Understanding Photshop is here
An in depth report on photshop has been generated to help you learn how to use the powerful software quicker. More people use Photoshop because they know that it not only expansive, it is also the best software you can use to get top notch photos. Where you had a dull looking photo, using these Photoshop secrets can make it look brand new.
Many people think that Photoshop is difficult to learn. That is far from the truth. You may have to create a learning curve for yourself, but learning the secrets of this premier graphics software will have your head spinning with ideas! You have nothing to lose, download the guide now and get started!
 

More information that you will learn in this report includes:

How layers are used in Photoshop images

Why it's important to create a copy of a layer when creating an image in Photoshop

What happens when you edit a layer

How to create a new layer

How to get rid of a layer

How styles interact with layers

What adjustment layers are used for

 
Here is what you will learn inside this guide....
How Much Is That Worth To You?
You can have all the information in one neat package for only $4.95. This all inclusive guide will explain in simplified terms all the questions that have eluded you.
This report is packed with information that can help you create stunning images and photos that people will clamor to look at. You should make it a point to learn Photoshop and be able to teach others.
People that become skilled in graphic design can stand to make lots of money. You will find graphic designers that do work for films, companies and other professional entities where their work stand out. Who says you couldn't do that?
Wouldn't it be great to have an easy reference guide downloaded on your computer so that you can click and read what you need to know about.  The advantage of an e-book is that it takes up no shelf space, it is easily emailed or you can on a memory stick and read it anywhere.  Since photshop is such a detailed software application you might want this reference as handy as possible for on the go.  All wrapped up in one little package and the time saved doing the research is done for you.  You just click, read, learn, and apply the knowledge to make you an expert at photoshop.
 

100% "Love It or Leave It" 90 Day Money-Back Guarantee!

 

If you're not totally thrilled with "

Photoshop Secrets

" for whatever reason at all, simply send me an email and I'll cheerfully refund 100% your money with the click of a button.
You've got a full 90 days to try out the material. This is a no questions asked, no fuss money-back guarantee I like to adopt.
  Is that fair or what?
Look at it this way - $4.95 really is a drop in the bucket compared to the time and money you can save yourself...
Here's How To Order To Right Now!
Once your credit card is approved, you will be taken to a special download page where you will have instant access to the ebook.
Special Offer - Only $4.95!
Sincerely,
Rich PLR
P.S. Only your willpower and supposed lack of creativity is stopping you from moving forward. Getting this report, "Photoshop Secrets", can be the best thing that you've ever done for yourself. Buy Now!
---