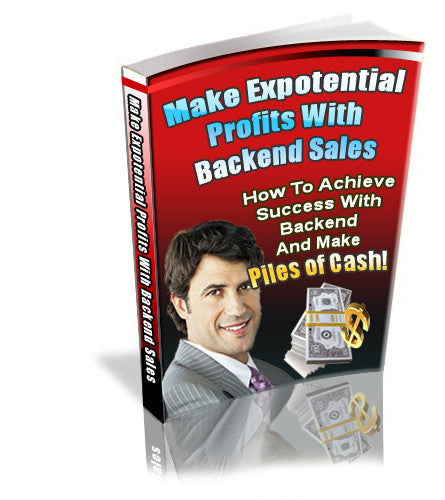 Make Exponential Profits with Backend Sales
No matter what type of business you are in, or whether you market your products online or offline, the backend offers are the ones which determine whether you are going to make marginal or staggering profits.
Why Is The Money In The Backend? There is no additional customer acquisition cost, as you will be selling to customers you have already acquired, for one. Assume that the selling price of your initial product (frontend) is $97, while its original cost price is $30. You run an advertisement for $600, which got you ten customers. Your gross profit will thus be $670 ($97 X 10 customers) - ($30 X 10 customers), while your net profit will be $70 ($670 gross profit - $600 ad costs) for 10 customers.
This is just one small example of how powerful the 'backend' concept can prove to be. Even if you do not make profit from your initial sale, you can always compensate and make more from your 'backend' sales!
Sneak Peak: Table Of Contents
What is a Backend Product? 5
Why Is The Money In The Backend? 5
The Importance of a Backend Strategy 7
Taking the Advantage of Backend Selling 9
Getting Started with Your Backend Strategy 11
Conducting Surveys 11
Conclusion… 12
Why Need a Backend Marketing Strategy in Your Business? 13
Backend Marketing Method 15
Promoting Back End Products for Increased Sales 16
Backend Products: Key to Long Term Wealth in IM 18
Choosing the Products for a Successful Backend Sale 20
Affiliate Marketing and Backend Selling 22
Backend Products and Affiliate Programs 24
How to Increase Backend Sales from Your Current Customers 26
Backend Sales and Email Marketing 28
How to Double Your Sales with Backend Selling and Up Selling 30
How to Increase Your Backend Profits Quickly and Effortlessly 32
---