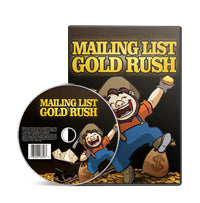 Mailing List Gold Rush (Videos)
Discover How You Can Quickly And Easily Create Your Own Virtual Goldmine... So You Can More Money Online, With Much Less Effort!
Dear Fellow Marketer,

Everyone will tell you... the gold is in the list.

And it's true!

Once you have a mailing list, you automatically have your own personal cache of people you can sell products to.

Of course, the bigger and more targeted the list, the better the results. And the result you're ultimately shooting for is more revenue.

Not that you're going to use your mailing list as a permanent and exclusive sales machine. That would be deadly.

You absolutely MUST keep a fair balance between sales pitches and quality information... or you'll sabotage ALL your efforts!
It's Not The SIZE Of The List That Matters...
It's HOW You Use It!
If you send out too many blatant "buy this now" messages, you'll lose the trust and support of everyone on your mailing list.

If you send out too much free information over an extended period of time, you might just alienate your subscribers when you do finally promote any type of product to them.

That's where balance comes into play.

You need to send quality information and advice for free. But you also need to incorporate promotion messages that are related to that information.

Get this wrong and you'll have a VERY hard time making money from all your hard work!

Your goal should be to establish a solid and trustworthy relationship with your subscribers...

Then you can make money with each and every promotional email you send, ANYTIME you want to!

But how do you build this relationship? And is it hard to do?
I Have A Confession To Make...
In the beginning, I had NO idea how to communicate effectively with my list.

Like many marketers, I'm guilty of sending TOO many promotional emails and not enough free, valuable content.

It's an easy habit to fall into... and it can be diffcult to recover from.

It's MUCH better to get this right when starting out, so you can build rapport with your subscribers...

Otherwise, you'll end up with A LOT of unsubscribes and poor open rates!

And that's the last thing you want.

So, please treat your list with RESPECT and ALWAYS provide VALUE.

Now it's time to build your list, but not just ANY list...
The Secret To Making HUGE PROFITS Is To
Build A HIGHLY-TARGETED List!
If you truly want to be successful, then be certain ALL your subscribers are laser-targeted for the offers you want to promote.

Otherwise, you'll waste your time and money.

You ONLY want and need those individuals who have a strong interest in your particular niche market...

And they should also be anxious and willing to receive promotional messages from you.

List building is one of the easiest, most effective and most reliable ways to make money online... if you do it correctly.

I've been building lists since 2003 and I know what works. I've gone through all the trial and error, so you don't have to.

Now I'd like to hand you my "blueprint" on a silver platter... so you can instantly copy my success and build a profitable mailing list!

And just to take the risk off the table completely...
"Rock Your World, Or Cost You Nothing 60 Day
100% Money-Back Guarantee!"
If you feel Mailing List Gold Rush is not worth the very small investment that I'm asking then I don't want your money. I'll give you back every penny you paid. No hassles and we can part as friends. 100% Money-Back Guarantee.

Always remember...

The gold might be in the list.

But without the benefit of quality subscribers, that gold will be extremely hard to come by. No matter how many killer sales pitches or how much free information you send them.

Do it right the first time and you'll have your very own virtual gold mine!

So grab your copy of Mailing List Gold Rush today and learn how to consistently mine gold online.

There's really only one pesky little detail that stands between you and success... the purchase price. Yet, I've made this offer SO affordable you can't possibly turn it down.

Don't delay... lock in the lowest possible price now!
Have a great day! 

Rich PLR 
---