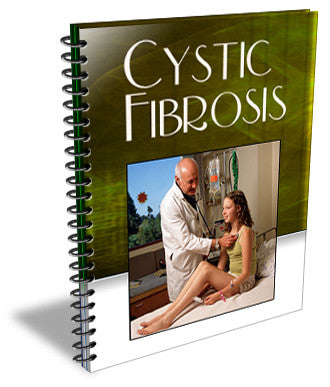 Living With Cystic Fibrosis
— Have You or Your Child Been Diagnosed with Cystic Fibrosis?
"Living With Cystic Fibrosis"
Find Out How to Take a Pro-Active Approach to Living with CF! 
 
Dear Cystic Fibrosis Patient or Parent,
Have you recently had a diagnosis of Cystic Fibrosis? Are you afraid for your future or the future of your child? Have the stories you've heard of CF true? Is there something you can do to improve the life and health of a CF child or yourself?
If you're reading this letter you are no doubt very worried and frightened by the implications of being diagnosed with CF. In the past Cystic Fibrosis almost always meant a short, sickly life – but today, with the advances of research and science, along with the experience of many CF sufferers and their families, Cystic Fibrosis patients can lead much longer, healthy lives.
Recovering from the shock is the first hurdle, but the sooner you start looking into ways to combat the disease, the better your or your child's chance of enjoying a healthy and vital life for many, many years to come.
Now is the time to get some fundamental understanding of what you are facing – what CF is, how it can be treated and what the future holds.
3 Things You Should Know About Cystic Fibrosis…

1.  Approximately 12 Million Americans are carriers of the CF gene.
2.  Quality of life and life span have immensely improved since the discovery of the CF in the 1930's.
3.  Research continues to come up with improved techniques and medications to help CF patients live longer, healthier lives.
Most Cystic Fibrosis sufferers are diagnosed early in childhood or infancy; however, no matter when you are diagnosed a PRO-ACTIVE approach to managing the disease ensures a LONGER and HEALTHIER life.
Organizations such as the Cystic Fibrosis Foundation, along with many other groups and research projects are continually finding improved methods to deal with CF and are looking towards a CURE!
You do not have to face this alone! Doctors and other families dealing with Cystic Fibrosis are working together to provide the support you need to deal with CF and get the support you need.
There is hope. There are answers to your questions. In "Living With Cystic Fibrosis" you can get all the facts and information you need to keep you and your loved ones looking forward towards a healthy future!
It's simple to read and understand
It's presented in simple, easy to understand language. Because of that you don't…
ü  Need any special training.
ü  Need a lot of money - the cost is low.
ü  Have to wait days for answers – get them with a click.
You have all the information you need to get answers in "Living With Cystic Fibrosis."
Here's a quick look at what you can learn from the book "Living With Cystic Fibrosis" :
Learn how a person gets Cystic Fibrosis and whether it can be prevented.
Find out how CF affects the body and how to PRO-ACTIVELY manage the symptoms of CF.
Find out who is most at risk of getting CF and what science is doing to combat it.
Learn the symptoms that should get you to a doctor and when to suspect a child or young adult is possibly suffering from CF.
There is much more in "Living With Cystic Fibrosis" that you will gain access to. Before you go anywhere, take the first critical steps to care for you and your family.
This is a "must have" for anyone's digital bookshelf but especially crucial if you or a loved one has already has been diagnosed with Cystic Fibrosis.
And at only $_____ this guide is a steal!
No Risk, 100% money Back Guarantee!
I truly hope you see the potential here, and realize how important this offer is!  You can learn all of this virtually Risk Free!
We want "Living With Cystic Fibrosis" to be an absolute 100% no-brainer for you.  That's why you can order your copy with complete peace of mind.
If you don't believe that "Living With Cystic Fibrosis" has increased your knowledge just let us know and we will refund your purchase price - no questions asked.
It's really easy to get started. You just need to click the link below and you will have your copy in just minutes. Once you have your own copy of "Living With Cystic Fibrosis" you can feel safe in the knowledge that you can face the future with optimism.
You know that you are acquiring knowledge that can reap benefits for years to come. We guarantee it! Start now!  Click the link below for your copy. You'll be glad you did.
---