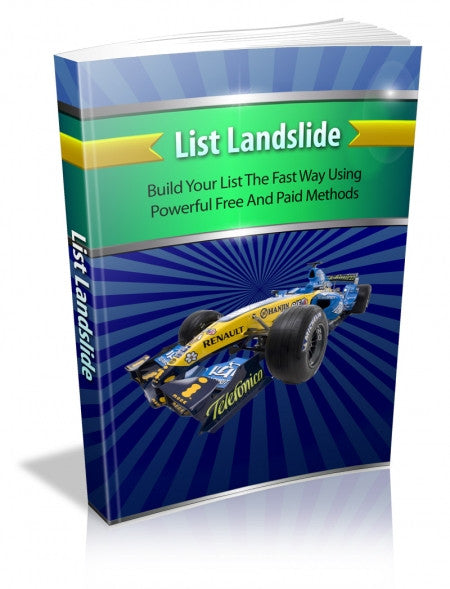 List Landslide
You'll soon have to UPGRADE your email list server because of this…
"Discover How You Can Explode Your List Size With These Ninja List Building Strategies Unknown to 95% Of Marketers!"
Finally… The Top Internet Marketing List Builders Let The Cat Out Of The Bag! Find Out How To Get Access To Their Most Closely Guarded List Building Secrets!

From The Desktop Of:  Rich PLR
RE: Upgrading your email list capacity
Dear Respected Marketer,
We all know the importance of having a huge responsive list.
"The Money Is In The List" – Probably the most overused statement in Internet Marketing…
But that's simply because it's true!
Thousands of online marketers have an extremely hard time to make money online because they do not possess a sizable responsive list.
They often blame it on a lousy product, poor sales copy or just plain don't believe in making money online.
The truth is, building a list plays the biggest priority of all. With a big list, you can easily make money from affiliate products or solo ad swaps – even if you don't have your own product!
Which is probably why hundreds of thousands of people are searching for how to build a list everyday!
Now, I'm sure you'll agree with me about two things:
Having a huge responsive list is wayyy too important to be overlooked

The money is definitely in the list!
Well, I've got good news for you…

But first, please take this short mental quiz to see if you're facing any of these problems in your business:

-I don't have a sizable email list!
-My email list is nowhere near responsive!
-I haven't been making any real money from my list till today.
-I'm totally clueless when it comes to building a list!

Now… If you've faced similar situations to any of the above, pay close attention because the secrets I'm about to reveal might change your destiny forever..!

 

INTRODUCING:


LIST LANDSLIDE

 

Top Tier List Building Strategies Your Competitors Would Die To Know Of!

Here's an overview of what's inside:

-With this e-book, you will be exposed to the different type of list building methods our in the marketing arena!

-Besides that, you'll also be getting advanced list building techniques to explode your list!

-Also, avoid the pitfalls of list building by finding out what mistake to avoid!

Let me shed some light on some things that may be on your mind:

Will this help me build a sizable list fast?
Short answer: This isn't some "magical list growing scheme. This guide contains solid, time tested strategies that will help you grow your list steadily with high quality leads.

Will I be able to implement these strategies easily?
Most definitely! The steps to these proven strategies have been mapped out clearly in this guide so that anyone – whether a novice or beginner can start using and building their list immediately!

Wow, this is too good to be true! Will this cost me a bomb?

Here's the good news, NO.I want everybody to be able to have access to these great list building strategies because I knew what it was like struggling as a small marketer in my early days against the big giants. I want this to be the "slingshot" of David versus Goliath!

If you're still sitting on the fence, here's 5 great reasons to invest in List Landslide:
You'll never have to pay a single cent ever again for low quality ad swaps or pay for leads!
These list building strategies are only known by a select few of top marketers, and you'll be getting access to these marketing gems immediately!
Thousands of dollars are being left on the table just because people fail to grow their lists. Isn't time to start now?
You're marketing buddies will be begging for you to teach them your secret list growing strategies and even pay you for consultancy fees!
With your newfound list building strategies, you'll easily cover your investment in this guide and starting raking in cold hard cash!
 

So how much will this cost you?
REAL WORLD VALUE = $97
But hey, like I said. I want EVERYBODY to be able to afford this amazing list building guidebook.

So, I've decided to lower the costs of this product.

Hence, your total investment in List Landslide Is:

$47

$4.95

(This is a digital download. You will instantly be directed to the download page upon purchase)

 

Best Wishes,

 

Rich PLR

 

P.S. Hurry! This Offer is only up for the next 50 fast action takers! We don't want you to miss out on this amazing opportunity!

P.P.S Remember, It's not how much you stand to gain, but how much you stand to lose out by not taking action.

P.P.P.S If you're sick of others telling you that you can't succeed in your business, It's high time you showed them whose boss!

 

 
---