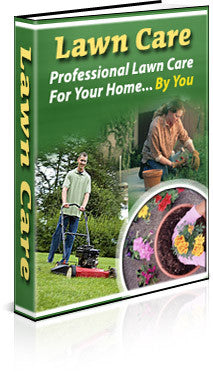 Lawn Care
"The Secret of A Great Lawn Without Needing a Professional – You Can Do It And I Can Show You How!"
A Great Looking Lawn Doesn't Have To Cost Hundreds Of Dollars Or Require The Use Of A Professional Lawn Care Service.  All You Need Is This Incredible Book!
Rich PLR
Dear Homeowner:
I know what it's like to take pride in your home.  From the moment I moved into my very first home, I spent a lot of time considering the shape of the lawn and what I could do to make it look better.
As I stood on my new front porch, I saw clumps of grass that didn't match the rest of the grass, dandelions, and weeds.  It was just grass – it wasn't a lawn.  I had visions of a beautiful green carpet lying out before me as I looked out over my "kingdom".  What I saw was much less than that.
But I knew I could change that if I wanted to – and I really wanted to!  I started doing research and was simply overwhelmed at the vast amount of information on the Internet alone regarding lawn care and landscaping.  There wasn't anyplace that put it together for me in one place.  I thought my dream was dead.
Then I Found This Book!
From the moment I read it, I knew I had found the answer to all my lawn care questions.  In fact, I loved it so much; I obtained the rights to it and am now eager to share it with you.  There's just no other information source out there that has everything this one does.  This book is called, "Lawn Care – Professional Lawn Care For Your Home – By You!" and it's available exclusively to you right now.
I don't expect you to simply take my word for it.  That's why I want to show you some of the incredible information that this book gives you. 
How do you pick out the right grass seed for your climate?
Is there really a right and wrong way to mow your lawn?
How do I get rid of those pesky weeds?
What about fertilizers – which one should I use?
And much, much more!
Did you know there are over a hundred varieties of grasses in the world that can be used for landscaping?  Making a decision like which seed you should use can be exasperating and just plain confusing!  This book tells you about the most popular types of grasses out there and which ones are suited for particular climates.
Then it goes even further.  It tells you about watering your lawn to promote growth, what to look for in a fertilizer, and even how to pick out a lawn mower.  Even the lawn care novice will be able to cultivate a beautiful and lush lawn after reading this book.
Weeds are the bane of any lawn care regimen.  And with some of those weeds, there's not much you can do to get rid of them without killing your grass.  Do you know how to recognize and get rid of these weeds?
Crabgrass
Bentgrass
Dandelions
Moss
Mushrooms
Chickweed
This Book Does!
Inside the pages of this book, you'll learn ways to get rid of these weeds forever or at least keep them from taking over your whole yard.  .
A huge rule of thumb in lawn care is to use offense rather than defense when it comes to weeds.  That means preventing them from appearing in the first place is the best practice so you don't have as much to worry about when it comes to removal and control.
"Lawn Care – Professional Lawn Care For Your Home – By You!" is simply the best way I've found to get all the information you need to have a great lawn.  But don't trust me.  Listen to what others have to say:  
 "When we built our home and finally moved in, it was less than what I wanted.  Oh, the house was perfect, but the yard was one big mass of dirt with no green anywhere.  We thought about Using sod to cover the ground, but that was just too expensive. I noticed this book and bought it right away.  I didn't expect a whole lot but figured what the heck, it couldn't be any worse than some of the other books out there.  Boy was I surprised! I planted my grass seed in early April and followed the suggestions given.  By June, I had a nice, green lawn and had a great start on some landscaping for next year.  I can't thank you enough for offering this book for sale!" 
Bob from Georgia
You Can Too!
As I said before, there's so much information available today, it can be hard to take the information you need and put it to use right away.  So what this book does is take advice from top lawn care experts and assembled it in an easy-to-read format that will guide you through all of your lawn care questions and problems.
Even if you have no clue where to start, "Lawn Care – Professional Lawn Care For Your Home – By You!" can get you there.  Listen to what Marlin in Connecticut found out after he order this book:  
"I had lived in apartments my whole life.  There was no lawn to speak of that needed taking care of, so I didn't have the foggiest idea about mowing or seeding or weeding. When we bought our new house in the suburbs, I found myself with this huge piece of land and no idea how to take care of it.  I'm not the type of person who lets other people take care of what's mine, so I really wanted to learn how to take care of my lawn. 
A friend of mine suggested I give this book a try, so I did.  From the very first page, I knew I'd found the ultimate lawn care guide.  Now my lawn is the envy of the neighborhood.  People can't believe that I had no experience in lawn care when we first moved here.  That's how great this book is!  Thanks so much!"  
Marlin From Connecticut
Don't have a lawn mower yet?  No problem!  This book reviews the top types of mowers and gives characteristics of each so you can make the right decision about which mower is right for you.  Plus, it gives a step by step guide on tuning up your mower and how to prepare it to withstand winter.
What I found especially helpful, though, was the sections on landscaping and how to build your own backyard (or front yard) waterfall.  My wife loved it too because it gave her a way to participate in the yard work and she had a blast building our rock water garden.
Landscaping is also part of making your yard something to be proud of.  "Lawn Care – Professional Lawn Care For Your Home – By You!" tells you about the most popular plants, shrubs, and trees that will make your yard beautiful.  See beautiful full color photos of:
Azalea bushes
Butterfly bushes
English Boxwood shrub
Winterberry Holly    
And more!
Plus, learn what conditions these plants need to grow best in and how to place them in your yard so you get the look you are trying to achieve!
Cultivating a great lawn and keeping it looking amazing isn't just for professionals anymore.
Now You Can Have The Lawn You've Always Wanted!
With everything that is included in "Lawn Care – Professional Lawn Care For Your Home – By You!", the price tag for a book like this could be well out of reach.  But I wanted it to be available to everyone at a reasonable price.  That's why I'm offering it to you at the exclusive low price of $4.95.  
Ordering is easy:  just click on the link.  When you order, you'll receive the book directly to your e-mail box and be well on your way toward becoming a lawn care genius!  You'll always have it to refer to at the touch of a button – what could be better than that?
I believe in this book so much that I've decided to go the extra mile for you.  Many people like to browse through the pages of a book to make sure they're getting what they pay for.  I'll let you do that too.  How?
I Am Offering You A 100 Percent Money-Back Guarantee!
Our Famous, 100%, 90 Day Money-Back  Clear As Black-And-White Guarantee!
If After Using What You Learn From My Book, You Don't Learn How To Successfully Identify And Cope With ADHD, I'll personally Buy My Book Back From You & You Get A 100%, No-Hassle Refund!
('And you can even keep the book for free as a thank you for trying it out!')
That's How Confident I Am!
Lawn care is more than just mowing the grass once a week.  To have a really spectacular lawn, you need to know much more than that!  Arm yourself with the best information around.  Order "Lawn Care – Professional Lawn Care For Your Home – By You!" for just $4.95 today and do so with confidence!
Warmest Regards,
Rich PLR
P.S.  Don't forget that I am extending to you a full 100 percent money-back guarantee on this book.  You don't have to worry about being taken for a ride.  This is the real deal.  You have a full three months – 90 days – to agree with me and be well on your way to the lawn of your dreams!
---