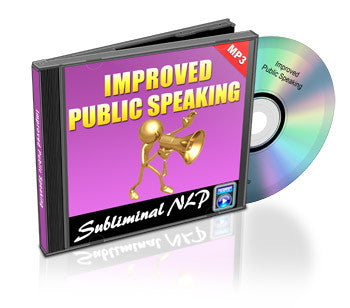 Improved Public Speaking (Audio)
"Cast Aside Your Inherent Fear Of Speaking in Public"
Running Time: 1 Hour 0 Minutes
Description: Ever been nervous, anxious, or downright fearful when having to speak to a group?
Imagine everyone in the group is looking at you with smiling adoration. Feel that they can't wait to hear the next thing you're going to say. See them nodding approvingly and occasionally glancing at each other, astonished at the depth and breadth of your wisdom. If you do, if you tell yourself you are the best speaker this audience has ever had the good fortune to hear, you will be. And when you realize that, your fear and anxiety will - poof!- disappear.  This is just one of the NLP techniques you'll discover in "Improved Public Speaking".
These positive affirmations help you to reach the 'goal' you have set for yourself and open doors for you that would otherwise have been kept closed.
---