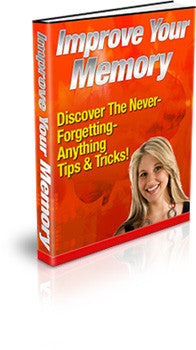 Improve Your Memory
Embarrassed When You Can't Remember A Person's Name?
Are You Habitually Forgetful And Absentminded?
Exclusive Offer!
Never Before Revealed Information!
Dear Friend,
There are probably plenty of times where you forgot something that you were supposed to do. You didn't remember until the last minute and by then, it may have been too late. If you have answered in the affirmative to the above questions, then you may have a problem with your memory. You have been forgetting more than you should have.
What is going on?
It's bad enough if it's small issues; but if it's larger ones, then you are in trouble. Another thing that can doom you is not remembering names of other people. This is especially embarrassing if you are introducing two people to each other. Your forgetfulness and absentmindedness may not have been noticeable until someone told you about it; or you realized that you were constantly leaving things undone that you were supposed to do earlier.
First, you need to find out why you have been so forgetful and absentminded. Do you have too many things on your plate? Are you under a lot of stress? Have you been bogged down with a lot of work and not been able to take a break? These things can cause you to go in overload and distract you from your focus and concentration on the more important things.
Don't fear—there are various techniques and tricks...
Your brain is used to storing memory. So, if you continue to forget things, what good is it for? You need to have information at the drop of a hat. Delaying the process can bring unpleasant consequences, as explained in previous paragraphs. It's not good to have these lapses when you're in your 20s. You should know that something is wrong. However, in your 30s and 40s, that is definitely not a good time to have chronic memory lapses.
You can regain and improve your memory. Some of them make take longer to implement, but once you get the hang of them, you will be able to remember things from many years past.
In the Improve your Memory report, you will discover...
 

The difference between short and long term memory
Why and how eating a healthy diet can help to improve your memory
Why you should not rely on herbal supplements to regain and improve your memory
How omega-3 fatty acids work with your brain
How folic acid in certain foods can help to improve your memory
Seven kinds of foods that contain folic acid
Why you should avoid foods that contain saturated fats
How olive oil can help older adults
Which vitamins can help you retain your memory
How magnesium affects your brain
Here is what you will learn inside this guide....
How Much Is That Worth To You?
I guess that is kind of a silly question; "How much is that worth to you?" is kind of like asking how much is your memory worth to you. I am sure the answer would be "priceless." $4.95 compared to Priceless" is a drop in the bucket then, and in reality, that $4.95 will pay itself back the first time you put all the valuable information inside to use.
The thing about improving your memory is that the information should be ingrained in your brain. Of course, you cannot remember every single thing, but it's good to remember the important stuff. Plus, you will have to practice remembering things in order to keep them intact. It's a good thing to try and remember things that happened on the first go round. We all know that does not happen all of the time.
If you purchase this report now, you will discover how the techniques, tricks and tips of how to improve your memory. In fact, you don't even have to take prescription medicine to do it. The cost of this report is $4.95, just to get all of the power packed information you need to have a sharp memory again. Don't allow this day to pass you by without getting this! You will hit yourself over the head for not acting on it. It will take you less than a minute to get this and start devouring it from the beginning. No matter what time of day or night it is, you can have your own guide that will provide you with what you need to get your memory back on track. Not being able to remember things is not a good sign, especially when you're young.
This report can tell you what you need to know and you can read it in one setting. You can implement these techniques, tips and tricks immediately.
 

100% "Love It or Leave It" 90 Day Money-Back Guarantee!

 

If you're not totally thrilled with the"Improve Your Memory" guide for whatever reason at all, simply send me an email and I'll cheerfully refund 100% your money with the click of a button.

 
You've got a full 90 days to try out the material. This is a no questions asked, no fuss money-back guarantee I like to adopt.
  Is that fair or what?
Look at it this way - $4.95 really is a drop in the bucket compared to the time and money you can save yourself...
Here's How To Order To Right Now!
Once your credit card is approved, you will be taken to a special download page where you will have instant access to the ebook.
Only - $4.95!
 
INSTANT ACCESS
Purchase Online with a Credit Card by Secure Server
Sincerely,
Rich PLR
P.S. The sooner you start, the sooner you will be able to impress more people with your knowledge and recollection of things. So go ahead and get this report today! You won't regret it!
---