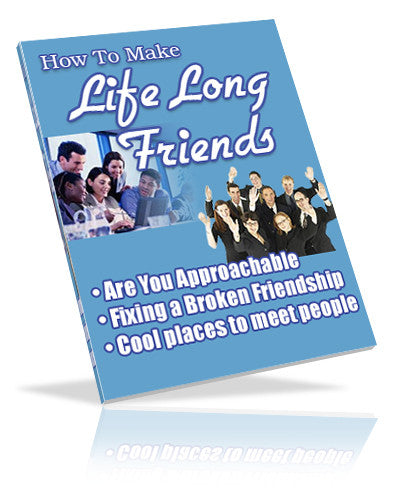 How To Make Life Long Friends
How To Make Life Long Friends
No man – or woman – is an island
Remember hearing that phrase?  We have all heard that phrase at some time or another, but have you ever really stopped to think it over?
If you have ever felt lost and alone with no one to turn to that phrase keynotes the epitome of what it is like to live your life as if you are on an island.    
Having friends fulfills one of our basic needs as human beings.  The ability to sympathize, empathize and communicate our thoughts and feelings to another person is like feeding our soul.
We will always need people.  Turning a precious few of those we encounter every day into friends is a miracle unto itself.
But, what of the person who has no friends? 
Who do you call to share a happy moment with?  Who is there for you when life throws you a curve?  And yes, who is there with helpful criticism delivered in a loving manner?
Now honestly, if you have tried every other method out there for making friends maybe it's time to try a different approach.
Written in easy to understand language How to Make Life Long Friends gives you answers to questions you haven't even thought of yet about how to make friends.
See if you can find your questions in this list:
First Things First – how to get yourself out of your rut and meet people
Talk to Strangers – how to meet and greet
Make Sure You Are approachable – learn how your body language may be giving you away
Are You a Good Listener – you may think you are but many people are so busy thinking of their next words listening just isn't happening
Are You Dependable – are you reliable or do you fail to deliver when someone is counting on you
Can You Be Trusted – do you really understand the meaning of trustworthiness
Don't Be a Fair Weather Friend – are you someone who is there until someone needs you
Fixing a Broken Friendship – can you rejuvenate a friendship that has become broken
Accepting Compliments – do you know how to accept compliments graciously
Become a Conversation Junkie – how to become a conversation junkie because communication is the key to attracting new friends
Are You a Left-Over – leftovers are sometimes cool, but not when it happens to you
Making Friends at School – a special chapter to share with your children
Making Friends at Work - is the water cooler a no mans land for you – learn how to turn it around
Making Friends Online – explore the good, bad and the ugly about online friendships
Resources – cool places to meet people instead of bars
There is so much more inside How to Make Life Long Friends. Discover how to improve or even create relationship skills.
Until you do you can't begin to understand how great it is to have someone with whom you can share your triumphs as well as your tragedies.
Instead of floundering in a sea of uncertainty and loneliness discover how to overcome your fears and begin establishing life long friends.  Not only will it change your outlook but it could very well prolong your life. Do it now!
---