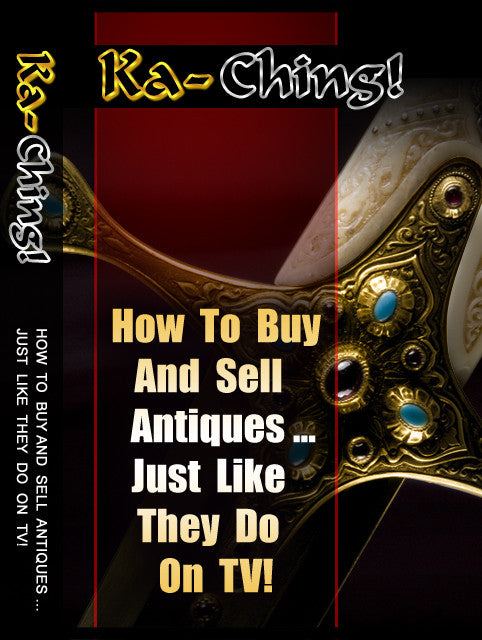 How to Buy and Sell Antiques Just Like They Do On TV
Wanna' Get Your Hands on Rare, Pristine Antiques for Ridiculously Low Bargain Prices.. and Sell Them for Profit-Pulling Markups?
"For the First Time Ever, a Door Into the Lucrative World of Antiques Has Been Kicked Down to Expose the Coveted Secrets Used by the 'Masters' to Generate Profits that are Anything but Antique! 100% Guaranteed!"
"Learn How to Pinpoint and Purchase Highly-Coveted Antiques for Bargain-Bin Prices and Re-Sell Them at Prices Designed to Stuff Your Pockets With Profits, No Matter WHAT Your Area of Antique Specialization May Be..."
From:  Rich PLR
Dear friend,
Before you even THINK about buying a single antique, I've got news for you.
To be quite honest with you, I could sugarcoat what I'm about to tell you.
But, I think we're both in the right mindset to get straight down to it.
Here it is, plain and simple:
By reading on today, you'll be investing in not only yourself - but your soon-to-be-business and exactly HOW to get it started-and-streamrolling in no time at all.
And precisely how am I going to do this?
Well, the first question that needs answering is the most obvious...
"Where Can I Find Cheap Antiques From that I Can Sell at a Healthy Profit at MAXIMUM Convenience and MINIMAL Effort?"
Well, I've actually divulged the "hot spots" scoured by professional antique sleuths on the prowl for rock-bottom, bargain prices that are so low, you'll feel like you're stealing the artifacts right out of a museum!
And that's just a handful of many pages dedicated to getting the most bang for buck - but that is definitely not all.
That is just one of the important questions.
And believe me, there's plenty more locked-and-loaded within the virtual covers of "How to Buy and Sell Antiques… Just Like They Do on TV!"
In fact, by choosing to read on, you'll go to sleep tonight with a huge grin on your face (you might even tell your partner out of excitement) - and here's why...
In Just a Few Minutes (Seconds Even) From Now You Could Be Downloading ALL Of This MUST-HAVE Information Straight to Your Desktop!
BEFORE you can start raking in cash hand-over-fist by buying and selling antiques, you must discover the source of the peculiar appeal that compels millions of people to fork over their cash for these unique trinkets.
Beginning on page 3, I'll reveal the 4 essential "Internal Motivators" that will enable YOU to capitalize off of seemingly worthless pieces of "junk!"
Unscrupulous dealers never fail to scam inexperienced shoppers into buying worthless "faux antiques" that are about as valuable as driftwood, but if you turn to page 9, I'll reveal the characteristics that a piece MUST possess to legally be considered an antique!
When buying or selling antiques, how can you tell if the piece you're considering is worth the money? When you flip to page 10, I'll reveal the 5 "Desirability Factors" that veteran antique hunters always consult for accurate and dependable estimations of value that can be trusted every time.
Some people are quick to slap the "antique" label on just about any old item, and on page 14, I'll show you how to tell if that precious childhood toy or classic mirror can be stamped with my "Seal of Antique Authenticity" and make YOU big bucks… or if it's nothing more than an outdated piece of scrap metal! You need to know TODAY.
One of the most difficult decisions faced by novice antiques buyers and sellers is choosing the type of antiques they wish to buy and sell. But if you let my exhaustive, no-holds-barred guide on page 16 help you decide, I'll reveal the 6 most lucrative antique specialties and the secrets used by experts in the field to turn these relics into cold, hard cash!
Sure, just about anything can be considered a "collectible" – but on page 17, I'll tell you how these 8 red-hot niche collectibles are turning antiques auctions into blistering sales fests for "in-the-know" sellers! And you can be one of them in just a moment - if you want to that is!
If you're even THINKING about focusing your business on the exotic field of Asian antiques, then you MUST turn to page 19 for 2 pieces of vital information behind the shady legalities associated with buying and selling these unique artifacts!
If you think furniture and rugs are your area of expertise, then waste no time opening-up to page 20, where I'll disclose the most highly sought-after furniture time periods and hands-down expert information on rugs and carpets – including how a recent plain-jane floor rug was recently valued at over $350,000!
On page 23, I'll tell you everything you need to know to capitalize off of millions of peoples' insatiable desire for antique jewelry, including the 3 most popular types of jewelry that are GUARANTEED to generate massive returns at almost any sale or auction!
Look no further than page 26 for the TRUTH about what it takes to become a licensed antiques appraiser, and I'll reveal the must-know techniques used by veteran appraisers to skillfully and accurately estimate the value of antiques. Make no mistake about it – if you want to develop that "Expert Eye" for appraising, then the precious information revealed on these pages can't be passed up!
Read closely as I debunk the myths exposed on 38 that con artists WANT you to believe concerning estate sales, and these goldmine flea markets disclosed on page 39 are ALWAYS stacked sky-high with jaw-dropping deals on pristine antiques!
Perhaps the biggest hurdle to jump is finding customers willing to plunk down hard-earned cash for your antiques, but if you follow-up on these 4 time-tested, constantly busy "Customer Caverns" that are always bustling with antique-hungry shoppers, you will never have trouble selling even the most bizarre of antiques!
Auctions can be an effective route for selling antiques of all shapes and sizes, but before you can take advantage of these time-proven "Antique Buffets," discover how your future profits rest on the 4 factors disclosed on page 45 – if you auction just ONE piece without reading this section first... you might be sorely disappointed!
The hottest thing on the internet these days is eBay, and the limitless opportunities for income don't discriminate against antiques! To harness the power of this online sales phenomenon, turn to page 47, where I'll hold your hand step-by-step through the process of selling on eBay; from price setting to auction listing, no stone is left unturned!
…And if you'd rather be the boss and run your own money-grabbing website, page 50's got you covered – I'll tell you everything you need to know to make your site attract paying customers like flies to honey, including the secrets utilized by maverick online antiques monoliths to generate constant site traffic on autopilot!
If you'd like to take advantage of the learning and advertising opportunities made possible by trade associations, then hurry over to page 53, where I'll disclose the 6 most popular and trusted trade organizations this side of the galaxy!
For an exclusive Q&A session that answers your most urgent questions regarding the buying and selling of antiques, turn to page 56…remember, there is no such thing as a "dumb" question, and if you miss-out on educating yourself to these valuable answers, you could be passing up another pristine, must-have antique, or the sale of one itself!
And Even THAT Fairly Detailed "Preview" Barely Even Tickles the "Soft Spot" of What You'll Be Learning Right Now in "How to Buy and Sell Antiques … Just Like They Do on TV!"
Because seriously - that's nothing compared to what you'll find when you open up your very own copy, because by now I'm sure you are starting to see that it doesn't take a genius to buy and sell antiques.
So if you've read this far down, there's no question that you're smarter than most of the "ya-hoos" who try to elbow their way into this industry.
But if you never take action and put your skills to use, will you be comfortable watching as all these other guys conquer this little-known, profit-pulling business?
After all, those hotly-coveted antiques aren't getting any younger, are they?
THE only thing in the way of you achieving success and achieving nothing while the other guys down the road are raking it in big time - and laughing all the way to the bank - is you.
Yes... yourself.
I'm telling you straight up - the ball is in YOUR court!
If you wanna' play and get a piece of the action, you are going to have to hit the racket - else how do you expect to get the ball rolling (pun intended)!
I've made it as easy as possible for you to get your hands on this invaluable information today, and it would be a shame for it to go to waste.
I mean you've read everything I've had to say - so you're definitely interested.
So why not go for it?
$4.95 is peanuts compared to what you could and SHOULD make on your FIRST sale.
And don't worry about your details being shared with anyone - every last confidential detail of yours is kept the way it is supposed to be - CONFIDENTIAL!
Oh and by the way - probably most important of all - IF you can't seem to agree with me that this book is worth AT LEAST TEN TIMES your investment today, then I urge you to enforce your GOD given rights (below) -->
- - - - - - - - - - - - - - - - - - - - - - - - - - - - - - - - - - - - - - - - - - - -
--> Here's My Personal Promise To You: Between Now and the Next 58 Days, You Fall in Love With Your Copy of "HOW TO BUY AND SELL ANTIQUES… Just Like They Do on TV" or You Get a Full and Prompt Refund!
If for any reason at all you change your mind about ordering now; you think your investment of $37 isn't justifiable; or you've just found something better (or for less) - I'll promptly and courteously refund every penny of your money.
No conditions, no questions asked, and definitely no hard feelings.
You'll got a full 58 days to test out everything mentioned in the book, and if there's something you don't like (even if it's the color of the font!) then it is within your god given right to an immediate, quibble-free refund.
Even if it's the 59th minute of the 23rd hour of the 57th day.
And, as a way of showing my appreciation for taking the time to test drive my methods and techniques, I'll let you keep your copy FOREVER (whether you ask for a refund or not) - just for having faith in me.
That's how confident I am in the material that I prepared especially for you. In fact, you were just the person I was thinking of when I was putting this incredible resource together.
And finally, I respect your integrity and honesty, so I believe that you won't take advantage of me by trying to pull a "freebie" on me.
Even if you could get away it ;)
- - - - - - - - - - - - - - - - - - - - - - - - - - - - - - - - - - - - - - - - - - - -
Hope to see you soon :)
Looking forward to your success story,
Rich PLR
- - - - - - - - - - - - - - - - - - - - - - - - - - - - - - - - - - - - - - - - - - - -
P.S. # 1 - Antiques have been bought and sold for profits for countless generations… isn't it about time you joined the many others who have turned this ages-old hobby into a seriously PROFITABLE venture?
It's not hard at all - and you know that. One click is all that's required from you!
P.S. # 2 - It doesn't matter if all you want to sell are the plushy toys from fast-food restaurants. The information waiting for you within this book will show you how and where to locate even the most odd-ball of niche pieces - for pennies on the dollar, might I add!
And no doubt, they'll be making shoppers salivate and throw down cash for every last one of them! 
---