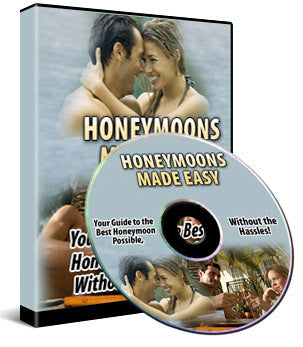 Honeymoons Made Easy (Audio & eBook)
Making your honeymoon wishes come true with the click of a button…
Exclusive: Discover The Top 10 Ways To Save Money On Your Honeymoon… And Enjoy A Romantic Vacation Without Compromising Quality
Do You Feel Frustrated With Honeymoon Planning? Here's How To Get Started Without Investing Hours of your Time or Hard Earned Money
Here's your chance to enjoy the romantic honeymoon of your dreams… without the frustration typically associated with honeymoon planning.
Are you determined to enjoy a rewarding vacation, with that special someone… but bogged down by the details of planning a romantic getaway for two? Then you have finally reached the right place to begin your journey toward romance, fun and vacations!
Allow yourself to travel to exotic locations, filled with sun and sand. Your only concerns should be your partner's comfort and that of your own. A nice staff member occasionally passes by to refill your drink.
You have no concerns, simply sit back and relax, and remember why your partner got together in the first place.
I'm going to be short, sweet and to the point.
Finding the time to schedule a honeymoon these days is virtually impossible. In fact, planning your honeymoon is almost more difficult than planning your wedding. Most couples would prefer to assign the task to someone else.
You can hire a travel or event planner, but think about all the money you would spend having someone else plan your vacation.
What if there a way you could plan your vacation effortlessly, without really lifting a finger?
Can it really be that easy? It can!
50% Of All Marriages End In Divorce… Stop This Trend By Starting Your Wedding Right. Honeymoon. Once, Twice and Three Times Over Again…
A honeymoon should offer you breathtaking views of majestic scenery, while allowing you to enjoy the comfort, tranquility and love your partner has to offer.
Stop for a moment and fantasize about what your ideal honeymoon might be like. We'll teach you how to turn your fantasy into a reality, and you don't have to spend hours searching for information to do so.
Why not have some fun, and learn the real facts about travel destinations and vacations, but letting us do the work for you?
Top Honeymoon Destinations provides you with 50+ pages of information that will answer every question you have about the most popular honeymoon destinations around the world.
In this simple, quick and easy read you'll learn:
3 simple strategies to help you budget for your honeymoon… and enjoy the romantic getaway you deserve without breaking the bank.
The #1 destination for lovers… and how easy it is to travel to this honeymoon hotspot.
How to enjoy a simple and easy wedding AND honeymoon in a single location… whether that be the Caribbean, Hawaii, Europe or any other exotic location.
The top 10 ways to pick a honeymoon hotspot and ignite the fire your partner has to offer.
Find out how to enjoy a top-of-the-line honeymoon for a few hundred dollars… instead of a few thousand.
Discover the top 5 mistakes honeymooners make that cost them too much money… and what steps you can take to prevent them.
Learn 1 simple concept that will help you make the most of your dollar and romance… so you can enjoy your vacation and romance your partner.
And MUCH, MUCH more!
So what's the catch? Here's the catch… THERE IS NONE!
I am so convinced you are going to benefit from this guide, I am willing to offer you more. In fact, I am willing to offer this incredible guide to you risk free.
How?
I'm so confident you will feel happy with your purchase, you get my 100% 90-day Money Back Guarantee. There is absolutely no risk to you.
This is a shameless opportunity, one you simply can't afford not to take advantage of. Now, I'm sure by now you are wondering, "What is this going to cost me?"
You could spend hours and hours online looking for information about the perfect honeymoon. Worse, you could spend hundreds of dollars investing in a travel agent that may (or may not) be able to find the perfect destination for you.
You don't even know if you need a travel agent! That's just one more tip we'll provide you in this valuable guide:
Find out if you need to book a travel agent to help with your trip… and information on planning your own to SAVE money if you prefer.
 
Discover little-known secrets about traveling abroad… that will save you loads of money on your vacation.
 
Discover the KEY items you HAVE to bring to make the best of your vacation… and ensure you enjoy a romantic, fun-filled honeymoon.
 
Learn the top 4 destination hotspots in the Caribbean… and how you can save money booking your own flight and hotel.
 
Find out the #1 bargain honeymoon hotspot… and enjoy a romantic, luxurious vacation without breaking the bank…
 
Learn how to prevent the number one illness affecting travelers… and other health and safety information you must have before traveling.You'll learn all this and more. This is information you might find online, but you would have to weed between all the fact and fiction.Here's a fact: Most information on the Web on honeymoon planning comes from travel agents trying to make you invest in unnecessary services…For a tiny investment, a risk-free investment of just $19.95 you can learn whether you need an agent, and how to take advantage of special offers to create your own honeymoon.Live, experience and revel in the honeymoon of your dreams. You don't have to rely on fancy services. 
 
 
 
 
 
 
Find Out How To Create Your Own Memorable Honeymoon, Whether A First Timer, Second Honeymooner Or Romancer…
Click Here To Reserve Your Copy
It takes just two minutes. Click the link, pay our minimal processing fee and you can instantly download our one-of-a-kind guide, the one that will save you money… and lots of headaches, when planning your romantic getaway.
You can even apply the information in this guide to a romantic vacation, even if not on your honeymoon? Why not? Couples that vacation together stay together.
If you or your partner are looking for a simple, easy and enjoyable way to plan your vacation, without the headaches normally associated from honeymoon or wedding planning…
You are one step away. CLICK HERE and you can instantly download your digital copy of this unique guide, Top Honeymoon Destinations, for pennies on the dollar.
There is absolutely no way you can lose. Remember, our offer is backed by our risk-free 90-day money back guarantee.
What have you got to lose?
Here is the bottom line. If you want to plan your honeymoon without wasting money or spending hundreds of hours looking up the wrong information, this guide is your ticket to headache free planning.
Are you tired of searching websites that only provide information about travel agents or unrelated services?
Find out what the real, no bull facts are about honeymoon planning. You don't have to spend hours researching the top destinations.
All you have to do is invest two minutes to instantly download this simple, quick and easy read. You'll find you laugh and giggle at how easy it is to plan a honeymoon AND save money when you invest in this interesting and simple guide.
So what are you waiting for?
Plan the romantic getaway you've always dreamed of. It is not enough to have the perfect wedding… you need to complement your wedding with the perfect honeymoon vacation.
Start now. We are only able to offer our introductory price of just $9.95 for a short time. Orders are flocking in, so we won't have a choice but to increase the price of this remarkable guide.
Join the thousands of others who are planning their own well-budgeted, exciting and romantic honeymoon getaways… without headaches.
(Insert testimonials here)
Learn everything you need to know to plan a romantic honeymoon:
Find out how to find the right travel destination so you don't regret your honeymoon.
 
Learn how to avoid the most common mistakes people make when planning their own honeymoon.
 
Find out where the best honeymoon hotspots are for bargain shoppers and actually save money while vacationing.
 
Learn how to protect your health and safety when traveling abroad and avoid the most common traveler's ailments.
 
Discover the advantages and disadvantages of using a travel agent and discover on your own whether you need one.
 
Find out if a cruise is for you and what steps to take to get a great deal on one!
 
Learn the ins and outs of weekend getaways and find out what locations are best for short but memorable honeymoon trips!When you invest in Top Honeymoon Vacations, you invest in the best. You and your partner deserve the honeymoon of your dreams.  P.S. – Don't forget, if you order within the next 24 hours you can take advantage of our 90-Day Money Back Guarantee. That's right. There is absolutely no risk. No questions asked. Save time and money by downloading your copy today.P.P.S. – Remember, half of all honeymoons (and marriages) fail without proper planning and information. Don't let bad weather or bad planning spoil your honeymoon vacation. Download Your Copy of Top Honeymoon Destinations and start planning the romantic honeymoon you want and deserve. 
 
 
 
Wishing you the best in your honeymoon planning adventures….
Congratulations! This unique and elegant guide will walk you step-by-step through the process, so you have everything you need to plan the perfect honeymoon.
 
Enjoy The Honeymoon Of Your Dreams… Without The Headaches
---