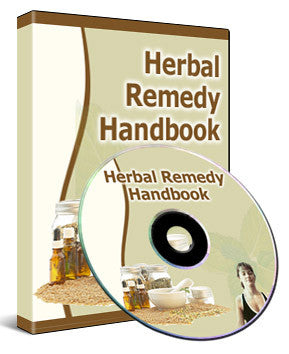 Herbal Remedy Handbook (Audio & eBook)
Learn to prevent disease before it strikes by following 3 key strategies…
At Last, You Can Prevent Disease BEFORE It Strikes, Without Spending Hours At The Doctor's Office
Learn How To Use Herbal Medicine SAFELY and Effectively and Achieve MAXIMAL Health With MINIMAL Effort…
December 14, 2006
Are you tired of being sick? Are you even more tired of all the traditional answers modern medicine has to offer?
How many times have you had to sit and wait hours to see your doctor, only to get 10 minutes of their time? Maybe you know exactly what I am talking about.
You go to the doctor, wait 30 minutes in the lobby, another 15 minutes in the back office, then have the "pleasure" of speaking with your doctor for 10 minutes before they shuffle you out, prescription in hand, and head off to see the next patient.
Here is a fact… MODERN medicine is failing its patients.
If modern medicine had the answers, the world wouldn't be filled with sick people, would it?
Now more so than ever people seem to be getting sicker, despite advances in modern medicine and medical technology.
Because of this, more and more, people are turning to natural healing as a viable means of curing… and preventing disease.
Herbal remedies are but one of many natural cures people are turning to when their bodies are in distress. Why?
For hundreds of years humans have used herbs to treat illnesses and symptoms, ranging from the common cold to serious autoimmune deficiencies.
For centuries herbs were an important part of healing….
Traditional Chinese medicine focuses on the use of herbs and other natural healing alternatives to treat common ailments afflicting the body, mind and spirit.
Herbal cures exist for just about anything that ails you… you can even use herbal remedies to PREVENT disease…
Even medical doctors are learning that herbs have much to offer in the way of preventive care. Today licensed physician's can complete courses in herbal medicine and combine herbal medicinal practice with traditional healing.
A properly trained herbalist can help the body restore balance and maintain a healthy ecosystem…
As humans begin to build up resistance to common medications, including antibiotics, it is more important than ever that people have choices or alternatives to traditional medicine.
Herbal cures are just the alternatives necessary to help people treat illnesses without relying on antibiotics or inefficient traditional therapies.
Selecting The Best Medicine
If you walk into any natural or health food store, you will literally feel lost among the aisles and aisles of herbal remedies. There are pure herbs, capsulated herbs, tinctures, powders and more.
How do you know which is right for you? How do you select between various brands?
If you are someone that is:
Interested in using herbs to improve their health, but doesn't know where to start.
Confused about the aisles of herbal remedies, and looking for quick answers to find the products you need without hassle.
Looking to switch gears and start preventing illness instead of just treating symptoms.
Interested in learning how to treat the cause of sickness rather than merely mask symptoms.
Fed up with traditional medicine and looking for a more holistic approach to your health and well-being.
Then you've come to just the right place!
I know how confusing it can be weeding fact from fiction in the natural health field.
Walking into a natural health store can be daunting, only because there are so many products to choose from. How do you know which is best for you?
Introducing,
The Herbal Remedy Handbook
Everything you need to know about preventing and treating disease naturally…
The Herbal Remedy Handbook is not just another book about herbs. It teaches you how you can use herbs to improve your body, mind and spirit.
Interested in learning more? Here is just a sampling of what you'll learn when you invest in this unique herbal guide today:
ü      Learn what herbal remedies are and how you can use them to heal mental, physical and spiritual complaints…
ü      Find out how to combine herbal products with traditional pharmaceuticals to enhance your overall wellness…
ü      Learn how to use aromatherapy to clear up the common cold and alleviate chronic headaches…
ü      Discover our A-Z guide of symptoms and solutions to common problems herbs can treat.
ü      Discover what centuries old herb helps strengthen memory and improve your circulation.
ü      Find out what natural herbs combat memory loss and help prevent other age related problems.
ü      Find out how the ancient Chinese coped with menopause using a simple yet effective herbal remedy.
ü      Learn how a natural plant may help strengthen and tone your uterus, improving your fertility and easing child labor and recovery…
ü      Discover the #1 calming and soothing herb for gastrointestinal problems, digestive symptoms and even bloating…
And that's not all!
The Herbal Remedy Handbook is your lifeline. Click Here and you can instantly download your copy of this remarkable guide. There is absolutely NO RISK for you if you decide to take charge of your health and try out our unique guide.
We are committed to your health and excellence. Because of this we are willing to put our money where our mouth is. SO…
If you order your guide within the next 24 hours, we'll offer you our unconditional 60-Day Money Back Guarantee. For the low introductory price of just $9.95, you will receive your digital copy of the Herbal Remedy Handbook at no risk.
There are many ways to live your life. You could close your life and hope for the best, or you can take a proactive stance and do what you know is best.
Don't sit down and watch your life pass you by. The time to act is now.
I urge you to take advantage of this golden opportunity to receive the Herbal Remedy Handbook … RISK FREE. Just CLICK HERE and you can save your copy of both guides to your computer in just two minutes.
By learning how to prevent illness, you will lead a richer, happier and more rewarding life.
Using herbs doesn't have to be complicated. It's easy… when you know where to look and how to approach natural therapy. We can help.
---