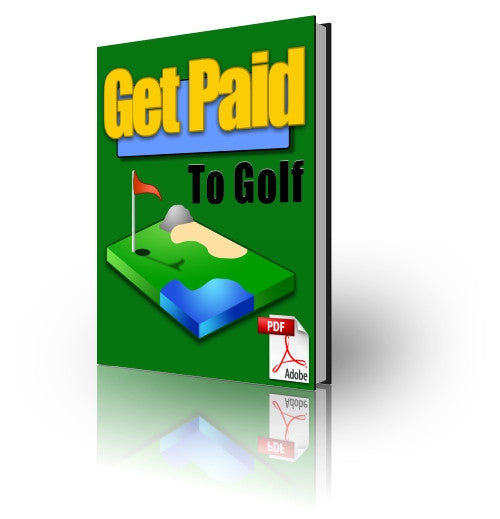 Get Paid To Golf
Attention Golfers: Do You Want To Get Paid To Play?
How To Make A Living Playing Golf With Amateurs!
Couldn't make the PGA Tour if your life depended on it?
Now it doesn't matter, you can still make a living playing golf. You don't have to be the best. You don't even have to win to get paid!
Lots of people are currently making a handsome living just from playing golf for businesses and business executives. How is this possible? I'll tell you, plus you'll discover how to...
| | |
| --- | --- |
|   | Stop paying to play golf. |
|   | Get PAID to do something you love, possibly as a full-time business! |
|   | Work on your game while on the clock! |
Sunday, June 4, 2017
Dear Golfing-Enthusiast,
Would you love to play golf all day and get paid for it?
Despite what you may have thought, it IS possible. Even if you're not a true "pro golfer." (You don't even have to be nearly as good.)
Inside the US, more money is spent on golf than any other sport. And now you can claim your piece of the pie! How?
Business Executives Often Hire People To Play Golf With Their Clients For Them!
It's true! There are golfers who make a living simply by playing golf with clients of executives who know how important a leisurely game of golf can be for their business.
Business executives often like to wine and dine, and offer a game of golf to their clients. (A lot of business decisions are made over a game of golf!)
But often times, these executives choose not to play themselves. And for three common reasons...
They simply do not have time in the day to play 9-18 holes of golf.

Some executives are embarrassed by their poor golf game.

Many executives have never even played before! And they certainly don't want to bore their client or make the game drag behind on account of them.
Because of this, there's a huge market for professional golf "escorts." Someone who knows the game well enough to go out and show these clients a good time and a good game over 18 holes.
You Don't Have To
Compete With Tiger Woods
To Play Golf Professionally
Maybe you played golf in high school, in college or even tried to go pro. It doesn't matter if you didn't have what it takes to play against Tiger Woods on the pro tour.
Now you TOO can make a living playing golf. And in my 49 page ebook, "Your Guide To Playing Golf For Free And Even Getting Paid For It," will show you everything you need to know to track down business executives who are looking for someone with your talent. And then convince them that you're there guy.
And you can be reading my ebook in minutes from now (when you click the link at the bottom of this page) because it's 100% downloadable. (No waiting for it to arrive in the mail.)
...here is just SOME of the "play golf for pay" tips you'll find inside:
Here's when businesses will hire you to play golf with their clients.

3 reasons why executives might rather have you play in their stead.

The key items you need to know about the golf courses in your area.
4 selling points you can use on private golf clubs.
The 12 types of businesses most likely to be willing to pay for your services.

5 places to advertise your services – where the right eyes  will be looking.

How to use hotel guides to strum up business.

2 sample ads you can use to build your golfing escort business.

How to use the phone to win more business.

How to get 250 business cards for free.

A phone script you can use anytime a potential client calls.

The secret to making sure your expenses (like beverages) are paid for.

A few pointers on how to entertain clients as you golf.

How to make money when your friends are playing golf for you!

How "mystery golfers" are making big bucks on the green.

7 ways to tell if you have what it takes to be a mystery golfer.

How to get your name on the list of available mystery golfers.

9 tips and tricks for being a profitable mystery golfer.

5 ways to find major discounts on your golfing equipment.

50 online discount golf stores to find exactly what you want.

37 pro golf tips to maximize your golf game and impress clients.

 
And there's MUCH more – guaranteed!
Here's Your Opening To Play Golf For Money — Will You Take It?
As a kid, you may have dreamed of being a professional athlete. And while this probably isn't exactly what you had in mind, it's the next best thing.
Who else do you know that gets to play a game they love all day and get paid for it? Now the opportunity can be yours. And my ebook can show you how to do it.
How much does it cost you to play a game of golf? Many golfers pay over $100.00, even $200.00 for 18 holes of golf. If you're like most golfers, you've paid over $50 just for one round. Now you're going to learn how to get PAID to play, and for only $4.95
It's really very easy to order.
Just click on the below button to proceed to our secure server
and order with your credit card or echeck online.
You will get immediate access even if it's 2AM.
That's less than one round of golf! And you never have to worry that you made the wrong decision...
...Because Your Satisfaction Is 100% Guaranteed! Make the decision to get my ebook right now without guilt. Click the link at the bottom of this page, answer a few questions and begin downloading my ebook.
Then read it front to back if you'd like (or just browse through it). It it's not exactly what you're looking for. If you don't think you'll be able to get paid to play golf. Just write me a friendly email saying so.
I'll refund your money ASAP. And you have 45 days to make your decision. I wont ask any questions and we'll part as friends. It's 100% risk free and you have nothing to lose.
Just click the link above now to start the simple process. There's just a few questions to answer and I'll walk you through it.
Plus you'll be on your way to playing golf for pay in minutes from now! Click the link and I'll see you on the other side.
Thanks for reading,
Rich PLR
P.S. Could this be your last chance to play sports for money? If you're like most athletes, the answer is yes.
Take this last chance to see if you can make your dream of playing golf everyday and getting paid for it a reality. Just click the link below to get started.
And remember, you have 30 days to change your mind and get a refund if you don't like what you see. So click the link now and get your directions for "playing for pay" now!

---