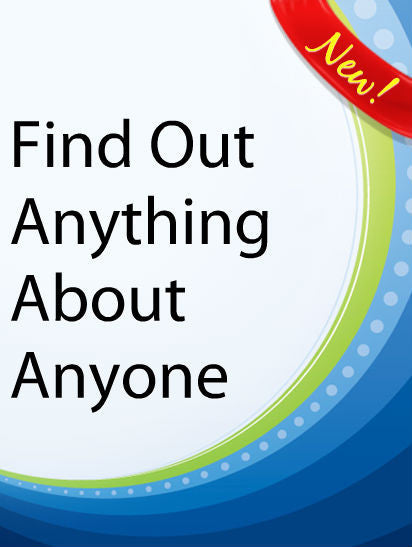 Find Out Anything About Anyone PLR Ebook
Do you want to scoop up the dirt on all of your friends, family and business associates without them knowing?

Would you like to do without having to hire an expensive Private Investigator or Investigation Team?

If you answered yes, you're certainly not alone!

There are thousands of people who want to know the truth about our bosses, our kids teachers, the preacher down the street, our neighbors and even our own friends and family.

We all want to know that the people in our life are honest and good people and that we can feel comfortable trusting them.

The Find Out Anything About Anyone eBook will show you how to do just that!

Best of all, you don't need an expensive private investigator or anything crazy.

You can do all of the dirt digging that you want in the comfort of your own home without anyone getting wise.

Better yet, you can feel safe knowing that everyone in your life is on the "up and up" and not being a low down, dirty crook or scoundrel.
Get your copy of the Find Out Anything About Anyone eBook now!
Other Details

- 25 Articles (TXT, DOC)
- Ebook (PDF, DOC) 37 pages
---