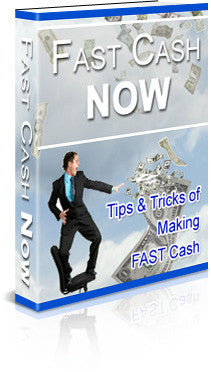 Fast Cash Now (Audio & eBook)

Starting off with an EMPTY Bank Account…

"A Young Father Tells How He Managed to Bank in $5000 in Savings in Just Two Months. Here He Explains How You can Also Start Earning Enough Money – Easily – Working at Home!"
So What is The Secret? Read On...
Dear Friend,
Let's be honest with each other: All of us will, at some point, face some of the following situations sooner or later:
Bills to pay by the end of the month


Additional school fees for your kid's education in college


Medical bills for your parent's sudden illness



Extra cash to pay for the increase gas price for your car
We call the above situations the "unexpected". Sometimes you wonder when will you be earning enough to pay for all the "unexpected". Yes, you may have savings catered for them but don't depend on your savings too much because savings can get emptied FAST.
I hate it when I have to pay more than my monthly budget. Even if I set aside extra cash for the "unexpected", the "unexpected" amount seems to be MORE than what I had planned for.
Then you read about people who make $10,000 on the Internet, taking their kids on vacations every year, driving a posh car around and taking them to a posh restaurant for tea. We envy these people.

However, You are a Person who is More Practical
You are more realistic. You are content with what you have. You aren't persuaded by all the promises of BIG money that you can make on the Internet. You just want to life your live peacefully, enjoy your time with your family and enjoy your job. (Yes, some of you DO enjoy your job, don't you?)
However, you are always fearful of the "unexpected" like:
What if your child had with an accident that required an additional FIVE HUNDRED DOLLARS by the end of the month?


What if your spouse was retrenched by the company and need another month to look for a job?


What if your insurance fees are due?


What if you just want to bring your child out to DisneyLand to reward him for scoring 3 As in the examinations?

We have too many "what ifs" and the "unexpected". The rich guys out there will have no problems with money. But for you, you just want the ability to make additional hundred dollars per month just to cater for any "unexpected". There is no need to live a pipe dream. There is no need to make big bucks. You just want some quick cash.

If that is the case, I have a solution for you...
You see, I was just like you. I had a good paying job, feeding my family. However, with just one unforeseen situation (yes, the "unexpected"!), I practically wipe out all my savings. I needed to save up again for rainy days. Therefore, I went around the Internet to look for "work". Perhaps there are places on the Internet that allow me to make REAL money online, fast.

I was right... There are many places to make money on the Internet!

Now I'm no longer facing cash issues. I have rebuilt my savings in just 2 months. Once in a while I take my family to a nice posh hotel and buy some nice gifts for my wife. Furthermore, that additional money is not from my regular job; the money is all made from the Internet.
I want to share this with you, and I have created an e-book so that you can benefit too and I call this e-book:
"FAST CASH NOW"
"Fast Cash Now" is a very practical e-book that will give you many workable ideas that you can use to make money online fast. One thing to note though, you cannot become rich with my methods, but you can make an additional $100-$200 in just a week.
You must also realize that you will need to work to get the money. They are not scams and they are not illegal. In fact, the work presented is very easy to do!
In this e-book, I will share:
4 online resources that you can use to make money immediately!


Understand what types of work that may be suitable for you.


Understand the supplies that you need to make money online.


4 categories of work where you can make money!


How to make fast cash with your knowledge! (No, you don't even need to write! Just talk and make money!)



And more!
My e-book will cover everything that you need in order to start money online. As mentioned, they are all 100% legal and no scams are involved. They are all REAL work, REAL money and REAL opportunities.
Imagine that one week after reading this e-book you will be able to:
Buy a nice gift for your wife's birthday. No longer a lame birthday card!



Pay your bills at the end of this month.

No longer paying the late payment fees!


Build your savings for your kids. Your kids deserve a good education!


Leverage on the money earned to start making more money online! Yes, make a living online!
Yes, let me say that it is POSSIBLE to use my methods presented in the e-book to make a full-time living online! I'll explain that in details too.
In fact, I am the living example of one who makes money on the Internet with a full-time job, enjoying my life with my family.
So, if you want to be like me, I'm sure that you want to get this e-book. So, I want to make a special deal with you. You can get all the information for just $27! $27 is a small amount when you see that you can make $100 next week. That is a very good Return on Investment!
But, I do want more people to benefit from my teachings. And, I know that I will have more people like you buying my e-book if I lower my price. If I sell more e-books, more people will benefit, and I will also benefit because I will be able to build my savings. (Hey, I'm brutally honest with you here!)

It's a win-win situation for both sides, isn't it?
So, for a limited period, you can have the e-book for just $4.95! Now this is a really good deal!
Now, if you are ready to make money, order my e-book now!
You will read the ebook in less than 5 minutes time!
Thank you for your time, and I hope to see you making money online!

 Rich PLR


P.S. Stay prepared at all times. It is better to be equipped with the knowledge of fast cash than to be stuck with a situation where you need to beg from your friends! That is a real big shame!
P.S. $17 is a limited offer. Just imagine that you will recover all your costs by next week, and you will be making more money after that. Isn't that great?
---