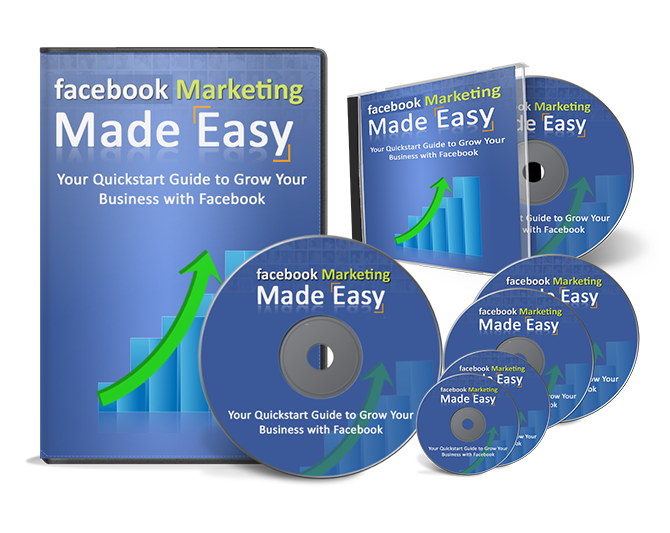 Facebook Marketing Made Easy Course (Audios, eBooks & Videos)
Attention to All Online & Offline Businesses:
Are you ready to get the most out of the greatest Social Online Platform ever?
URGENT: Instant 85% discount if you buy today!
Would you like to position your offline or online business for a whole new level of success while dominating Facebook on your behalf in just a few hours from now? This step-by-step Facebook Training System is going to take you by the hand and show you how to safely skyrocket your business online in the shortest time ever and enjoy as much high quality traffic as you want from Facebook.
Position your online or offline business over Facebook in the shortest time possible.
Quickly and safely grow a huge army of potential clients or customers 100% targeted to your business.
Productively interact with your new and existing clients or customers in order to scale your business to a whole new level of success.
Read on as I reveal how you can quickly become a Facebook expert and easily tap into this Monster Social Network today!
From: Rich PLR
Hi there fellow business owners and internet marketers,
Nowadays, the success of your business depends not only on you owning the perfect product or service ever, but largely on the social recognition and interaction your business gets, and that is a hard fact.
You could be claiming to have the greatest product or service in the world, but...
...if you don't give the right social impression, your business will fail!
Do you really want to get the most out of this outstanding social monster and don't know when or how do it?
Are you struggling to find a proven and trusted Facebook training system including the latest updates?
Do you already have an important amount of clients or customers and don't know what to do to socialize with them so you don't start losing them, including your business?
According to extensive research, it has been discovered that:
...90% of consumers trust recommendations while only 14% trust advertisements!
Erik Qualman, American author of Socialnomics, and others like him, has opened our eyes and helped us understand the great power of social media in the 21st century.
He has stated that socialnomics means, "Word of mouth on digital steroids."
Considering that people trust recommendations more than advertisements, we really need to be aware that the best and the right information needs to be in that extremely viral word of mouth while they are going throughout the web sharing it with everyone.
Mr. Qualman has taught that the ROI of social media is that your business will still exist in 5 years from now. In reality, we don't have a choice as to whether we do social media; the question is how well we do it.
Because certainly:
...if we don't do it right, we could do some really bad harm to our business that will last forever… So you better take action NOW. Tomorrow is too late!
Do you realize how volcanically hot Facebook is getting at this exact moment?
1 billion people are on Facebook
5 new Facebook profiles every second
Users spend 20 minutes during a visit
510,000 comments are posted every minute
53% of shoppers make a purchase from a Facebook Page
Consumers from Facebook spend an average of $100
68% of marketers say Facebook ads are effective
Finally, you don´t have to worry anymore about wasting your time. You don't have to worry anymore about old and ineffective Facebook marketing strategies which are still being taught on the Web that may actually harm your business social activities.
The only thing you have to worry about now is reading every single advice of this training and applying it.
Eight (8) very-easy-to-follow steps are more than enough to get you where you really want to be using the incredibly social power of Facebook. Our latest creation will give you exactly what you need in order to reach all of your online business expectations of success.
Yes, now you will have the power to strongly and safely position your business on Facebook by applying the latest and most effective techniques!
Introducing: Facebook Marketing Made Easy!

This extraordinary Facebook Training System will reveal the exact 7 steps that you really need to care about the most in order to strongly and safely position your business on Facebook in the shortest time ever.
Here you see some of the tips that you will discover after downloading "Facebook Marketing Made Easy"…
A detailed explanation about Facebook Pages.
Some really great examples of successful Facebook Pages.
The most important step right before you start building a Facebook Page for your business.
The exact question you should be able to answer to choose the right approach for your business.
Some serious important advices on the exact moment of registering your Facebook Page Account.
How to avoid committing some terrible mistakes on creating your Cover Image.
This detailed and highly-effective training course will also reveal:
Some tips on how to create a highly effective profile image.
Important tips that will get the most out of your about section that even big companies forget.
How to effectively use one of the most powerful functions that Facebook has invested millions of $ on.
How to effectively use the top 5 posting activities that will virally spread the word out quickly
Highly effective techniques that will make your posting activities a lot more productive.
The safest way to get as many likes as you want to your brand new Facebook Page.But, this is not all. You will also get... The Top 10 Highly Effective Facebook Marketing Tricks (Valued at $47)

This Bonus Report will reveal:
 
Special Bonus Report
BONUSES! If you order TODAY, you will also get free access to:


And much more…
How to get the most out of your website's traffic to get a lot of likes very easily.
How to get the most out of our email advertising to get a lot more new likes as well
A few great ways to spread the word out about your Facebook Page that almost no one is using?
How to use the great power of schedule posting.
A very powerful technique that will surely increase your clients' and customers' loyalties.
How to effectively optimize your Facebook Page for the search engines.
Step-by-step blueprints for creating your own money making fan page.
Step-by-step tips on how to use the incredible power of the Reveal Page Fuction.
4 highly effective ways to get the most advantage within the list building or lead capture fever on Facebook.Cheat Sheet It breaks up the whole training in easy to follow steps so you can make sure to keep every single bit of advice taught in the training. This helps you track your progress and will definitely help you reach your goals.Mind Map  The tricks and tips that you will learn with us are the exact same ones that we, and a lot of other Internet marketers have used to correctly position their business on Facebook.The same can be said for Facebook. Here you have the footprints so you may do it in the shortest time ever. Facebook has come to stay in the market forever.
Millions and millions of dollars are invested in Facebook, and all of it is for both of us. Let's use it and reach our most precious business goals.
Facebook is extremely easy to manage. It happens the same as with every single thing in life: things are not difficult. You just need to know where everything is and how you can properly use and work with it.
 
This is a really cool mind map outlining the complete training as well; this will give you an overview of every step you're going to apply in a more summary fashion.
(Valued at $27)
 
This cheat sheet is a handy checklist that you can print out and use to easily take action at every step of the process.
(Valued at $27)
And much more…
My brand new training course, "Facebook Marketing Made Easy," will surely give you the exact techniques to position your business on Facebook on the shortest time ever so you may scale your business into a whole new level of success.
If you honestly come to the conclusion that none of this has helped you to do so, you can take advantage of my "30-day Money Back Guarantee" and simply ask me for a refund! I consider your money to be there on the table between us, waiting for you to apply and successfully position your business on Facebook so then you can feel it was a great investment.
This is a great chance for you to discover the best and most effective techniques you can use on Facebook on behalf of your business. 
How much would it cost you to get your business to be known by thousands of people in your home town? How much do you think you will spend doing so in Facebook? Let me tell you it will cost you nothing. Yeap, its 100% free.
The only thing you need to do is buy this training system and save yourself a lot of time and frustration. Save yourself the countless hours we have invested into this to create a high-quality, step-by-step training system especially for you and for a lot less than the cost of a domain name. It's just as simple as that.
This high-quality training system comes with a lot of great and proven techniques. The Facebook Marketing Made Easy core training guide alone costs more than $600 to create it. I can easily sell this for $67 or maybe $47, but this is just the launch of my new product; so I really want to lower the price and then I can increase it to a higher price at any time.
Download "Facebook Marketing Made Easy" today. Simply click on the button above and you'll get access to it in just seconds.
Yes! I really want to finally launch my offline/online business on Facebook using the most effective and safest techniques so I can guarantee the everlasting success of my business for years to come.
So please send me my copy of "Facebook Marketing Made Easy" and the really cool bonuses as well. I'm ready to apply these really-easy-to-follow techniques right away before my competitors do!
Normal Price
$67 $47
ONLY $27!
Sincerely,
Rich PLR
P.S. I would like you to be aware that the price will increase at any time. This product is brand new, unique and of high quality, so you better, you are actually losing some clients already because of not been on Facebook yet.
P.S.S.  If you are unhappy with this product in any way and think that it is not worth what you paid, please contact me before the 30 days from the day of purchase for a 100% refund - no questions asked.
---