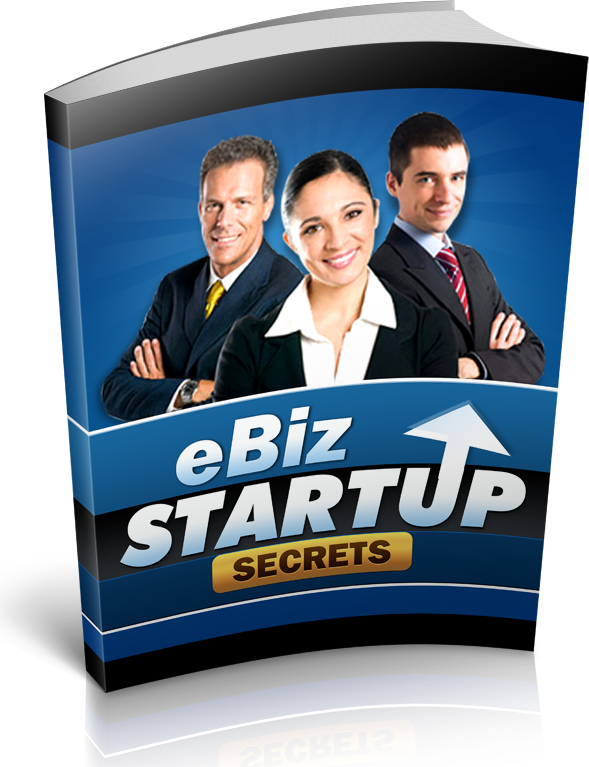 eBiz Startup Secrets
"The Secret to Getting Your Online Business to Make Money Sooner Than You Ever Expected"


Dear Newbie E-Business Owner,
I have good news – you don't have to wait months or years to have a profitable online business!
You have arrived at this page because you're probably overwhelmed with the number of things you have to do to get your online business started. There's hosting, there's website design, there's traffic, there's the shopping cart…it seems like as soon as you finish one thing there is another to do.
Isn't it funny how everybody can tell you what you should have had done, but nobody says which one you need to do first or second or third?
RESULTS: False Starts…Wasted Time...Wasted Money…No Profit
That is EXACTLY what happened to me when I first started. I had all of these pieces of a business, but didn't know how they all fit together. …And then, it seemed like every day there was a new "can't miss" report that was released.
And every single one of them had something NEW for me to buy…
That was before I stopped with all the new stuff and…
Then I decided to learn (at great expense) and lots of time, not:
What the pieces were…
I finally figured out HOW they all fit together
And most importantly, WHY they made the difference between making money and being broke
And I am ready to show how to take this SAME system and let it work for you…
But before we go ahead, I want you to hear me on this…
"You don't have to pay hundreds or thousands of dollars to have a successful online business"
I'm living proof that you can put the right things in place for an online business that will make them profitable for you.
It's always a good feeling to KNOW that your business was set up right from the start to have the right kind of foundation. You know that you're not just learning but you're moving to boosting your profits every day!
Introducing…
"eBiz Startup Secrets"
This is a complete package including: Module 1: eBiz Startup Secrets (The Report) Here's my promise to you…
In this detailed report, I'll take you by the hand and show you through seven detailed steps exactly what you need to do to make your business start putting cash into your pocket quickly.
But you'll need to be willing to make sure to put ALL the foundations in place without skipping steps... Are you willing? Yes?
Here's what you'll discover in this awesome report…
The easiest way to have a professional looking website without spending hundreds or thousands on a web designer.  
WHERE exactly to get started making money - You won't have to worry anymore about doing into a market where nobody will buy what you're selling.
How to find a buyer's market so that you can give them what they want.
The ONE KEY to long term recurring income.
How to create the kind of pages on your website that attract the people that want to buy your products and services.
How to satisfy your market's need and have their questions answered… and how that will make you the "go-to" guy or gal in the market.
And many more…
The methods in this report are incredibly simple … with step by step directions to follow. You just need to have the right mindset when implementing them—that by taking the time to put the right pieces in place...you're SAVING time not wasting it.   Once you "get" that part and you commit to putting the right foundations in place it, you'll be able to put yourself in position to make money quickly. Do them repeatedly, and you'll be able to build multiple successful businesses.

Module 2: Mind Map
This mind map will give you an overview of the process and steps on how to successfully startup your business and to make it sustainable.
All you have to do is print it out, hang it on your wall so that you will be able to take a look at whenever you need it.

Module 3: Check List
This checklist will help you to easily identify each step in the report and to ensure you that nothing has been forgotten.
Everything has been given to you to ensure you have the kind of business that puts money in your pocket month after month. You've got nothing to lose but everything to gain.
And to show to you my appreciation and my honesty in helping you, here comes my…
Now that I proved to you my sincerity in helping you build a great business quickly, you'll understand that this is a limited time opportunity.
You need to take action today and see all the benefit that you can get from applying the «eBiz Startup Secrets" program today!
I won't ask you to spend a lot of money on that course either. No marketing gimmicks.
For a tiny investment of $4.95, you'll be able to get access to this awesome package.
That's it. Go ahead and click the "Order Now" button above to change your life for the better!
---