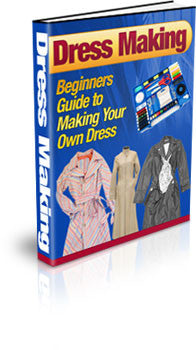 Dress Making
Rock your personality in a dress you made yourself that reflects who you are, not what a department store thinks you want...
Discover The Beginners Guide to Making Your Own Dress
Exclusive Offer!
Never Before Revealed Information!
Dear Friend,
How tired are you of going to department and/or clothing stores only to see the same styles worn by everyone else out on the streets. How about the last party you went to and there was two other people sporting your evening dress, only in different colors.
Are you tired of hunting from store to store to find that perfect dress to wear on a special occasion, or that summer dress to sport with your flip-flops? Can you thread a needle? If you can thread a needle you do not have to wear what society dictates what is "in style."
You can create your image the way you see yourself. What better way to show the world who you are as a person then by sporting a dress you created yourself.
There is a world of fabrics out there waiting for you to let lose your creativity on it. No two figures are exactly alike, yet clothing industries would love it if we just pretended as if they were; kind of like the one glove fits all mentality. That way they can keep stamping out more of the same and everyone can just go around looking like little clones of each other. You do not need to be the fashion industry and clothing manufactures clones.
Some would like people to believe that designing and sewing your own dress is something only expert seamstress can do. That could not be further from the truth. There is no secret seamstress club that only one certain type of person can join, if you can thread a needle and cut with scissors you can sew a dress.
You do not have to wear off the rack dresses any longer! You can make your own fashion statement on the world!...
Inside you will find all the things that hot dress designers do not want you to know. All the secrets to designing the perfect dress for you is inside in an easy to read format. You will learn which fabrics are more forgiving and how to make your fabrics work for you and your body figure. With "Dress Making - Beginners Guide" you will never need to by a dress off the rack again!
With "Dress Making - Beginners Guide" you will find solutions to hide a short neck, or a plumper figure. You will learn which fabrics work best for which figures. You will also learn how to accent the positive and down play the negatives of your particular figure.
And there is way more yet...
Did you know that certain colors make you appear larger then life, while others will make you appear just plain large? Did you know not everyone with red hair could pull off a red dress, however depending on the shade of red hair you have there are ways you can get around the fashion police.
 

Wear a one of a kind dress that was made to flatter just your figure


1) Allow Your Dress to Reflect Your Personality

You will no longer have to wear what clothing manufactures think is stylish.  You can create your own dresses according to your style and personality.  Your not stuck wearing a dress that fits you well, however the colors, design or pattern is doing nothing for you.  You choose the style, design, color and fabric used to create a dress made just for you.

2) The Possibilities are ENDLESS

Guess what?  You do not need to use a manufactures made dress pattern to create a dress.  You can create your own dress patterns, OR, you can mix or match patterns, copy dress styles and so much more to create your unique dress.
Here is what you will learn inside this guide....
How Many Times Have You Thought You Found The Perfect Dress to Only have One or Two Aspect of it Fit You Right? What if you could have every dress you put on fit you perfectly?
How Much Is That Worth To You?
Face it, you cannot buy a dress off the rack for $4.95 and have it fit you as if it was tailored just for you. However, you can purchase $4.95 worth of fabric and materials and have a dress fit you perfectly every time if you make it yourself.
With "Dress Making - Beginners Guide" you spend $4.95 once and never again have to take a dress to be fitted or have alterations done. Each dress you create will fit you like a glove and express who you are as a person without having to spend designer prices.
Not only that, but there is no designer that knows you better then you do. Your taste, your style will go into each dress you create and all for just $4.95 you can be on your way to creating the next Red Carpet Runway dress.
You can go and buy a dress of the rack, spend $50.00 or more dollars on it and then drop more money on it getting the necessary alterations done on the dress to fit you properly, or you can design and create a dress that is you and fits you perfectly at a mere fraction of the price of a dress off the rack. The choice is yours. You can be a mannequin to cut and copy dresses or you can be your own person and make a statement.
 

100% "Love It or Leave It" 90 Day Money-Back Guarantee!

 

If you're not totally thrilled with the"

Dress Making - Beginners Guide

" guide for whatever reason at all, simply send me an email and I'll cheerfully refund 100% your money with the click of a button.
You've got a full 90 days to try out the material. This is a no questions asked, no fuss money-back guarantee I like to adopt.
  Is that fair or what?
Look at it this way - $4.95 really is a drop in the bucket compared to the time and money you can save yourself...
Here's How To Order To Right Now!
Once your credit card is approved, you will be taken to a special download page where you will have instant access to the ebook.
Special Offer - Only $4.95!
Sincerely,
Rich PLR
P.S. Did you know that if you have a thin neck and narrow shoulders, it is best to avoid dress patterns that sport a wide or boat style neckline. You will be more flattered by V-shaped necklines, tie collars, or a mandarin standing collar. Well that is just the beginning of insight you will get in this guide" Don't waste another minute with having to get alterations. Be your own person and design and create your own dresses.
---