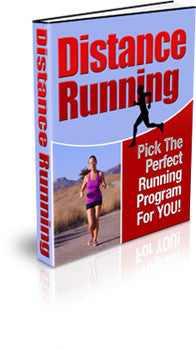 Distance Running
Discover How You Can Increase Your Running In A Matter Of A Few Months!
Exclusive Offer!
Never Before Revealed Information!
Dear Friend,
Now, you can implement the same kind of training that runners use to train for marathons, races and other running events! You can steal the strategies that runners use to get to the next level. You will be able to discover the secrets that they use to get to where they are at today.
If your running speed is not up to par, this report, "Distance Running - Pick The Perfect Running Program For YOU!", can help you get up to speed on the level that you need to be at with your running. There are six different running programs that explain how you can do just that, along with other tips that are crucial to your running success.
This could be the most important thing that you will ever read to make those strides that you need to make in your running pursuits.
This report will explain how you can train to be like some of the other runners that are involved in different races and marathons. Before you know it, you will be running in some of the most well known running events and being able to win, just because of the training that you received.
Also You Will Discover...
How eating right can help you while you are training. It is essential that you eat the right kinds of food in order to have the stamina you need to train. You must also have plenty of fluids to keep your body hydrated. There's nothing worse than not keeping fluids in your system while you are training.
How important it is to have to right kind of running shoes. This report explains how you go about doing that. If you are wearing the wrong kind of shoes, it can affect you while you are training and you won't get the maximum benefit from it.
How crucial it is to work on preventing injuries. Injuries can slow you down a lot. In fact, they can even be a deterrent on your training. You may have to stop altogether until that part of your body has healed. Even then, you still have to be careful when you are trying to come back and train.
Why stretching and warm-ups are crucial to your training and what could happen if you don't implement them on a regular basis.
 

You will learn about the training involved:


One of the first thing that you have to do every day while you're training

How to keep your back and hamstrings strong

What kind of training to incorporate on the weekends

The average distance that you should train

Why you should have a schedule

How many days a week runners train

What you should incorporate in your training

What you should do in between training and running
Here is what you will learn inside this guide....
How Much Is That Worth To You?
I guess that is kind of a silly question; "How much is that worth to you?" is kind of like asking how much does running mean to you. I am sure the answer would be "invaluable." $4.95 compared to invaluable, is a drop in the bucket then, and in reality, that $4.95 will pay itself back the first time you put all the valuable information inside to use.
I am sure there are fancier hardbacks out there on the market, however the information you will get inside of the "Distance Running" guide is practical information that anyone can benefit from.
This guide is not marketed towards the rich or the poor, it is marketed for anyone who wants to be able to better under distance running.
It will teach you everthing that you need to know in easy to understand, plain English and if your not 100% happy you can return for a full refund.
 

100% "Love It or Leave It" 90 Day Money-Back Guarantee!

 

If you're not totally thrilled with the"

Distance Running

" guide for whatever reason at all, simply send me an email and I'll cheerfully refund 100% your money with the click of a button.
You've got a full 90 days to try out the material. This is a no questions asked, no fuss money-back guarantee I like to adopt.
  Is that fair or what?
Look at it this way - $4.95 really is a drop in the bucket compared to the time and money you can save yourself...
Here's How To Order To Right Now!
Once your credit card is approved, you will be taken to a special download page where you will have instant access to the ebook.
Special Offer - Only $4.95!
Sincerely,
Rich PLR
---