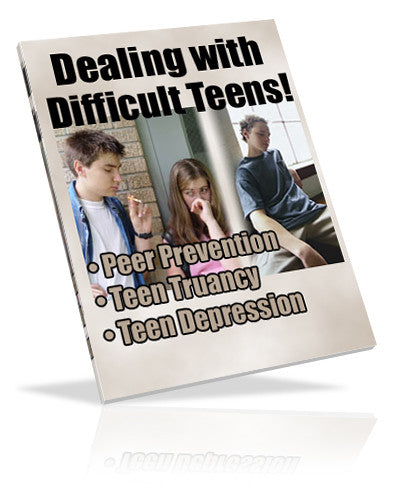 Dealing With Difficult Teens
Dealing With Difficult Teens!
Discover The Secrets To Identifying Behavioral Changes!
Have you noticed significant changes in your childs behavior?
Has your normally healthy, happy teen suddenly morphed into a strange creature seemingly unable to communicate?
Has your child developed bad habits or acquired new "friends" who you feel are inappropriate?
All teens undergo certain changes as they transition to adulthood, but some marked changes could be spelling disaster.
If you are a person who is actively involved in parenting your child, it's a pretty good bet that you may notice changes in your child fairly quickly. 
However, sometimes these changes are so subtle even the most vigilant parent can miss them until the damage has already begun.
That's where "Dealing With Difficult Teens" comes to the rescue by helping you expose the suspicious behavior that indicates there might be problems on the horizon.
Discover all the details you need to know in order to head off potential problems before they become serious.  If you have the desire to insure the best for your child you owe it to yourself to explore the challenges lurking around the corner.
"Dealing With Difficult Teens" will take you by the hand and teach you what you need to know step by step.  Here's just small sample of what you will learn:
What Are The Warning Signs – An ounce of prevention is worth a pound of cure.
Peer Prevention – What to do when peers exert pressure leading your teen into bad behavior.
How to Deal With Teen Truancy – What do you do when your teen won't go to school.
Dealing With Teen Depression – How to spot depression in your teen and what steps to take.
Is Your Teen in a Gang – How to find out if your teen is in a gang and what to do if he/she is.
Is Your Teen Violent – Exploring the dangers of violent behavior and how to end the cycle of violence.
Your Teen and Substance Abuse – How to determine if your teen is taking drugs or alcohol and what steps to take to get it under control.
When Your Teen Runs Away - What to do to get your teen home and how to prevent it from happening again.
Is Your Teen an Underachiever – What can you do to help motivate your teen to work up to their potential.
Responsibility, Chores and Your Teen - Discuss whether your teen should receive an allowance or whether they should have a job and what are appropriate chores for a teen.
Is Your Teen ADD, ADHD or Bipolar - What behaviors would indicate a medical problem as opposed to just bad behavior and how to cope.
Is Your Teen at Risk for Suicide - How to spot warning signs and what to do with your suspicions.
Your Teen and the Dark Side - Is your teen in a cult? How would you know and what would you do if you investigate and find out it is true.
Your Teen and the Internet - Is your Teen obsessed with the Internet? Why? What behavior in your Teen indicates that this might be a problem and what can you do about it?
Treatment for Your Teen - How to know when your Teen requires professional help.
If any of these points hit home, don't waste another minute.  Make certain you are doing everything you can to insure success for your child.
Everyone who has children should have a copy of "Dealing With Difficult Teens" on their digital bookshelf.  Grab your copy now! 
---