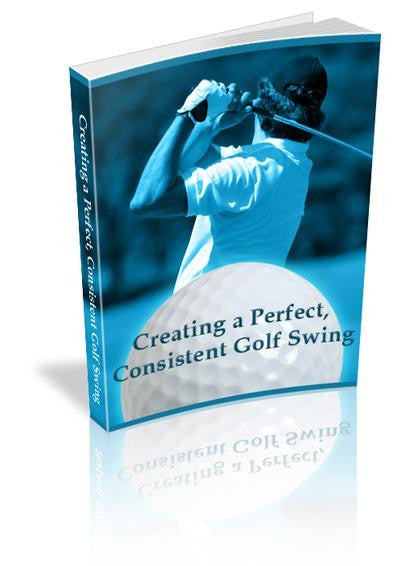 Creating a Perfect, Consistent Golf Swing
Discover the Secret to Hitting a Golf Ball Perfectly … Every Time You Swing!
Dear Friend,
Ever wished you could hit a golf ball with the skill and consistency of Vijay Singh, Sergio Garcia, Paul Azinger, Mark Calcavecchia, Nick Faldo, Fred Couples, and even Tiger Woods?
Well, the truth is, it's not as hard as you may think – provided you have access to the right insider tips and information … provided you have access to the new "Creating a Perfect, Consistent Swing" ebook.
This ebook is filled with the tips, tricks, techniques and secrets you need to know to instantly improve your golf swing and your golf game and begin playing "like a pro!"
It's Time You Gained an Expert's Understanding of the Often Misunderstood Game of Golf!
In reality, there is actually very little you need to learn or know in order to play an excellent game of golf.
Unfortunately, a general lack of understanding regarding the few key elements that you do need to know prevents many from truly enjoying this great game.
That in a nutshell, is why I have written "Creating a Perfect, Consistent Swing." This ebook is designed to clear up the common misunderstandings that are preventing so many from playing good golf.
In this ebook, you will learn the many different ways you can begin to improve your golf swing and golf game and you will learn to recognize flaws in your game and then how to act aggressively to correct them.
Here is even more of what you will learn by reading "Creating a Perfect, Consistent Swing":
How to develop a golf swing that will have others stopping what they are doing just to watch you swing – this is the information you need to know to take your golf game to the next level and beyond!
The three keys to playing great golf – learn these three simple things and watch your golf scores improve dramatically!
4 steps for adjusting your stance – and ensuring you hit the ball hard and consistently every time!
How to fine-tune your golf swing – and actually get more distance with less effort!
The one mistake nearly all beginning golfers make when hitting the ball – and how to easily avoid falling into the same trap!
How to gain total control of your golf swing – and hit the ball sweet and true each and every time you swing!
The four steps to taking the perfect golf swing – you'll be amazed at how easy it is to do when you follow these simple tips!
The single most important thing you MUST do to hit a golf ball well – you'll be very surprised by what you read here!
What to do with your hands when hitting a golf ball – this is vitally important to your golf success, yet most golfers never even think about it … find out what you should be doing with your hands here!
How to correct errors such as slicing and hooking – by making a simple adjustment in your stance or swing!
The proper way to handle your weight and ensure that you hit your tee shots with full force – follow these tips and you'll be hitting the longest drives in your group in no time …just think of the bragging rights you'll have!
How to develop pinpoint accuracy – learn this and complete strangers will be asking you for golf advice!
And much more, including numerous tips for beginners, such as:  

Everything you need to know about golf clubs and how to use them
Tips and techniques for approaching, driving and putting that will have you playing like a seasoned veteran in no time!
How to drive for accuracy and distance!
How to hit iron shots like a pro
How to easily avoid hooking short putts
The secret to hitting side hill putts and shots
How to avoid beginners' mistakes
How to hit difficult shots, such as into the wind, out of the sandtrap, up and over a hill, and more!  
In short, "Creating a Perfect, Consistent Swing" contains all the tips and expert advice you need to know to hit the ball farther and with more accuracy … perfect your swing … gain confidence in your game … and start playing like a pro and regularly beating your friends and opponents.
So What Are You Waiting For?
Order Your Copy of the "Creating a Perfect, Consistent Swing" Today . . .
Right now, for a limited time, you can take advantage of a special promotional offer and receive the "Creating a Perfect, Consistent Swing" ebook for just $4.95! 
100% Money-Back Guarantee
If you are not completely satisfied with your ebook purchase, simply notify me within 90 days and I will refund your money, in full, with absolutely no questions asked!   Thanks to my Money-Back Guarantee, You've Got Absolutely Nothing to Lose!
Sincerely,
Rich PLR
P.S. Remember my special introductory offer won't last long. Receive the "Creating a Perfect, Consistent Swing" ebook for just $4.95! 
P.P.S Also remember, that you are making this purchase at absolutely no risk. So grab this special price while you can! If this ebook isn't everything you were expecting, simply notify me and I will refund your money immediately!
---