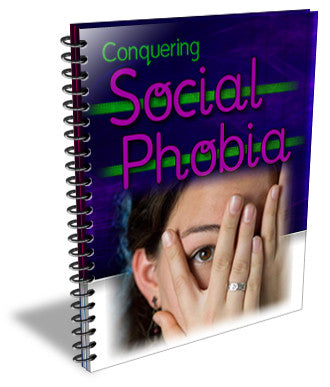 Conquering Social Phobia
— Is Life Passing You By Because of ANXIETY?
" Conquering Social Phobia"
Stop Feeling Inferior and Terrified! Find the Solution to YOUR Fears! 
 
Dear Social Phobia Sufferer,
Sweaty palms, heart palpitations, tremors, dry mouth – are these symptoms familiar to you? Do you find the thought of a social gathering, going on a date or a job interview so terrifying that you've stopped trying – or are thinking about giving up?
You're not alone. Millions of Americans as well as countless others are suffering from the same debilitating anxiety that you are dealing with. They are also fighting, sometimes daily, the rise of panic that comes with interacting with others – and they don't know where to turn.
Fortunately, we know more about Social Phobia, or Social Anxiety Disorder, now than ever before. Social Phobia does NOT need to prevent you from living a healthy, normal life. And the sooner you find answers, the sooner you'll join the many who have CONQUERED Social Phobia!
3 Things You Should Know About Social Anxiety Disorder…

1.  Social Anxiety Disorder is a REAL and RECOGNIZED disorder.
2.  Children, Teens and Adults are at risk of developing Social Phobia.
3.  Social Phobia is TREATABLE and even CURABLE!
You have a lot to give to your family, job and community. You have normal hopes and dreams and deserve to live a normal, healthy life. It is only your FEAR that isn't normal. So why do you have to bear this burden when others don't?
If you could go back to a time when you weren't plagued by ANXIETY or if you suffer from DEPRESSION due to your current state, wouldn't you go back?
Social Phobia is Curable! It's important for you to understand and believe that YOU can conquer your fears. You DON'T have to live in fear of embarrassment or avoid situations that you wish you could face.
You've taken the first step to finding freedom from your symptoms and fears. In "Conquering Social Phobia" you find all the answers to your most important questions in the safety and comfort of your own home!
It's simple to read and understand
It's presented in simple, easy to understand language. Because of that you don't…
ü  Need any special training.
ü  Need a lot of money - the cost is low.
ü  Have to wait days for answers – get them with a click.
You have all the information you need to get answers in "Conquering Social Phobia."
Here's a quick look at what you can learn from the book "Conquering Social Phobia":
Learn about the options, both medical and alternative, for treating the symptoms of Social Anxiety.
Find out how to select a therapist who can help, and how to overcome your fear of going to the doctor and getting a diagnosis.
Find out the MOST important form of treatment you need to GET OVER YOUR FEARS!
Discover the IMPORTANCE of getting help now, and the SERIOUS RISK for Social Phobics who don't get help!
There is much more in "Conquering Social Phobia" that you will gain access to. Don't spend another week, month or year wondering just how bad your phobias will become. Start on the path to regaining control of your life!
This is a "must have" for anyone's digital bookshelf but especially crucial if you or a loved one is suffering the pain and embarrassment of a social phobia.
And at only $4.95 this guide is a steal!
No Risk, 100% money Back Guarantee!
I truly hope you see the potential here, and realize how important this offer is!  You can learn all of this virtually Risk Free!
We want purchasing "Conquering Social Phobia" to be an absolute 100% no-brainer for you.  That's why you can order your copy with complete peace of mind.
If you don't believe that "Conquering Social Phobia" has increased your knowledge just let us know and we will refund your purchase price no questions asked.
It's really easy to get started. You just need to click the link below and you will have your copy in minutes. Once you have your own copy of " Conquering Social Phobia" you can feel safe in the knowledge that you can prevent or relieve the suffering of Social Anxiety!
You know that you are acquiring knowledge that can reap benefits for years to come. We guarantee it! Start now!  Click the link below for your copy. You'll be glad you did.
Only $4.95!
---