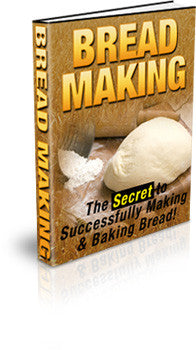 Bread Making
Discover How To Surprise Family and Friends With Homemade Bread?
Exclusive Offer!
Never Before Revealed Information!
From:  Rich PLR
Dear Friend,
Is Your Bread Coming Out Doughy Or Crumbly?
Well, you don't have to be frustrated anymore by baking bread that doesn't rise all of the way or just doesn't have that special taste. With Bread Making - The Secret to Successfully Making & Baking Bread!, you will be able to make bread like the bakery. Except you will be doing it from the comfort of your own home.
It can be frustrating trying to impress family and friends by making your first loaf of homemade bread and it does not come out right. It may be too hard, too doughy or too crumbly. None of these are a good result for your first time. You will probably be embarrassed. Even though some of your family members may brush it off as an attempt to cook, you may feel bad because you really wanted your first try at making bread to be successful.
It's not easy to be embarrassed when you are placing your bets on something and it doesn't turn out the way you thought. It's the same way with making bread. Doing it for the first time is very crucial. You want people to like what you're making.
Especially since it would be a special occasion, you want everyone to enjoy what you have made. Making and baking bread is not something that is done on a regular basis. So when you get together with family and friends, having a nice-smelling aroma of homemade bread would definitely hit the spot.
Homemade Bread the Way it Should be Made!...
Once you get this guide, you will not just want to make one loaf of bread. In fact, you will want to make more loaves that you won't wait until Thanksgiving or Christmas to do it! This guide is not just for the holidays—you can make homemade bread all year round.
You will discover firsthand how the entire process works. From start to finish, you will be able to transform your baking into the best thing since sliced bread! The cost for this guide is only $4.95, so you better get on the bandwagon now!
What is stopping you from wanting to bake bread that will just melt from your mouth? Are you scared that it wont' come out right again? Are you scared that you'll be embarrassed again? Not with this guide. You get step by step instructions on how to make a masterpiece. All it takes is some determination and will power to make a tasty loaf.
 

In this report, you will discover:


How to measure ingredients for the dough
The way you should measure the flour
Why the ingredients should be measured as instructed in the directions
What can happen when you add too much flour to the mixture
How to measure flour the right way
How to get an accurate measure of flour
Why you should not use a cup to measure flour
How to make bread flour
Why you should use large bowls when making bread flour
How to mix the ingredients together
What you should do before combining the ingredients
Why it's important to have everything in front of you
How to "proof" the yeast
How Much Is That Worth To You?
I guess that is kind of a silly question, but think for one moment... your sitting there eating a slice of bread you just made that actually taste amazingly good. I'm sure you'll be very pleased that you only paid $4.95 to learn step-by-step how to make bread that tastes even better than the local bakery!
I am sure there are fancier hardbacks out there on the market, however the information you will get inside of "The Secret to Successfully Making & Baking Bread!" guide is practical information that anyone can follow.
You will be able to show off your culinary skills to your family and friends. Show them what you can do and make your bread a masterpiece and don't let the fear of not being a great cook hold you back!! Over time, you will learn how to make some of the best bread.
This guide is not marketed towards the rich or the poor, it is marketed for anyone who wants to be able to make the best homemade bread.
What are you waiting for? Order Today...
 

100% "Love It or Leave It" 90 Day Money-Back Guarantee!

 

If you're not totally thrilled with the"

Bread Making

" guide for whatever reason at all, simply send me an email and I'll cheerfully refund 100% your money with the click of a button.
You've got a full 90 days to try out the material. This is a no questions asked, no fuss money-back guarantee I like to adopt.
  Is that fair or what?
Look at it this way - $4.95 really is a drop in the bucket compared to the time and money you can save yourself...
Here's How To Order To Right Now!
Once your credit card is approved, you will be taken to a special download page where you will have instant access to the ebook.
Special Offer - Only $4.95
Sincerely,
Rich PLR
---