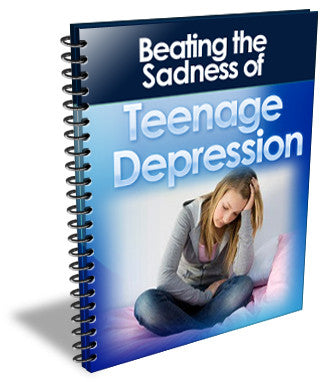 Beat the Sadness of Teenage Depression
— Is Your Teenager Sad, Depressed and Angry?
" Beat the Sadness of Teenage Depression"
Help Your Teenager Overcome Depression and See the SMILE Back on Their Face! 
 
Dear Parent or Caregiver,
Are you worried about the health of a teenager in your family or in your care? Have you noticed a trend of sadness, anger and frustration that seems unusual? Is the happy or satisfied child you knew disappearing before your eyes?
The teen years are stressful for everyone. Learning to adapt to a maturing body, social life and responsibilities can cause everyone some anxiety and stress. But when is it serious?
With an estimated 1 in 8 teenagers suffering from teenage depression it is very important for parents and caregivers to make themselves aware of the signs and symptoms of teenage depression so the ones they love can be helped and healed before it becomes dangerous.
Your child needs you now, more than ever before. If you are concerned and want to learn more, you can start right here!
3 Things You Should Know About Teenage Depression…

1.  Only 20-30% of sufferers are diagnosed with depression.
2.  Teenage depression has different symptoms from Adult Depression.
3.  Suicide risk is higher in Teenage depression than Adult depression.
Many of the common signs of teenage depression are masked by the typical behavior of teenagers – secrecy, isolation, anger and mood swings are good examples.
The danger, of course, is not recognizing when these behaviors are indicative of a more serious form of teenage depression. With the risk of substance abuse, sexual recklessness or even suicide looming, every parent needs to be aware of the possibility that their teenager needs help.
What can you do? The first step is getting a better understanding of what teenage depression is. Learning the identifying symptoms as well as the available treatments will help you make the right move to getting your child help.
Learning about Teenage Depression doesn't require a science degree and you don't have to be a health professional to start helping your teen. With "Beating the Sadness of Teenage Depression" you can get all the facts and information you need to start improving your teen's life today!
It's simple to read and understand
It's presented in simple, easy to understand language. Because of that you DON'T…
ü  Need any special training.
ü  Need a lot of money - the cost is low.
ü  Have to wait days for answers – get them with a click.
You have all the information you need to get answers in "Beating the Sadness of Teenage Depression."
Here's a quick look at what you can learn from the book "Beating the Sadness of Teenage Depression" :
Learn how to help build self-esteem and combat depression.
Be warned of the serious dangers of Antidepressant use in teenagers.
Discover lifestyle and diet tips that can improve your teenagers overall health and well-being.
Learn how friends and family can help support a teenager fighting depression.
There is much more in "Beating the Sadness of Teenage Depression" that you will gain access to. Before you go anywhere, take the first critical steps to protecting your teen.
This is a "must have" for everyone's digital bookshelf but especially crucial if your loved one is suffering from teenage depression.
And at only $4.95 this guide is a steal!
No Risk, 100% money Back Guarantee!
I truly hope you see the potential here, and realize how important this offer is!  You can learn all of this virtually Risk Free!
We want "Beating the Sadness of Teenage Depression" to be an absolute 100% no-brainer for you.  That's why you can order your copy with complete peace of mind.
If you don't agree that "Beating the Sadness of Teenage Depression" has increased your knowledge just let us know and we will refund your purchase price no questions asked.
It's really easy to get started. You just need to click the link below and you will have your copy in just minutes. Once you have your own copy of "Beating the Sadness of Teenage Depression" you can feel safe in the knowledge that your teen can look forward to a happy life!
You know that you are acquiring knowledge that can reap benefits for years to come. We guarantee it! Start now!  Click the link below for your copy. You'll be glad you did.
Only $4.95!
---