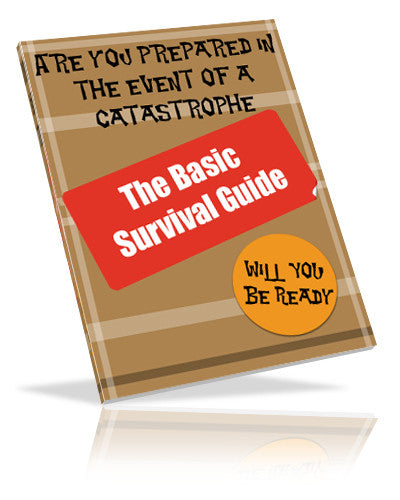 Basic Survival Guide
Basic Survival Guide
Will YOU Be Ready?
It goes without saying that we live in exciting times.  One only needs to turn on their television set and the world comes alive before our eyes.  For our ancestors, it's the stuff that dreams were made of.
Sadly, it isn't all brotherly love and friendly neighbors.  Every day we are bombarded with messages of war, famine and terror.  Not to mention, fire, flood, hurricanes, earthquakes or tornados.
We need only to look at the events of 9-11 to see just how fragile we are.
Worse case scenario, are you prepared in the event of a catastrophe?  It's probably a good bet that you are not. 
What about Hurricane Katrina?  What happened to thousands of people in Louisiana and Mississippi is a good indication.
What it all boils down to is the fact that we all need to make certain we are taking care of ourselves and not be dependent on the government or others to take care of our daily needs.
"The Basic Survival Guide" is exactly as the name implies.  It is a comprehensive guide to what you need to be prepared for in any given disaster.
What is a Disaster – preparing for different situations
Creating a Disaster Plan for Your Family - exactly what you need to do in preparation
A Disaster Kit – how to build your own survival package and what to include
Helping Your Children in a Crises – how to reassure your children during a catastrophic situation depending on their age group
Watch or Warning – what is the difference between a "weather watch" and a "weather warning" and what it means for you
Disasters and People with Disabilities – people with special needs require special preparation
How to Create a Support System – creating a lifeline with friends, family and neighbors
What If You Must Evacuate – where do you go and how do you get there
First Aid for First Response – what you should have available
Food Stores – how much and what kind of food should you have on hand and why
What About Your Pets In an Emergency – pets fall into that "special needs" category – how do you handle them
Medical Emergencies – what constitutes a medical emergency and what to do
Safety Proofing Your Home – tips to make your home safer
Disaster Insurance – what kind of insurance do you need and what you can get
What You Should Carry in Your Car – what you need to carry in your vehicle at all times
Written in plain English "The Basic Survival Guide" will give you answers to those questions about how to be prepared in any emergency.
"The Basic Survival Guide" can put you and your loved ones one step ahead of the headlines.  In these uncertain times, the old Boy Scout Motto of "Be Prepared" is more important than ever before.
Grab your copy today and you, too, can be prepared!
---