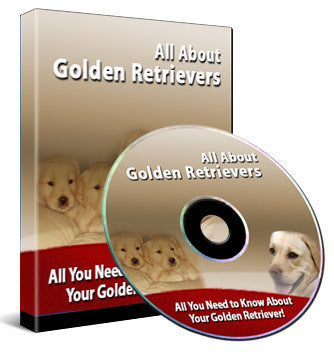 All About Golden Retrievers (Audio & eBook)
Learn How To Care For Your Golden Retriever!
Get Everything You've Ever Wanted or Needed To Know About Your Dog in One Complete Ebook!
Did you just bring your precious new puppy home from the pet shop, or have you lived with your four-legged friend for years? Maybe you're researching ways to select the best breeder. Don't you wish you had an instruction manual with all the answers to your questions? Choosing, caring for and training your Golden Retriever takes time, patience, persistence and understanding. It also requires a clear understanding of this unique breed and its particular behavioral traits.
All About Golden Retrievers:

All You Need to Know About Your Golden Retriever!

Now you can have that complete guidebook and learn everything you've ever wanted to know about choosing, caring for and training your Golden Retriever. In the remarkable new, information-packed ebook 'All About Golden Retrievers', we'll show you:

A Complete Overview of Your Dog's Development and Growth Stages
Grooming Guidelines – From Ears to Nails and Teeth
Ways To Teach Basic Commands Like Sit, Down and Heel – Easily and Effectively
Plus . . .
You'll also Learn . . .
The History of the Breed
The Background on Special Goldens – From Search and Rescue to Therapy and Assistance Dogs
Golden Retriever Diet and Nutrition Guidelines
Ways To Manage Weight, Diarrhea, Food Allergies and Other Health Conditions
Tips on Controlling Pesky Skin Problems, Fleas, Mites, Ticks and Allergies To Keep Your Dog Happy and Healthy
Ways To Make Sense of Health and Hereditary Diseases
Training and Obedience Tips For Even The Rowdiest Pup
Step-by-step Leash and Social Training Techniques
Breed Standards For Height, Color, Coat and Temperament
Successful Ways to Solve Problems – From Barking to Jumping and Nutrition
How To Teach Fun Tricks Like 'Roll Over' and 'Retrieve'
Imagine 66 pages packed with priceless information about your Golden Retriever. Find all the answers, tricks and training techniques you'll ever need. Download it, today, and become the best pet owner possible!
The Golden Retriever: A Truly Special Breed
Did you know that Golden Retrievers are chosen to assist in nursing homes, hospitals and mental facilities to care for patients? They've also worked as search and rescue assistants and helped the visually and physically impaired. Why? Golden Retrievers have a special gift for pinpointing scents and following commands. They also offer unconditional love and have unique ways of expressing themselves. If you own a Golden Retriever, you already know how truly special this breed really is.
All About Golden Retrievers gives you guidelines on which puppies to watch out for when shopping for a new pet, from those with missing hair to identifying which puppies might have internal parasites. We'll explain the Golden Retriever's general temperament and let you know what you can expect from birth into old age. We'll tell you simple tips on evaluating a Golden Retriever's appearance and how your dog will change with age.
As Your Golden Retriever Matures
Avoid excessive vet bills and needless anxiety by simply understanding the normal development stages of your Golden Retriever. This complete ebook walks you through each year, often week-by-week or month-by-month, so you know what your Golden needs from you, how to care for him or her and steps you can take to make training even easier! This comprehensive guidebook is ideal for all pet owners.
Discover the difference between commercial vs. home-prepared dog food and how it can impact your dog's overall nutrition. We'll show you what your puppy or adult dog needs to grow strong and healthy, avoid digestion problems and minimize painful gas problems. Learn how to handle weight issues and food allergies – and, better yet, learn how to identify when your Golden Retriever might be allergic to the food your giving him or her before serious, costly health problems arise.
Ear Grooming and Beyond
Yes, you read that right. All About Golden Retrievers gives you a three-step plan for Golden Retriever ear and feet grooming. You haven't groomed your pups ears, yet? If you haven't, this book is definitely for you. You'll get page-after-page of valuable information about dental, ear and general overall care. Plus, you'll learn what certain eye conditions might mean – from redness to mucus discharge. Save thousands of dollars on vet bills by getting the education you need to care properly for your Golden Retriever.
Plus, you'll get the insider tips on obedience lessons, puppy training, crate training and house training. Learn how to set household rules that are followed, and mold your Golden Retriever into the pet your guests will love to visit! Don't wait. Order this amazing ebook today! Become the most informed and compassionate pet owner you possibly can.
100% No Risk Money Back Guarantee
When you place your order, you have my personal guarantee that you will be satisfied with your purchase. In fact, I'll give you a full 90 days to make your decision.  If at any time within those 90 days after your purchase you are not satisfied, simply let me know and I will issue a full refund.
But Wait – There's More!
If you buy All About Golden Retrievers within the next 24 hours, we'll also give you the accompanying audio book – absolutely free. That's right, you'll get the complete ebook All About Golden Retrievers and the professionally recorded audio book for the low price of just $9.95. Don't read it! Use the ebook as a reference, and listen to the audio book in your spare time.
Order All About Golden Retrievers now - Risk Free - available for instant download!
---