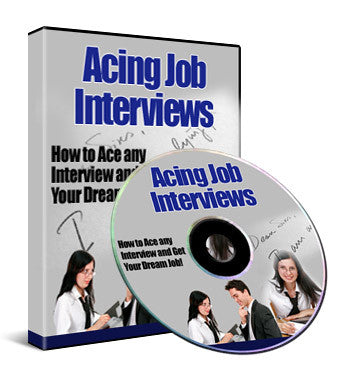 Acing Job Interviews (Audio & eBook)
Wow – This Amazing, No-Holds-Barred Interview Guide Really Works!
Get the Job You've Always Wanted - At Last!
Don't you wish there was a complete guidebook letting you know exactly what you need to do – and what you shouldn't do – before, during and after that nerve-wracking job interview? Wouldn't you like to make an outstanding first impression – every time? Well now you can! The exciting new career ebook Acing Job Interviews gives you step-by-step instructions on how to ace that job interview and get the position you want. These critical lessons aren't taught in schools or colleges. Our authors spent months compiling data from leading career sources and packing the most important pieces into one, outstanding 57-page ebook dedicated to acing job interviews.
Did you know that highly qualified candidates lose jobs everyday due to simple and avoidable interview mistakes? These people haven't planned ahead, dressed inappropriately, gave a bad first impression or offended the interviewer in some way. If you're actively looking for a new job, passively seeking a move up the career ladder or simply need a refresher course, this new ebook is perfect for you. If you're helping your children, friends or family members step into the job market for the first or the fiftieth time, Acing Job Interviews is an excellent, practical and thoughtful gift!
Acing Job Interviews:

How to Ace any Interview and 

Get Your Dream Job

Acing Job Interviews is the perfect career companion for anyone actively seeking a new job, or for smart men and women preparing for the unfortunate event of a job loss. When it comes to career know-how and advancement skills, you can never know too much. Acing Job Interviews shows you:

How to Dress For Success 
How To Make a Powerful and Lasting First Impression 
Ways To Carry Yourself With Confidence
How To Maximize Your Speech  
And that's just scratching the surface.  Read on to see what else Acing Job Interviews will show you.
What Questions To Ask During The Interview
Ways To Prepare For The Top 10 Interview Questions
How to Impress Potential Employers During Your Interview  
Professional Ways To Follow-up and Get Ahead of Your Competition
The Importance of Your Thank You Letter – And What To Say
How To Prepare For The Big Day
Ways To Ace The Critical Phone Interview
What To Expect During A Lunch Interview
Questions Your Interviewer Can't Ask You – And How To Protect Your Rights
How To Plan For Your First Interview Out of College
Best Practice Interviewing Skills After a Lay-Off 
Ways To Handle Money and Salary Negotiations
What to Bring To The Interview
What You Should Never Do During An Interview
And More . . .
Job Interviewing 101: What Your Mom Never Taught You
Because the job interview is so crucial to landing the job, we'll show you ways to fine-tune your communication skills, explain what you should wear during the interview, discuss proper interview grooming skills and smart ways to build your self-confidence and enthusiasm, plus so much more. Acing Job Interviews tells you what you need to do before the interview to prepare – from conducting company research to acquiring just the right amount of sleep.
Acing Job Interviews gives you answers to all of the questions you've always had, but didn't know who to ask. Learn how early you should arrive at your interview. Find out what you should do before, during and after an important phone interview (Yes, phone interviews are just as significant as face-to-face meetings). Plus, find out what special technology can subliminally convey a positive impression – and what can sabotage it. Learn key table manners and etiquette tips for conducting a lunch interview. Learn how to select the right restaurant and what to bring along.
"How's Your Health" And Other Questions An 
Interviewer Can't Ask You
Did you know that potential employers could be sued for asking certain questions during a job interview? Know which questions put them (and you) at risk, and why your answer could cost you a job. Wise career seekers stay on top of everything, preparing the best answer before potentially harmful information is revealed. While it's important to build a comfortable rapport, it's just as important to know your rights and withhold data.
Acing Job Interviews reveals the kinds of questions you should dodge, and why. We'll show you professional responses that won't offend your interviewer while still protecting your privacy.
The Only Resource You'll Ever Need
Acing Job Interviews is the only job interview resource you'll ever need, preparing those right out of high school or college, during job transitions, following a lay-off, during relocation and climbing the corporate ladder. Get tips, techniques and successful strategies that position you well ahead of your competition. Find out which tactics could land a high-paying offer, and simple ways to discuss both salary and benefits. We'll show you how to price yourself accurately, not too high (pushing the company toward another candidate) or too low (so you take home less than you're worth). Read, practice and avoid common interview pitfalls. Get everything you need to ace your next job interview right now, available to you as an instant download
100% No Risk Money Back Guarantee
When you place your order, you have my personal guarantee that you will be satisfied with your purchase. In fact, I'll give you a full 90 days to make your decision.  If at any time within those 90 days after your purchase you are not satisfied, simply let me know and I will issue a full refund.
But Wait – There's More!
If you purchase this ebook within the next 24 hours, we'll also give you the accompanying audio book – absolutely free. That's right, you'll get the authoritative ebook Acing Job Interviews and the professionally recorded audio book for the low price of $9.95. But act now. This offer won't last much longer.
Order Acing Job Interviews now - Risk Free - available for instant download!
---