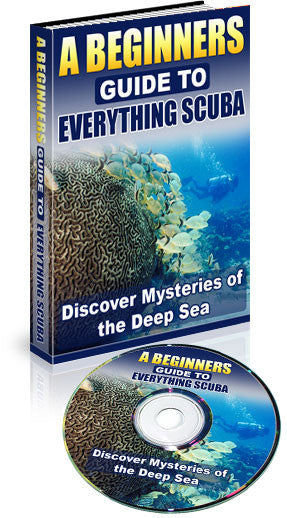 A Beginner's Guide to Everything Scuba (Audio & eBook)
Scuba Diving Lessons, From the Comfort of Your Home…
Do NOT Spend ANY Money On Scuba Gear OR Scuba Lessons UNTIL You Read This…
Learn everything there is to know about scuba diving, scuba gear, scuba snorkeling, and more… BEFORE you plan your next scuba diving vacation –
Are you ready for your first scuba lesson? Great, then you are ready to learn everything you need to become a successful beginner scuba diver WITHOUT spending a fortune.
How does that sound?
Here is your chance to do what you have always wanted:
Dive along the Great Barrier Reef…
Visit Aruba to scuba…
Scuba dive the Cayman Islands…
Snorkel and scuba dive in Fiji…
Perhaps you have always dreamed of scuba diving, but didn't know where to start. You are not alone. Thousands of people each year that dream of scuba diving, and chances are if you are reading this, you are one of them.
Allow yourself to imagine the deep-sea coral reefs, while you expertly navigate from one point to the next, taking photographs along the way…
As you think about that, all of a sudden it hits you… scuba diving is not something that comes naturally. MOST people have to work at it.
After all, you need to answer dozens of questions before you can enjoy scuba snorkeling or diving, am I right?
Think about it… here are some questions you need answered BEFORE you sign up for ANY scuba class:
Is a scuba diving vacation the best way to learn how to scuba dive? (Hint, it is not, and may even jeopardize your life)
What kind of scuba gear should you invest in – or should you just rent it?
What types of scuba lessons should you try before your first dive?
Is snorkeling just as good as diving, or is there really a difference?
Can anyone afford scuba diving, and if so, how and where?
Should I "aruba scuba," enjoy Bahamas scuba diving, or scuba elsewhere? Is there an ideal location?
How do I know if my instructor or trainer is properly certified and how or what kind of certification do I need?
Scuba diving is one of the most popular sports of all time. It's fun, it's practical, and it is exciting.
You do not have to buy gear, you can rent it… but you can't just jump in the water and dive.
Why?
Each Year 1000+ People Are Killed or Injured In Scuba Related Accidents
Are you going to be the next statistic? NO!
Here's why. You are SMART. You want to learn how to scuba safely and affordably, and now you can!
You are about to embark on a journey, one that will take you through the intimate world of scuba diving.
Learn everything you need to know about scuba certification, scuba pool training, scuba diving gear and more.
Picture this… you are shore diving along The Great Barrier Reef. You come across an unusual creature, and snap a picture using your handy underwater camera. You finish diving, rush home and find the creature you discovered is a very rare species!
For people interested in a fun and exciting adventure, scuba is THE way to go.
BUT… Scuba diving can be dangerous. Did you know most insurance companies do NOT cover an injury incurred during a scuba diving accident?
So what are you supposed to do?
Find out how to protect yourself, earn the proper certifications and get the best scuba equipment possible… without spending a ton of money.
Here is how you do it.
1)    Download A Beginner's Guide To Everything Scuba
2)    SAVE it and read it. It is short and easy-to-read; you'll spend less than one hour, I guarantee it.
3)    Find the nearest training center and start your very first scuba diving lesson, WITHOUT wasting time, money or effort on useless tasks.
Get it now, before time runs out…
A Beginner's Guide to Everything Scuba
Are YOU ready to discover the mysteries of deep-sea diving?
WHY YOU NEED THIS GUIDE
Most people assume they can take a scuba lesson on vacation and make out well. Unfortunately, most scuba instructors at resorts do not fully train you. You will not learn how to care for yourself in an emergency.
What are you going to do if your oxygen runs out?
Do you even know if you need an oxygen tank?
Is there a better way to scuba?
YES! There is, and you are in the right place at just the right time to discover everything you need to know about scuba diving BEFORE you invest a penny…
Many Dive Shops Will NOT Sell You Scuba Equipment UNLESS You Present The Right Credentials… Find Out What You Need
I am going to make this EASY for you.
You can waste your time signing up for the wrong classes and buying expensive gear you do not need, OR you can be smart and Download The Beginner's Guide to Scuba.
Take a Peak:
Discover the #1-mistake novice divers make, the one that may cost you your life…
Find out what 3-items you MUST have to dive safely, without spending a fortune…
Learn where to find qualified instructors that will train you safely, and discover how much time it REALLY takes to dive safely…
Learn why vacation dive training may be your worst enemy… it may cost you your health and safety!
Find out what equipment you should and should not buy when learning to dive... and where to find the BEST deals on scuba diving gear…
There's MORE!
In this one-of-a-kind guide, you will save yourself hundreds of dollars in wasted money on bad training and equipment you may or may not need.
Are you someone that has wasted your time on an expensive training course, one that left you feeling empty?
Don't feel bad.
Each year millions of people make the same mistake, spend tons of money on equipment they don't need, and find out only AFTER training they STILL do not know how to dive.
Here's a fact.
If you want to dive, you have to start out right.
How do you do that? Learn basic scuba diving essential facts BEFORE you waste your money.
Here's how. Download Our Guide
Whether you are:
A person that feels passionate about diving, someone that wants to discover how to dive safely and inexpensively immediately…
A dive fan that has wasted money on useless resort training classes, and is looking for a way to save money and learn more about REAL scuba diving…
A snorkeling fan interested in taking your deep-sea excursions to the next level…
A person that wants to learn how to scuba dive the RIGHT way, without paying too much money…
A diver searching for accurate information so you buy the right scuba gear and make smarter buying decisions…
A fan of the deep-blue sea wanting more…
Your time has come! Learn everything there is to know about scuba diving, before you spend a single penny on lessons, training, equipment… ANYTHING!
Discover Never-Before Revealed Scuba Secrets – It Takes Just Two Minutes!
Listen to what I am about to say carefully.
Ready?
For a limited time I am going to offer you an opportunity to review my guide, A Beginner's Guide to Everything Scuba RISK FREE.
That's right. Order today and you will receive your copy with a no hold's barred, UNCONDITIONAL MONEY-BACK GUARANTEE.
Check it out. See what you think. If you do not agree this guide will SAVE YOU MONEY when looking for scuba gear, training or places to see, all you have to do is tell me. Show me you are at least willing to try, and if you do to no avail, I will GLADLY send you a refund, and a personal apology.
Go ahead. You have nothing to lose.
ORDER YOUR COPY TODAY, BEFORE THIS OFFER EXPIRES!
Now is the time to act. Stop dreaming about what your life would be like IF you could dive, and start making your dreams a reality.
Yes, for only $9.95, I want to order A Beginners Guide to Everything Scuba today and learn what I need to do to start Scuba Diving - the right way, every time!

With my order, I realize I have a full 30 days to review this guide.  If, at that time, I decide this guide is not for me, I can request a full refund - no questions asked.

Simply click the button below to be taken to our secure payment processor, and you will be transferred to the download page immediately following your payment.
---