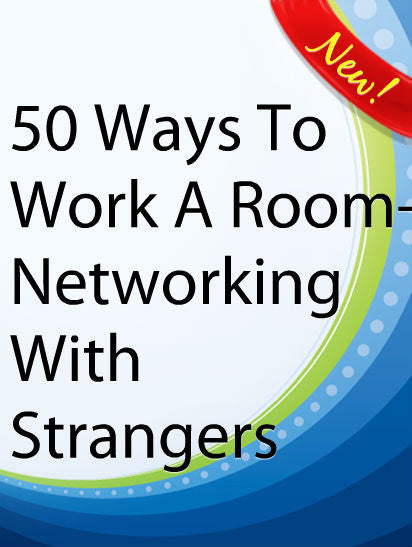 50 Ways To Work A Room-Networking With Strangers PLR Ebook
Does Your HEART POUND When You Go Into A ROOM FILLED WITH STRANGERS?
Do you wonder if it will ever stop pounding?
| | |
| --- | --- |
| | Do you feel afraid? |
| |  Do you feel lost and intimidated? |
| | Do you tell yourself- if I could just SAY SOMETHING? |
Do you know, for sure, if you could make the right contacts …
·         That life could be much easier
·         That your business could have a very good chance
·         That you could rise easily in the corporate world
·         That you could finally have the friends you deserve?
Dear Friend-
Believe me I know the frustration of feeling alone in a world that seems so filled with promise. And sometimes opportunity seems so close, but when it comes, you just seem to shrink away from the door and are afraid to knock.
But believe me, there is a way out of the darkness.
When you see people who seem like social butterflies, effortlessly flitting from one golden opportunity to another, always smiling, always shaking hands, I bet you think it's very natural. And for some it is, but for the vast majority, no matter how they come by it, it is actually learned behavior! YES, You Too Can Learn TO SOCIALIZE WITH PEOPLE!
If you give me just a few hours, I will show you a treasure trove of valuable ideas that, if applied diligently, will foster a WHOLE NEW YOU!
HEY, IT'S NOT THAT HARD. I CAN SHOW YOU FIFTY WAYS YOU CAN LEARN TO EFFORTLESSLY TO CHANGE YOUR SOCIAL LIFE FOREVER RIGHT NOW!
INTRODUCING! " 50 Ways to Work A Room: NETWORKING WITH STRANGERS"
In my 28-page power-packed ebook, I reveal the secrets that can turn you from a wallflower to a powerhouse of social energy. Oh, it's not just a book of dreamy, useless folktales but a book of practical action steps you can take to change your social life forever.
Here's just a sample of what you'll find inside:
There's a POWER CENTER in every room. Find it and score big. (Page 4)
10 FUN WAYS discard discomfort and BREAK THE ICE IN BUSINESS MEETINGS. (Page 5-7)
How to properly identify the TRUE CAUSE OF SOCIAL BARRIERS (Page 8)
Seven Steps to Choosing THE RIGHT ICE BREAKING METHOD (Page 8-10)
Make yourself into the ULTIMATE PARTY PERSON. Take control over your own functions. Learn how to DESIGN YOUR OWN NETWORKING EVENTS (Page 10-11)
Actors do it, Salespeople do it, Politicians do it. The Boy Scouts Make a Motto Out of it. They say- "BE PREPARED." Believe it or not, you preparation might be the key to your ultimate success. Not only do you need to focus on things in advance, you need to bring SPECIAL TOOLS to clear your way. (Page 11)
BREAK THE DOOR DOWN by being topical. How KNOWING THE LATEST NEWS can be an icebreaker always at your fingertips. Why keeping your ears to the ground for the latest news can help you win big at social gatherings! (Page 11)
Confidence is made not born. The secret for maintaining the proper attitude for meeting people for the first time requires careful observation. Why can watching people carefully give you confidence? (Page 12)
"Smile and the World Smiles With You" may not be just a stupid cliché. SMILING MIGHT BE YOUR GOLDEN KEY TO SUCCESS! Smile Your Way into great new relationships (Page 12)
How asking THE RIGHT QUESTIONS CAN BE YOUR TICKET TO SUCCESS- and how asking the wrong questions can lead you down the path to social isolation. (p. 14)
Avoid a tragic error. Learn why Networking is not just about sharing business cards. Learn to focus on BUILDING RELATIONSHIPS ALWAYS!!! (P. 14)
Who wants to network with a social illiterate who offends everyone he or she speaks with? Avoid MAJOR SOCIAL TURN-OFFS and keep your social standing, even at a one-time networking event. (Page 15)
Why lose all the progress you made in getting to know people? How PROPER ORGANIZATION and FOLLOW-THROUGH can gain you long-lasting relationships and change your social standing. (Page 16-17)
Ever hear that REMEMBERING PEOPLE'S NAMES is one of the true keys to immediate social success? Here are 6 priceless techniques you can use to remember names. (Pages 17-19)
Forget about your business cards and your nice suit. Find out why a HANDSHAKE is your most telling PERSONAL SIGNATURE to other people? (Page 20)
Learn to NETWORK EVERYWHERE, even in a parking lot. (Page 21)
What should you focus on when you talk with other people? FIND THE SAFEST WAY TO TALK TO PEOPLE YOU NEVER MET BEFORE. (Page 21)
Learn the TRUE MAGIC of an ELEVATOR SPEECH, a small but powerful way to introduce your ideas to potentially important people. (Page 21)
Sometimes you must just get out there. If you do, learn how not to fall on your face. 10 VITAL SECRETS OF PUBLIC SPEAKING. (Pages 22-24)
The world is shrinking fast. With tools like Teleconferencing, Video Seminars, Yahoo Messenger and Skype, you can develop an international team. Learn Five Secrets of Working with YOUR VIRTUAL TEAM. (Pages 24-26)
When all is said and done, this book will not only help you meet other people, but show you why, if you do it right, MEETING PEOPLE IS A FUN THING TO DO!! (Page 27)
…and there's tons more in this book…guaranteed.
 Once you realize that A GREAT SOCIAL LIFE is in your power, you can and should GET VERY EXCITED! Once you start applying a few simple action steps and planning out your strategy, you will find your confidence building, your moods beginning to change and your life beginning to blossom socially. You'll Wish You Had Come Upon This Book Before!
EXPERIENCE A NEW AND BRIGHTER YOU!
Now you can WALK CONFIDENTLY into a room with strangers and know exactly what do to! NEVER BE AFRAID you won't have something to say.
Watch people GATHER AROUND YOU AT A PARTY!
LEAVE A PARTY OR A BUSINESS MEETING fully satisfied with the experience, WITH NO REGRETS or DISSATISFACTION with yourself.
Look, life only provides a certain amount of opportunities to change. Sometimes you need to grab the ball and run with it. This may be the opportunity to change your whole attitude towards meeting people and yourself. Why not attend business meetings and social events with a completely different attitude- that of a conquerer, not a victim.  Be the person you always thought you were but just didn't know how. It doesn't matter how you look or what your social class is or was, you can TAKE A FEW STEPS and COMPLETELY CHANGE YOUR SOCIAL LIFE. You can GAIN BACK YOUR CONFIDENCE and MOVE FORWARD right now. 
What is all this worth? Surely a TRIP TO DISNEYLAND or a new OUTFIT. Well, maybe not. Because all "50 Ways to Work A Room: NETWORKING WITH STRANGERS" is going to cost you is $4.95. You can go to a dentist to fix your teeth or a cosmetologist to style your hair, but who can you go to in order to change vital social, networking skills? Well my book costs a lot less than one visit it to a doctor or a dentist and it could change your life forever!
ALL YOU DO IS SIMPLY CLICK THE BUTTON ABOVE and you've got it! It can be instantly downloaded to your computer and you can begin reading it in a few minutes. And guess what, there is a 100% Satisfaction Guaranteed on your purchase. If for any reason, this book doesn't give you the opportunity to intelligently and profitably change your social skills, then there's no problem at all. Just let me know and you get your money back. No questions asked. ACT NOW! Don't go unprepared to one more party or business event again. Use these opportunities to practice your new social skills and grow financially and socially – not beat yourself over the head because you are afraid to talk to someone.
Just click the button above so we can get started.
Thanks for reading,
Rich PLR  
PS How much longer do you want to be a WALLFLOWER, sitting on the sidelines of life, when you can learn to RELATE SUCCESSFULLY with everyone in your life, EVEN PERFECT STRANGERS? Put FUN back into your SOCIAL and BUSINESS LIFE with this great book on reshaping your VITAL SOCIAL SKILLS.
---