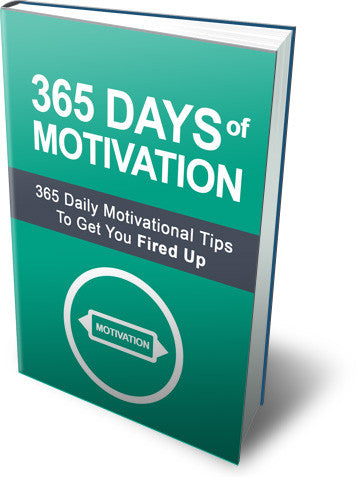 365 Days of Motivation
ATTENTION: Stop Wasting Time And Learn How To Stay Motivated!
"Finally! Discover How To Stop Your Mind From Wandering, And Upgrade Your Motivation!"
You Can Hack Your Motivation Levels, Allowing You To Take Your Life To The Next Level!
From:  Rich PLR
If you find it hard to stay motivated and often find your concentration levels wavering, you need to listen up!

Everybody has what it takes to self motivate, but actually doing it is another story.
I could just tell you to get off your butt and get it done, but unfortunately it's not as easy as that.
Do you really know what you need to do to push yourself?


Have you failed to stay motivated before?


Do you give up on tasks that you really want to complete?
If you answered YES to any of those questions then you need to learn how to hack your motivation levels.
Staying motivated isn't easy and it's a skill which few of us are born with.
I too suffered with this for many years, until I learnted how to push myself and stay on track at all times.
The methods I've used have helped in all areas such as:
Business
Career
Relationships
Education
and more.
Let me present to you...
365 Days Of Motivation: 365 Daily Motivational Tips To Get You Fired Up
This book contains 365 days of motivation, do you even know what you could do in a whole year if you were COMPLETELY motivated?
You don't need to have any special powers to stay motivated
Everyone can learn to do this, it's a matter of forming new routines
Read a point a day and take your motivation to the next level
A few topics explored in this book are:

Why you need to stay motivated. Why is it important to your success?

Motivational tips about listening and absorbing information

How you can take your life to the next level

How to work within groups and cooperate

How to stop yourself from losing motivation. We all go through slumps, but here's what you can do.

How to open your mind to new possibilities

Finding your passion and keeping the motivation to pursue it

How to maximize your time alive so you can accomplish and tick off your dream list.

Living a life of simplicity. Living a simple life can be powerful. These tips will help you get started.

Often a little push is all you need for you to spiral into success, which is why I've compiled this book to

help you reach your goals

.

Read a tip a day so that you can stay on top of things!

 

Are you ready to open your mind and upgrade your motivation?

You can own "365 Days Of Motivation" today for a mere $7.

That is a truly incredible value, especially considering the significant difference it'll make to your success.


Did I mention this eBook is only $7? It's definitely a point worth repeating. You will be hard-pressed to find a more valuable resource.

Your purchase is absolutely risk free. Try the product for 30 days, and if you're not satisfied just send me an email and I'll send you a refund right away. So there's absolutely no risk on your part. All the risk is on me.

I'm delighted to have the chance to share this powerful guide with you, and I know you'll be very happy with the results.

Again, you will receive the comprehensive and valuable insights you need to become successful for only $7.

Please click the Add To Cart button right now and take ownership of this valuable eBook TODAY!

Get Instant Access Right Now!
Yes! I want instant access to
365 Days Of Motivation
Today Only: $7!
To Your Success,

Rich PLR
P.S. - You're getting 365 tips to help you in all areas of your life so that you can take action and stay motivated while doing it.
Get your copy of 365 Days of Motivation right now by clicking the Add To Cart button.
---