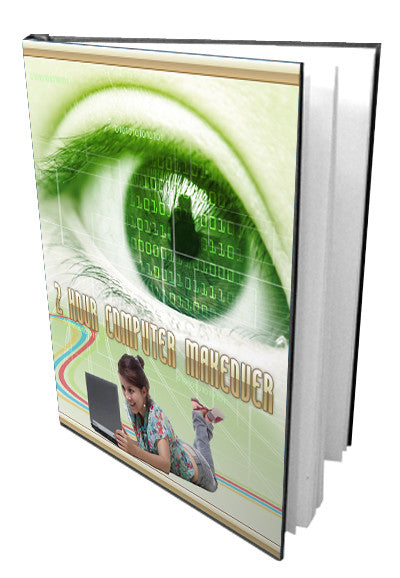 2 Hour Computer Makeover
Is a Sluggish Computer Costing Your Time, Money and Peace of Mind?
Are You Spending Hours Waiting For Programs to Load or Rebooting Your Computer Again and Again Just to Perform the Simplest of Tasks?
Are You So Fed Up With How Slow Your Computer is That You Are Thinking of Buying a New Machine Instead?
Don't give up on your current computer just yet! Read --
2 Hour Computer Makeover
Put Your Computer through This Simple Step-By-Step Rehabilitation Program Using Absolutely Free Tools That You Can Find Online
Save Yourself the Expense of Hiring An Expert!
Don't Waste Any More Time Troubleshooting When You Don't Have a Clue As to What You Are Doing!
Learn How to Fix Your Own Computer Within Minutes For Good and Forever and Once and For All!
Stop Settling For Less Than the Very Best Performance From Your Computer!
A Slow Operating System Does NOT Have to Be a Fact of Life!
From the desk of Rich PLR
Dear Friend,
If you are reading this page then it is very likely that you are at your wit's end when it comes to trying to "fix" your computer.
You may have even been told that putting up with a slow computer might just be a fact a life, that there is nothing you can do about it and that the operating systems of all computers start to slow down from the minute you take it out of its packaging and set it up and that the ONLY way to remedy this is to actually buy a new one.
Well GUESS WHAT! You computer does NOT have to run slower and slower every day ...
I am here to tell you that --
It is NOT normal to have to reboot your computer every hour or so in order for it to run properly!
You don't have to put up with programs that take forever to download!
You don't have to watch videos that constantly stutter and pause from YouTube and elsewhere on the internet!
You can run more than one program at once without having to close Windows no matter how many windows you have open!
You don't have to sit there drumming your fingers on the table waiting for your programs to download anymore!
Your computer is perfectly capable of running just as smoothly as it did the day that you took it out of the box!
In this eBook I introduce you to all the free tools that you can use to combat the most common problems that computer users place so you can stay protected, speed up your machine and improve the quality of your computer usage in general.
In 2 Hour Computer Makeover I take you through all of the reasons WHY your computer might be functioning with less efficiency -
Your computer is constantly under attack!! There are thousands of assaults on your computer every day from malware, viruses and hackers who want to hijack your machine or even just destroy it out of perversity!
Why your Windows Registry is so important to the health of your computer in general and how it especially can affect the speed at which it runs...
Why your hard drive constantly becomes more fragmented as time goes on causing it to freeze or crash
How your hard drive can become a "performance bottleneck" that moves information in a way that eventually paralyzes the functioning of your machine
The bottom line?
You don't have to put up with these problems. Even though it is a fact of life that your computer is practically guaranteed to slow down every time you alter the registry by downloading programs there are free tools that can be found online that you can use to help fix up your machine.
Learn how to use registry cleaners to fix your computer and protect it from viruses, adware and malware
It is definitely one of the big ironies of modern life that despite the fact that so much technology has been invented to make our life easier, our lives are more hectic and problematic than ever!
You can spend hours fussing around trying to fix your tools using the wrong program or simply surfing around the internet trying to find the right program to clean up your computer.
That is why I include all kinds of recommendations for tools you can download from the internet to help fix up the problem.
The reason it is so important for you to be "in the know" about some of these programs is because there are unscrupulous characters out there who will actually do things like sell you a program that actually DOWNLOADS SPYWARE OR MALWARE onto your computer.
These so called "helpful" programs are like sheep in wolf's clothing and a great example of how the cure can be worse than the disease!
You can tell these programs because they will flash up a pop up on your screen that says something like "WARNING: YOUR REGISTRY IS INFECTED!" along with a request to download some kind of registry cleaner. Often it will ask you if you want to "scan your computer for viruses or malware now."
These pop ups in themselves can be viruses. I am sure many of you have had the experience I have which is to have some strange program immediately start running and tell you how many "infections" you have on your computer.
Sometimes you just get an assessment where it may tell you something like --
"356 ERRORS were found on your machine! Your computer is at high risk of freezing or crashing!
Purchase this registry cleaner to avoid the complete loss of all of everything on your computer now!"
Of course you don't dare download anything because the minute you do this pop-up will simply plague you every day for requests to scan or download the program again and again.
That is why it is so important to have a registry cleaner that is part of a malware advertising scheme that interferes with your daily work!
Finding the right registry cleaner is only half the battle!
I have also included tons of diagrams and screenshots from my own computer desktop to help guide you through the process of understanding these programs so you can successfully troubleshoot whatever is wrong with your computer.
As your computer's registry is absolutely central to speeding up a slow machine I dedicate an entire chapter to this subject including -
How a registry cleaner can be used to keep your operating system in tip top condition
How removing information from your computer, including uninstalling obnoxious programs can harm your computer even though you may think you are cleaning it by getting rid of them
How to understand your computer's DLL (Dynamic Link Library) and how it affects your registry every time you install or remove a new program
How to understand malfunctioning DLL files that are used by several different programs and how these files can slow down your operating function
Why accidentally removing DLL files can slow your computer to a complete crawl
Where to go online to download missing DLL files so your computer runs more smoothly
How to find out if a missing DLL file is the source of your computer problems
How strange fonts, weird start-up programs and invalid registry path can slow down the booting up and functioning of our computer
How to determine whether or not it is safe to download free registry cleaner programs
Why you should be wary of registry cleaner ads that offer free trials or the famous "scan of your registry to find errors"
Why you want to install the best registry cleaner in the first place because installing and uninstalling these programs can make things even worse
How to avoid buying registry cleaner software that is embellishing the disastrous state that your computer is supposed to be in and try to find out the facts about what needs to be done to clean your registry
How to use a downloadable tool to find out exactly how many errors you really do have on your registry so you don't fall for any industry hype
Why you must always back up your registry settings before attempting any type of repair of your computer on your own!
A recommendation of a really good ABSOLUTELY FREE registry cleaner that is much better than the free trial often offered online
Directions on how to safely install a registry cleaner on your computer
How to back up the utilities on your free registry so you can use them again and again
How to deal with a defragmented disk in an angst free way
How to find a free tool that comes with the Windows program installed on your computer that can help you defragment your disk and back up files
Where to find the best free defragging program online to complement any free tools that came with your computer
The safest way to install defragmentation software (including lots of screenshots from my own computer hard drive to help you understand the process!)
Where to find defragmentation and registry cleaning programs that will run happily in the background so that you can still work while its is cleaning
How to read the reports generated by windows cleaners
Where to find an absolutely free tool for optimizing your hard drive that does EXACTLY the same job as the Win Utilities that most of us have to pay fifty dollars for
Where to find a free program that will help you perform various tune up operations such as free up wasted space and speeding up the performance of your hard drive
How to find a tool that can help remove duplicate desktop icons and keep the ones that you do have on your desk in the proper place
...and much, much more information about cleaning, defragging and optimizing your computer so it runs just like it did when you bought it brand new.
Find Out How To Save Your Computer From Viruses, Spyware and Adware!
Find Out Which Programs Work to Protect Your Computer From These Threats and Which A Waste of Money Are!!
If You Surf the Internet, You Need to Read and Follow the Advice in My EBook!
Let's face it if you own a computer that is connected to the internet then you are going to end up with viruses, malware and adware!
There are absolutely hundreds of software program out there that are designed to infect and damage your computer!
The problems that are created by these viruses can range in nature from being mildly annoying to completely disruptive. Some are so wicked they have the capacity to completely fry your hard drive!!
So just exactly what kind of threats do you face if you do NOT keep your computer clean?
Viruses infect and damage your computer and render it useless
Malware programs can be downloaded onto your machine without your knowledge
Spyware can collect information from your computer and compromise your personal identity and security
Adware can hijack your computer and send unwanted messages to people you know ...
Keyword loggers can find and steal your online passwords and then use that information in turn to steal your money
Phishing is an email message that is sent to you that encourages you to reveal your log-in information
In 2 Hour Computer Makeover I don't just teach you how to make your computer run faster and most efficiently.
I also show you how cleaning your computer can help you catch and remove the above threats to your entire system's integrity as well as your personal security!
First of all I give you all kinds of information about how to protect your computer from viruses including -
Why antivirus programs must be installed on all computers even if you are only surfing the internet every couple of months
Why many users have a bit of a problem using Norton Antivirus which is the standard software used with the program
Why it is absolutely crucial to update any virus cleaner that you upload as often as you can and why you should select a program that offers frequent updates
How to test free antivirus programs
A list of the benefits and drawbacks of using AVG, Avast and Anitivir which are free programs that you can download from the interent
Why you should forget about installing the toolbars that come with these programs
How to run antivirus scans using free programs
Why it is worth it to splurge on an antivirus program that has a rootkit detector
How to order a standalone rootkit from Microsoft
Where to find rootkit detectors for free online from several companies
How to understand the difference between running a full scan and a quick scan using these program
...and much, much more basic helpful information about removing curses from your computer for good.
In 2 Hour Computer Makeover I also show you how to get rid of all Malware including Spyware and Adware! You might be thinking "but I already have protection from my virus cleaner but the truth is ...you don't!
I teach you everything you need to know about removing spyware and adware including -
Why you need a spyware removal program on top of the one that may already be built in to your virus cleaner
How to tell if it is spyware or adware that is slowing down your machine
How to download and use Spybot to your best advantage to scan and remove malware of all kinds from your computer
How to use malware removing programs to remove unnecessary or temporary files
How to determine whether or not you should remove tracking cookies in your computer might be contributing to the sluggishness of your computer
How ad companies can make use of unused space on your computer to bring their advertising materials in front of you on your computer screen
How to use a program like LavaSoft to search for and eliminate spyware programs on your computer
The safest site online to find and download malware and adware sites from
How to use Spyware Terminator to identify and remove spyware and malware problems
The name of the ONE spyware removal tool you must have if you don't want to run more than one
The name of the fastest spyware and adware removal tool that you can find online
How the very firewall that was installed on your computer to avoid malware of all kinds might be serving to seriously slow down your computer
Where to find a program that installs a firewall, antivirus program and proactive protection all in one package!
... and lots more information about how to protect your computer from taking on too many unwanted programs and eventually crashing.
Are You Ready to Clean Up Your Computer of All Adware, Malware and Viruses Forever and For Good?
You Will Find Everything You Need to Know to Fix Your Computer Painlessly and for Free In
2 Hour Computer Makeover!
I can teach you how to remove the clutter and junk from your computer that are causing it to slow down including viruses, Trojans and malware.
Better yet, I can teach you how to do all of this for absolutely FREE!
The key is simply to know where to look online for these free tools and they are readily available to everyone.
It is mostly then just a matter of knowing how to use each to clean up your operating system so that it runs more quickly and efficiently.
Stop Putting Up With A Computer That Runs At A Snail's Pace!
Give Your Machine a 2 Hour Computer Make Over!
This is your big chance to stop spending hours trying to fix a computer that is sluggish and malfunctioning. Every shortcut that you need to fix your computer once and for all are in this thorough, concise and easy-to-read ebook.
Have faith! Regain control over your machine simply by following the advice in my eBook.
No matter WHAT you think is wrong with your computer it can be fixed! There is no need to buy a new one AND you can do it by yourself!
30 Day Money Back Guarantee
Try it risk free today! If you purchase today, your purchase is 100% guaranteed.
If after reading the eBook, you aren't on the path to fixing the performance of your computer once and for all, just ask and I'll be glad to give you a full refund.
All purchases may be refunded within 30 days of purchase, meaning that if you think your new eBook isn't as good as I claim, you'll get every cent you paid back.
If the suggestions put forth in this report don't help you to quit needing to reboot your computer and stop waiting for programs to load, I'll refund 100% of your purchase price, no questions asked.
Why am I taking all the risk on myself? Because I believe in the methods that I have written about in '2 Hour Computer Makeover'.
I believe they work.
I KNOW they work - I have tried them all.
I believe in the results I've gotten for thousands of people, and because of that I believe that this method will work for you.
Yes! I'm ready to start improving my computer performance now!
I understand that by placing my secure order today, I will be getting instant access to this powerful eBook.
I'll have immediate access to the same techniques that have been proven effective.
I know that this eBook is 100% legitimate, 100% legal, and 100% what I need to learn right now.
You've made it a very easy decision with your 100% iron-clad money back guarantee and I'm ready to start right now, so I'm clicking the secure order button below.
Save Your Pocket, Start Improving Your Computer Performance Today For Only $4.95!
---