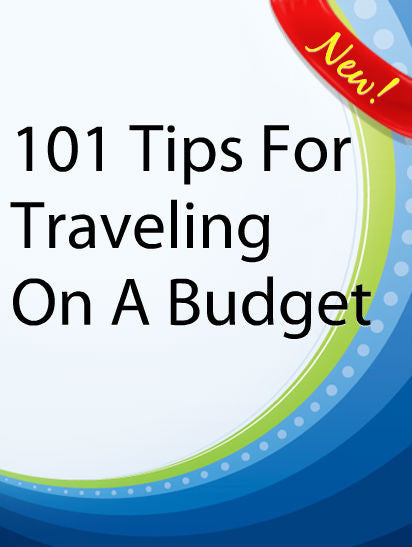 101 Ways To Travel On A Budget PLR Ebook
The amazing secret to planning a dream vacation that's light on your pocket book!
"Who Else Wants To Plan Their Next Vacation With The Suave Insider Techniques Only A Professional Travel Agent Would Know?"
Where do you wish you were right now?
Hawaii? The Bahamas? New Zealand? If you could choose one spot in the world to be your dream vacation destination…
…where would it be? Second question. Do you think you'll ever get there?
Travel can be expensive. Airline tickets, steep hotel rates, the hidden cost of meals and more. Will you ever have the money to pick up and leave for your dream destination?
YES! You will if you plan ahead using the insider techniques of professional travel agents. Inside my report, you'll find out how you can make it to your first dream destination a lot sooner than you think.
I've put down all the tips, tricks, and tactics to making dream travel possible in one easy to read report. You can find all my secrets inside…
"...101 Tips for Traveling on A Budget!"
Greetings Friend,
Give me 50 minutes and I'll have you planning your next trip like a professional travel agent.
Money stops most people from traveling to their dream destinations. Or at least the misconception that they can't afford to travel to the places they'd love to see most.
The secret inside the travel industry is that traveling can be VERY affordable when you plan ahead. Preparation is the key to traveling to anywhere in the world for far less than you thought possible. (Just ask any travel agent.)
With the right insider tips, you'll find yourself cutting costs on every aspect of your trip! To hotels, air fare, meals, and more! Just keep reading and I'll tell you all you need to know...
"See How Easily You Can Travel to The Destination Of Your Dreams (With Just Some Simple Planning), THIS YEAR For Cheap!"
Aruba? Jamaica? Bermuda? Bahama? You pick and I'll tell you how to make sure you get there this year if possible. It's all about making a goal, sticking to it, and knowing how to cut the costs that will make it happen.
In my 50 page guide, "101 Tips For Traveling On A Budget," I'll give you all the insider methods for getting to your dream vacation location for the lowest dollar possible. The report is 100% downloadable, so you can be reading it on your computer in just minutes from now!
...here is just SOME of the information you will find inside:
How to make sure you visit at least one dream destination this year. (Pages 5-6)
How to make "SMART" travel goals that are achievable. (You may find yourself at the resort of your dreams if you follow these steps) (Pages 6-7)
The most important thing to do to make sure your next trip is affordable. (Page 8)
9 different sources of information that will help you plan a frugal vacation. (Page 9)
Why it's OK to let the "vacation bug" hit you – and to run with it. (Page 10)
The secret to using early planning as your biggest money saver. (Page 11)
How to deal with travel agents who work on a commission. (Page 11)
Watch out for members of your own travel partners who will be after your money! (Pages 11-12)
When a debit card can get you into trouble on vacation. (Page 12)
The truth about carrying cash while on vacation. (Page 12)
6 tricks for making long car rides bearable and affordable. (Pages 13-14)
7 packing tips of traveling insiders. You'd hate to learn these the hard way. (Pages 14-15)
8 tricks for getting the best deal out of your hotel. (Pages 15-16)
12 secrets to getting the lowest air fare possible. (Pages 16-17)
9 items to put on your "out-the-door" check list. (Page 18)
12 things you may not know about keeping yourself and your documents safe while on vacation. (Pages 19-20)
Why travel agents know that the saying, "Knowledge is power," definitely applies to traveling. (Page 22)
How to find the hidden treasures at your destination that won't be filled with tourists. (Page 23)
How to care for your travel documents so you don't have to contact an embassy or police. (Page 24)
When driving yourself around is the best, and when it can get you into a lot of trouble. (Page 25)
How to check to make sure the exchange rate you're offered is a deal and not a scam. (Page 25)
How to bring your money securely and safely – so you don't have to fear that you'll lose your bankroll. (Page 26)
The most common mistake made my travelers revealed on this page. Don't let it cramp your style. (Page 27)
The secret to using checklists to keep your travel stress-free. They're not just for packing. (Page 27)
How keeping a diary can keep you out of possible trouble with custom agents. (Page 28)
When to read the fine print on Travel Packages that could end up costing you an arm and a leg. (Page 29)
Why it's important to have medical details ready (and which details you MUST have). (Page 29)
Tricks to keep your clothing wrinkle free when you're on the go. (Page 30)
How to protect your passport from being stolen (and what to do if it is). (Page 31)
The secret to saving money on hefty service fees with traveler checks. (Page 32)
The truth about the travel agent's "booking and administration fee." Read this to save yourself some money. (Pages 32-33)
One common packing mistake that could put a HUGE damper on your trip. (Page 33)
How to save money on meals and still experience local cuisines. (Page 34)
How the most prepared vacationers "practice" for their trips. (Page 35)
How a special "kit" you put together can make for the perfect mornings – day in and day out for your entire vacation. (Page 35)
A hidden cost of travel that adds up fast! (Page 36)
How your smallest investment may bring the biggest rewards. (Page 37)
How to use your carry-on luggage the right way. (Page 37)
The secret to being worry free on your vacation. (Leave your worries at home with this information) (Page 38)
A unique trick for keeping your budget under control. (Page 39)
Why skipping meals often doesn't save you any money. (Page 40)
How to keep yourself from making a "bonehead" mistake many travelers make that costs them time and money. (Page 40)
3 things you'll likely miss if you leave home without. (Page 41)
Smart travelers ask the front desk at their hotel for this potentially valuable item (and it's free to you). (Page 42)
Don't forget to check out these important dates about the destination you are visiting. It may make the difference between a great trip and a dud. (Page 43)
The most overlooked, inexpensive, money-saver you can bring on your trip. Hint: You'll most likely use it a lot! (Page 44)
And there's MUCH more – guaranteed!
"Will You Make These Travel Mistakes?"
Are you ready to plan your next dream vacation? Here's how to make sure your vacation goes off without a hitch.
You start planning early, right? Make sure you read page 29 to find out about the fine print in special Travel Passages. Mess this up and you may wipe out all your expenses AND lose your vacation.
Thinking about bringing cash? Smart travelers are always very careful not to rely solely on cash for their trips. Page 32 explains how you can use traveler's checks to keep your money secure…
…and how to make sure you don't get hit with hefty service fees that will put another dent in your budget.
Have you ever used a checklist when packing? I recommend it, especially if you want to make sure your trip really is your dream vacation. Page 18 has 9 items you should be sure to put on your checklist (most people forget).
The entire guide is dedicated to making sure you get to go on your dream vacation (by cutting costs) – and that you'll have the time of your life (by telling you how expert travelers do it – learn from their past mistakes).
I reveal all in 50 pages. The truth is, without my report, you may never make it on your dream vacation. My guide is the starting point for planning your trip and I guarantee you'll make it when you get your hands on it today (See below).
How much is knowing that it's now possible to visit your dream destination for cheap? One dinner? My report is yours for just $4.95. And it'll save you a LOT more than that. I guarantee it. Really, just check out my…
"....30 Days Money Back Guarantee!"
Get my report today. Look through it. See if you're not convinced you can now go on your next dream vacation this year. If you don't feel that I've shown you enough cost-cutting tips, enough frequent traveler knowledge, just write me an email saying so. I'll issue a refund ASAP.
You have 30 days to think it over, so there's no hurry. If you're not satisfied, you don't have to pay. I won't ask any questions and we'll remain friends. How does that sound for a guarantee?
Now just click the link above because I have a few questions for you to fill out. I'll see you on the other side and I hope you enjoy your trip!
Thanks for reading,
Rich PLR
P.S. See how easily you can reach each of your dream vacation spots with just some expert (insider) planning! You may think money is stopping you from going, but I'll show you how to cut costs like a professional travel agent! Just scroll up and look at all the ways I can help you shave expenses off your trip. Then click the link above to get my report, and start packing!
---