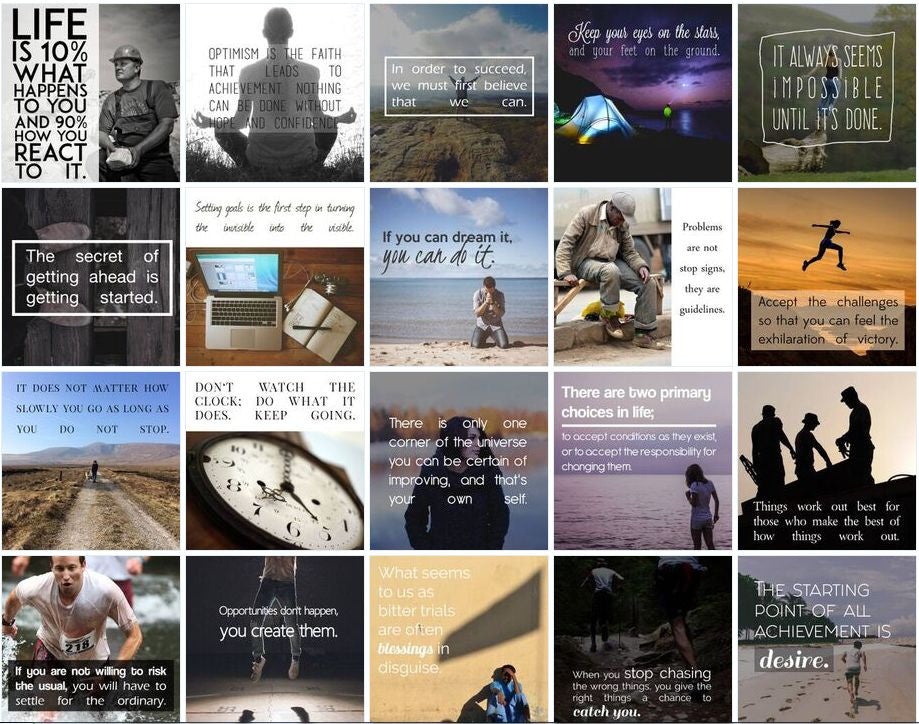 100 Motivation Based Social Posters
"Motivation" has become a kind of a buzz word lately.
But motivation is a real force, and it can be harnessed. It's an urge to do your work, so that you can feel better about yourself and your job.
Some people have learned to tap into their own motivation, to tune it, to turn it on like a light-switch, and they lead happier and more fulfilling lives.
The inspiration for a boost of motivation can come from anywhere: a pep talk, a television football show featuring a solid half-time speech, a deadline, and sometimes, a viral Internet meme.
Why does this matter to you and your business?
What if I told you that you could leverage the concept of "motivation" to generate loads of traffic for your company website?
What if you started that viral Internet meme?
And what if it was branded with your company logo?
Too good to be true?
Nonsense.
I'm sure you've seen "quote posters" floating around social media.
You know the ones, the fancy, inspiring backdrop behind an amazing quote.
But how do you get those pictures? Or know how to pick the right quote? How do you create the motivating image that could roam the Internet, being shared and reshared for years?
Don't worry, we've done all of the nit-picky photo editing and motivational quoting for you.
All you have to do, is download these 100 images, and you'll be ready to rock and roll your way to virality.
Each of the 100 images features the right setting, and the right quote, to leverage a maximum "motivational" response from anyone seeing it, and they will be happy to pass it on.
What about your brand, you ask?
We've made that easy, too. You will get the editable source PSD file for each of the 100 images.
All you have to do, is take an image, add your URL or logo, and then post it.
It's that simple.
This allows you to modify them as much as you like, add your brand, or anything else, and reuse them from now until the end of the information age.
---