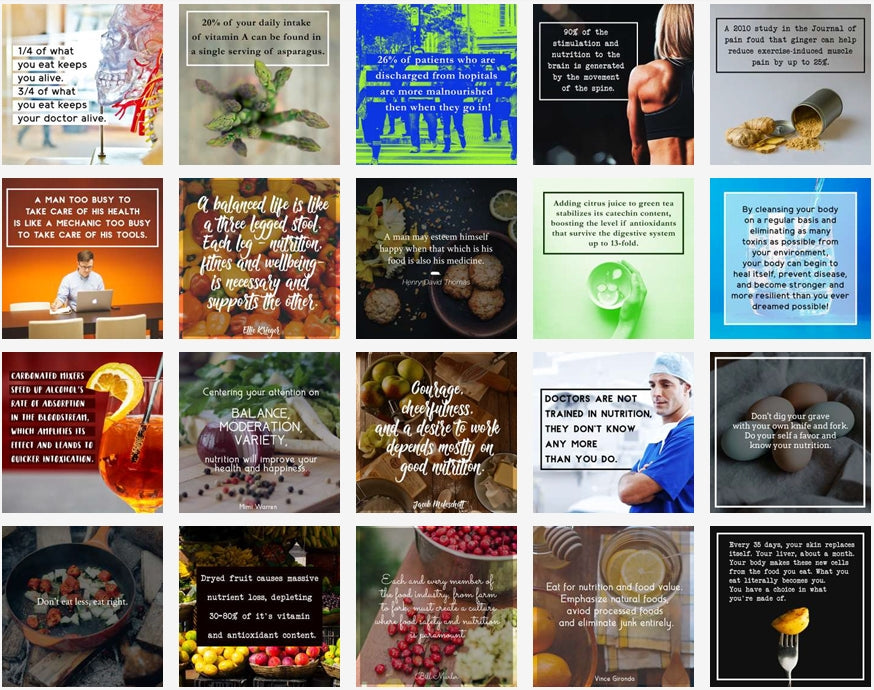 100 Healthy Nutrition Social Posters
What is it about good nutrition that's so inspiring?
Is it knowing that you will live long enough to see grandchildren, simply by eating better?
Perhaps it stems from a desire to abandon synthetic food for something more real.
Whatever it is, good nutrition is a message we can all relate to. And nutrition tips are something we love to share.
Find me a food that's both tasty and good for me, and you've won me over for life.
But what does this have to do with building your brand? Or increasing traffic to your website?
EVERYTHING!
You may have seen these quote poster things floating around the Internet.
You've probably liked and shared your fair share of them. You know the power that they contain.
What if one of these inspiring infographics carried your brand logo?
What if you were the one doing the inspiring, and your link was attached to every single share?
Perhaps that sounds like quite the heavy undertaking.
Well, it is and can be, but we've taken on the complicated part to make it super easy for you.
On the page below, you will find a collection of 100 nutrition-based quote posters that could be yours today.
We'll throw in the original PSD files, so you will have 100 original, inspiring, nutritional photos, each one laced with informative gold.
These soul-inspiring photos will tug at that innate desire for long-life and happiness, and people will want to share them with friends.
And because you have the original PSD files, you can add your logo, adapt the text, and turn them into whatever you need them to be, to make sure that your brand spreads with the viral message.
This allows you to effortlessly modify them, brand them, and utilize them again and again.
You can even re-use them for different sites you host, or different brands that you want to promote.
100 of your very own, super inspirational graphics to use any way you please, to help spread the word about what you are doing, and reach a huge audience without the advertising overhead.
Learn more details, view the image previews, and secure your copy on the page below!
---